Frequently Asked Questions
Check here first if you have questions about our produce and operating procedures.
Share and Veggie Pick Up Related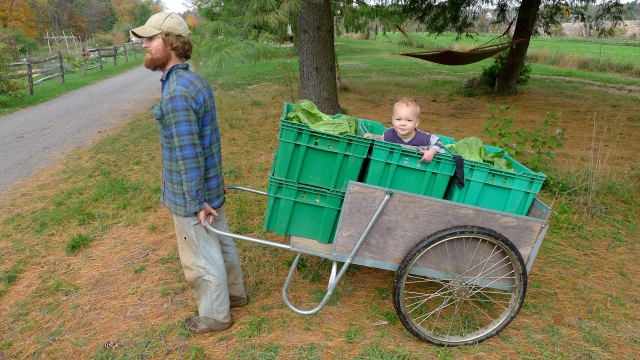 Q: What size share is appropriate for me?
A: The share size appropriate for you depends on several factors including number of eaters in your household; how frequently you plan to use raw veggie ingredients in meals/snacks; comfort level with using seasonal produce and bounty; willingness to preserve unused produce by freezing, processing, fermenting, etc. Generally, a full share should satisfy veggie needs for a family of 4 eaters, whereas a half share may be more suitable for a household of 2 people. Of course, we know single folks who eat a full share, as well as folks that split half shares. Our family of 4 probably eats 2 full shares per week (we're omnivores, too).
Another way to think about it, received at each pick up: Full Share, 9-12 pounds; Medium Share, 6-9 pounds; Half Share, 9-12 pounds every other week.
Q: For the Main Season 26-week share: When is veggie pick up? What about the u-pick component?
A: Veggie pick up is Monday and Thursday 1-8pm and Saturday 10am-12noon (you must decide before season begins). The u-pick component can be done any day of your pick up week (Monday through Sunday) 8am-8pm. You can temporarily switch your pick up day with advance notice by 5pm Sunday prior to the pick up week. If you accidentally miss your pick up we will contact you to reschedule, preferably on the following pick up day.
Q: Can I share or split a share with a neighbor?
A: You may. However, one person will be the 'primary shareholder' and will be considered responsible for the share, for example, payment, produce pick up, and work commitment. Because of the way produce is distributed in the barn and because some items will need to be weighed, we highly encourage the share be collected and then split outside of the pick up room under the pavilion.
Q: What is the quantity of produce received each pick up?
A: The quantity of produce varies somewhat week-to-week and year-to-year but our goals are: Full Share, 9-12 pounds; Medium Share, 6-9 pounds; Half Share, 9-12 pounds every other week. Some weeks will exceed the weight by 5-10 pounds if tomatoes are peaking, summer squash is bountiful, cucumbers are flowing, Napa cabbage and cabbage are distributed, or sweet potatoes, winter squash, and potatoes were a bumper. The first week or two of the season could be on the low side but most weeks will be near the upper limit.
We want to give you more than you're paying for but don't want to continuously overwhelm you.
Q: What does 'U-pick' mean and what are some examples?
A: U-pick refers to the crops that you yourself go into the fields to harvest. U-pick crops may include cherry tomatoes, peas, beans, tomatillos, husk cherries, strawberries, raspberries, hot peppers, edamame, annual herbs like parsley, basil, dill, cilantro, perennial herbs like oregano, thyme, sage, rosemary, and flowers. Signs, containers, and alotted quantities will help you along your way. U-pick is strictly limited to the crops specified on the board in the pick up room.
Q: How many weeks does the pick up season last?
A: Our Main Season share is for 26 weeks, mid-May through mid-November. Our Late Fall share is for 6 weeks, mid-November through the end of December. Our Winter share is from the end of December through the end of February.
Q: Why is there a work commitment? Is it mandatory?
A: It is not mandatory but it gives you a discount (share with work discount vs share without work). Anchor Run CSA has a work commitment to keep share costs stable (prices have remained the same since 2008), educate members, instill a sense of community involvement, and help perform very important and necessary tasks as a team in a time efficient manor. We recognize that some members would rather contribute to the farm in other ways or are unable physically to help. Alternatives to helping out through workshifts include financial remuneration ($15/hour) or some other type of work-trade, etc.
Q: When are workshifts? How do I sign up? What farm tasks will I do?
A: Workshifts generally begin in mid-spring and run until mid-October. Anywhere from 1-6 workshifts are scheduled per week, depending on field conditions, time of season, and tasks that need to be completed. Workshifts are posted on the website and announced in the newsletter. To sign up you must login with your e-mail and select the shifts you wish to join. It is very easy. For instructions please follow this
link
. Examples of workshift tasks include weeding, thinning, cultivating, harvesting, and planting.
Q: Is fruit included in the share?
A: As of 2018, expected CSA fruits include watermelons, strawberries, raspberries, blackberries, husk cherries, and cantaloupe melons.
Q: Can I park in front of the pick up barn?
A: Parking is available in front of the pick up barn only for members with special physical needs and cars with sleeping kids. There is a large parking lot approximately 100 feet from the pick up barn where all other members should park.
Q: Can I pick flowers from areas other than the u-pick flower garden?
A: No. The flowers outside of the u-pick flower garden are for insects, birds, other pollinators, and human visual enjoyment.
Farm and Farming Practices
Q: Do you farm organically?
A: Yes, and are Certified Organic. Specifically, we utilize farming techniques such as the use of crop rotation, cover crops, compost, fallow periods, mineral amendments, organic fertilizers, and promote biodiversity through established pollinator habitats, woodland and riparian buffers, and diversified crops. We live and work amongst the crops and the farm and want it to be as healthy and nurturing as possible.
Q: What are 'Cover Crops'?
A: Generally, cover crops refer to a soil building and protecting stand of grain, legume, or other type of plant that is deliberately sown and grown to enrich the soil through soil building properties and incorporation without harvesting. Examples of cover crops at Anchor Run include winter rye, hairy vetch, clover, oats, peas, buckwheat, sunflowers, sorghum sudan grass, and tillage radish.
Q: Do you use any pesticides, even organic ones?
A: No. Through our experience we've developed methods and practices that let us bypass insect killing and disease suppressing chemicals. Quite simply we'd rather exclude that from our farming practices.
Q: How do you deal with unwanted pests?
A: We use exclusion barriers such as fabric row covers extensively. We release beneficial insects. Crops are rotated around our fields according to plant family, pest interest, and disease avoidance. We also benefit from crop and farm landscape diversity. Sometimes we squish bugs by hand. We also accept minimal cosmetic blemishes and are thankful for a small number of holes instead of unseen chemicals.
Q: Besides the CSA, where else do you sell your produce?
A: We're a traditional CSA farm that distributes all of the produce the farm generates to the members of the CSA.