Farmer Bios
2017 Anchor Run CSA farm crew!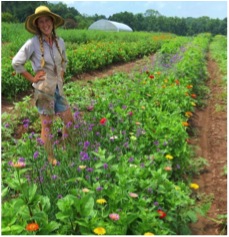 Hannah Stocker joined the team of growers at Anchor Run Farm in the winter of 2016. She and her husband, Jason, along with their dog, Honey, live on site in the White Pine Ranch. They are so happy to call Anchor Run their home, and they hope to be a part of the farm for years to come.
Hannah first cultivated her love of plants and fresh food in her grandfather's and mother's gardens at her childhood home in Newtown borough. Inspired by these memories, she explored her interest in the natural world by taking jobs doing landscaping and working at a perennial plant nursery and even a flower shop. Her passion for things that grow also lead her to pursue a degree in Horticulture. Like Derek and Dana, after acquiring her Bachelor of Science, she ventured to the Washington D.C. area. While there she became immersed in Organic CSA farming at Clagett Farm, operated by the Chesapeake Bay Foundation. After more than 3 years of honing her farming skills at Clagett, she decided to return to her roots and help feed the community she loves in Bucks County.
Hannah's role as field manager allows her to work closely with Dana and Derek and experience the scope of challenging and humbling tasks that are required to keep the farm running. As Derek once said, she is a wearer of many hats, requiring her to oversee everything from the seasonal staff to marketing to barn organization! Each day Hannah falls more in love with life here on the farm, and she is so thankful to the amazing community that allows Anchor Run to be so successful!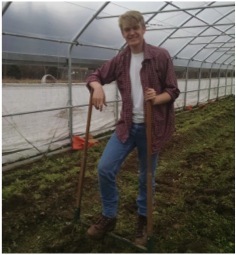 John Conner is a Bucks County native, heralding from down the road in Newtown. He first learned of Anchor Run CSA from his sister and field manager, Hannah. John graduated Council Rock High School North in 2012 and The Pennsylvania State University in 2016 with a Bachelors of Arts in English. Besides working at Anchor Run, he is currently undergoing discernment for a vocation to the priesthood in the Episcopal Diocese of Pennsylvania. He is an avid reader, runner, and Dungeon Master and is excited to be helping the members of his community by providing them with fresh food.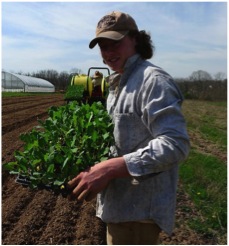 Patrick McGowan is looking forward to being an assistant farmer this season at Anchor Run farm. His family has been a CSA member for some years, during which time Pat has been introduced to the CSA concept and working in the fields. He's hoping the experience he gains here, along with his past landscaping job and love of growing, will help him with the related studies he plans to pursue at Delaware Valley University.
Pat is a resident of Churchville and a 2015 graduate of Council Rock South.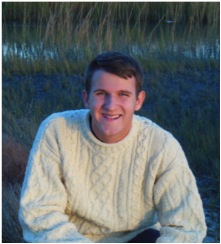 Joe Phillipps is excited to be a part of Anchor Run. Having been a member of the CSA for several years, he is finally able to try his hand at farm work, something that interested him since he was a little kid helping his mom in her garden. He has a passion for trying new things and constantly reminds himself that anything is worth exploring for the experience. His love of the outdoors has led him to join the soccer team in high school, jog regularly throughout Newtown, lifeguard at Sesame Place, and, more recently, plan to attend University in Wyoming, where he hopes to learn all about life in the west, including back country survival and horsemanship, while pursuing a degree in Liberal Arts.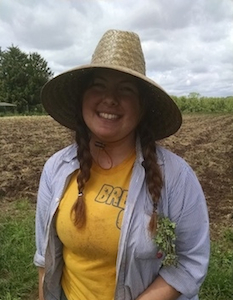 Lauren Rosse is excited to work as an intern at the farm and learn more about organic produce production. She was introduced to the farm by field manager Hannah and her family; Lauren's parents are now also members of the CSA. Lauren graduated from Council Rock North in 2014 and is currently an environmental studies major at the University of Pittsburgh. She has previously worked at Howell Living History Farm in Lambertville NJ, and Garfield Community Farm in Pittsburgh PA. Lauren hopes to continue working on organic farms and keep learning about sustainable farming practices.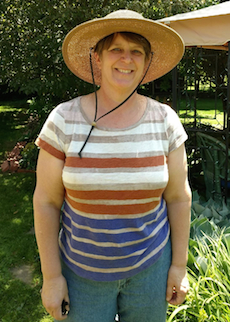 Becky Conner is a native of Newtown and has been a member of Anchor Run since the 2016 season. She discovered the farm when her daughter, Hannah, became the Field Manager and has now fully embraced CSA life! Becky is thrilled to be helping out in the pick up room and, as a long time gardener, looks forward to continuing to learn about growing food!