Membership
Here you will find a description of member rewards and responsibilities.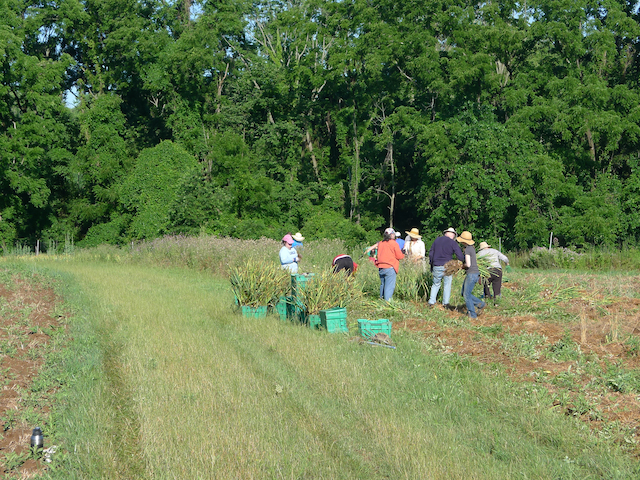 Value-Added, Organically Grown Food at an Affordable Price
Benefits abound with membership at Anchor Run CSA, not the least of which is better value for your money. As a member, you receive a share of the harvest each week. Because we have a finite number of CSA members each season and we design the crop plan to meet the produce needs of our membership with a built in margin for error, you receive a wonderful variety of produce each week as well as the bumper crops, surplus, and specialty items. We're able to do this because we only distribute produce to our CSA members, so you receive the bountiful quality and diversity.
The CSA model is meant to be mutually beneficial between members and farmers. Because all of our members pick up at the farm, do u-pick at the farm, and work with us in the fields each season, we have a direct relationship with our members and community.
In addition, you will receive specially selected varieties that are rarely found in the market. Factor in the delicious flavor and incomparable quality of this produce, picked at the peak of ripeness, and you will see value both on your plate and in your pocketbook.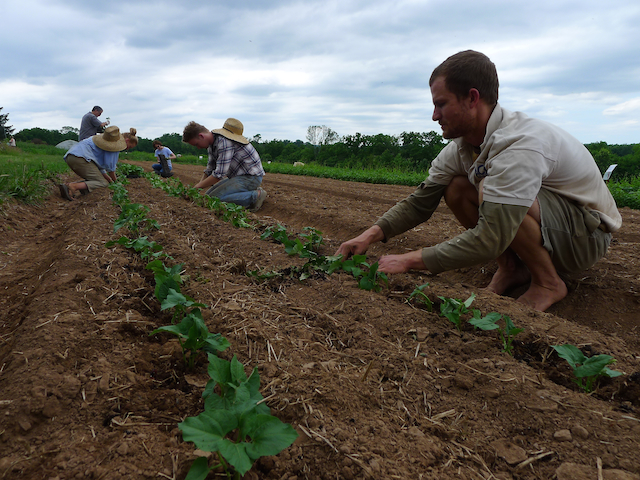 2017 Membership Costs and Pick Up Schedules
Wrightstown Township residents receive a 5% discount on Anchor Run CSA shares because a portion of their local taxes helps preserve and maintain the 100-acre open space we're a part of.
Main Season Share, 26 weeks, mid-May through mid-November
FULL Share: $800 ($760 Wrightstown); weekly pick up; 8 hours of work
MEDIUM Share: $585 ($560); weekly pick up; 2/3 of a full share; 6 hours of work
HALF Share: $430 ($410); pick up a full share every other week; 4 hours of work
Pick up days: Monday 1-8pm, Thursday 1-8pm, Saturday 10am-12noon
When you sign up, a $200 deposit is due to secure your share. Balance is respectfully requested by May 1st. The deposit goes towards the total share cost.
Members may opt to reimburse the CSA financially rather than in hours worked at a rate of $15 per hour, which is added to the share cost at the time of registration.
Late Fall Share, 6 weeks, mid-November through end-December

FULL Share: $180 ($170)
HALF Share: $100 ($95)
Pick up days: Wednesday 1-8pm and Saturday 11am-12noon
Winter Share, 8 weeks, early-January through end-February

FULL Share: $240 ($230)
HALF Share: $130 ($125)
Pick up days: Wednesday 1-8pm and Saturday 11am-12noon
Ready to join or renew?
New members must start by creating an account, while renewing members need only log in. Either way, the process takes only a few minutes.
More About How CSA Works

As a member of Anchor Run CSA, you can receive an assortment of produce from mid-May through the end of February. FULL Share members pick up produce every week, HALF Share members pick up a full share every other week, and MEDIUM Share members pick up 2/3 of a full share every week.
On average, our FULL Share supplies the produce needs of a small family, a couple, or an individual. Everyone has different eating habits so it is difficult to provide a specific recommendation. Dana and Derek probably eat 2 full shares each week; some of our members split half shares. We hand pick most of the vegetables and wash them just hours before you receive them. We grow a wide variety of seasonal produce so that you have the opportunity to taste new delights as well as enjoy old favorites.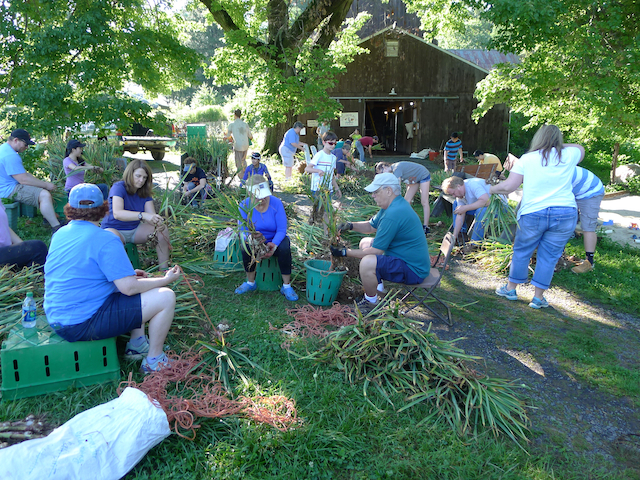 We encourage members to bring their families to the farm when they pick up their vegetables. Stay awhile and talk to your friends; stroll around the fields; pick some flowers!

Produce Pick-up
During the Main Season CSA the farm is open for vegetable pick-up on Monday or Thursday from 1-8pm and Saturday 10am-12noon. U-pick is available 8am-8pm Monday through Sunday of your pick up week. In anticipation of the harvest we ask that you choose a designated pick-up day for the duration of the season, however you may temporarily switch your pick up day by notifying us by 5pm Sunday of the week you need to adjust.
HALF Share members will be assigned "Week A" or "Week B" and pick up and do u-pick every other week. FULL Share and Medium Share members will pick up and do u-pick every week.
On pick up days the produce is arrayed in bins on tables in the pick up room. Allotments for the produce are written on boards directly behind those tables. U-pick locations and quantities are designated in the pick up room as well.
More Than Just Great Vegetables
Along with your produce, each week you will receive an
e-mail newsletter
. The newsletter will keep you informed about what's happening at Anchor Run CSA. The newsletter includes information on the week's expected harvest, notes from the field, potluck dinners, recipes, and vegetable storage and freezing tips.
Membership in Anchor Run CSA will not only enrich your table, but also deepen your sense of community and connection with the land. We host potluck dinners with a social as well as an occasional educational component. These help us meet and greet one another as we enjoy nature's bounty transformed into delectable dishes.
Involvement in the CSA, beyond the cost of membership, is vital to sustain our community farm. It is also lots of fun working with the farmers and your neighbors and getting to know them better!
To be completed over the course of the growing season, each membership household for the main season can reduce their share cost by committing to perform a minimum of (8) eight hours of work/Full Share, (6) six hours of work/Medium Share, and (4) four hours of work/Half Share. Jobs range from planting, harvesting, and weeding to helping with social events, and delivering donations. Your help is most appreciated early in the season (May and June). You will reap the benefit of your time and talents later in the year! Workshifts are organized by the farmers with postings and signups on the website. An e-mail notification regarding scheduled workshitfts lets members know workshifts are available.
Essentially, as an Anchor Run CSA member you will not only eat healthier, but you will learn about farming, cooking, preservation, and community. The benefits of membership don't just last for a season, they last a lifetime.