Displaying a Single Post |
Show Recent Posts
September 9, 2018
Can We Ignore The Weather?
Notes From The Field
by Farmer Derek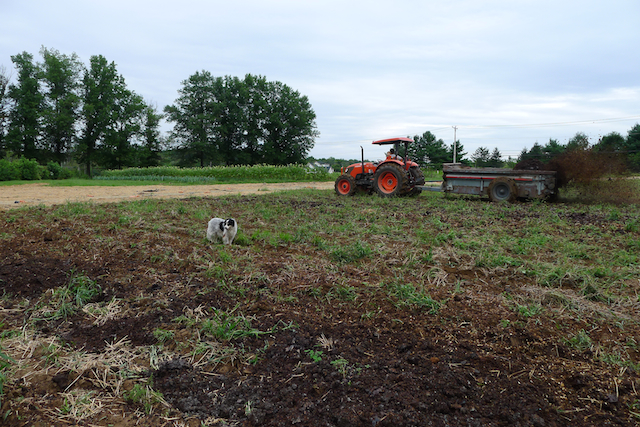 Spreading compost on a fallow field.
Last week on the farm...

The stifling heat and super dry conditions forced us to set up and irrigate all of the crops except for sweet potatoes which seem to be unbothered by anything. All the crops received two doses of water to give us the satisfaction that at least we used the drip tape enough to make the extra work worthwhile. The crops definitely needed a serious drink amid soaring temperatures after missed rainfall last weekend and perked right up after 6-8 total hours of trickle irrigation. That was the driest the farm has been all season.

The NRCS/USDA water management project commenced last week as well. A project 3 years in the making, it's great that it is finally beginning. Grassed waterways will be created in the most problematic areas to collect runoff, minimize erosion, and send the water hopefully where we want it to go. Significant quantities of soil need to be moved around. The waterways are 20-30' wide, 6-12" deep, and over a 1000' long. After the bulldozer does its job we sow appropriate seeds, roll out erosion control blankets, and add straw to hold moisture and protect the seeds. Two out of 4 areas have been completed.
Additional crops were transplanted and direct seeded including arugula, greens mix, hakurei turnips, scarlet queen turnips, broccoli raab, lettuce mix, mini lettuce, spinach, chard, curly kale, collards, and russian kale. Beds were reshaped to kill any germinating weeds prior to planting.
Compost was spread over a 1.5 acre fallow field. Half a day was spent trying to fix the ancient compost spreader that broke 3 or 4 times and prevented me from having time to sow an oat and clover cover crop prior to Friday night's rain and forced me to finish the task by working all day Saturday.

Crop maintenance was a big part of the workload last week including weeding in row and mowing walking aisles.

Half days were given to the crew on the hottest days.
Since we can't ignore the weather on the farm we'll endure what we're given this week and adapt to the conditions. Will this week be bookended by moisture from two tropical storms? Yippee.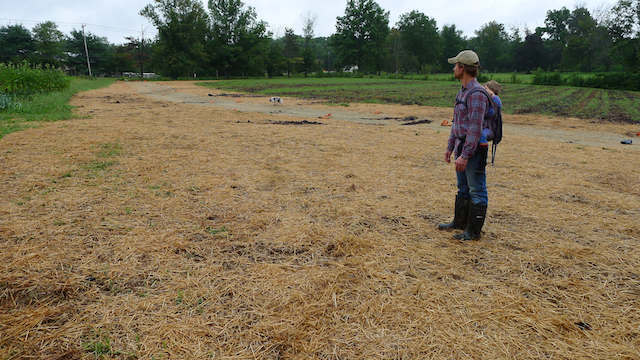 Field 2 waterway completed.