Displaying a Single Post |
Show Recent Posts
June 23, 2019
Thus, The Wettest
Notes From The Field
by Farmer Derek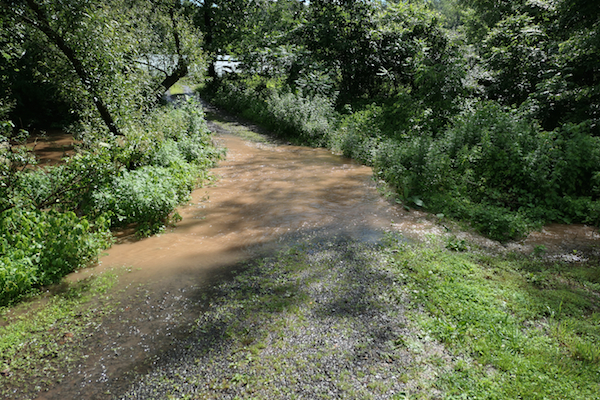 A flash flood caused by 1.1 inches of rain in a 20 minute burst on top of 3 inches already received over the prior two days. That's the path going out to the u-pick field.
And just like that this May/June combo is out wettest in 11 years. This "new norm" is beginning to render these extreme rain events less exciting and less panic-inducing. If I had to pick a week to receive 4" of rain and make most field work impossible, last week was a good choice. U-pick was in a strange pause, there was a lot less transplanting to do, and I didn't have any major tractor work that just couldn't wait. However, I did have to delay by one week our order of 7,000 year 2020 strawberry plants since the ground won't be dry enough for me to finalize bed-making in time for their midweek arrival (especially with the forecast rain Monday night). Even with the record-breaking rainfall the farm and its crops and its farmers still seem to be (mostly) happy and healthy. This sunny, dry, and windy weekend is much needed, especially for the farmers.
Assuming we have a nice and dry week we have a lot on our to-do list. Tomato plants are growing by leaps-and-bounds and need another round of pruning and clipping. There's much to cultivate and some to weed. We have the regular weekly successions of beans and lettuces to plant plus zucchini and cucumbers which seem to grow twice as fast now compared to April. Regular harvests will continue and very soon big harvests will commence with carrots and garlic. Soon we'll be transitioning spring production fields to cover-cropped resting fields as we clean up and prepare for the off-season recovery. For now we'll enjoy this ever-so-slight pause in the workload and gear up for another productive push when the weather allows. Happy summer!