Displaying a Single Post |
Show Recent Posts
October 6, 2019
Ready for the Change
Notes From The Field
by Farmer Derek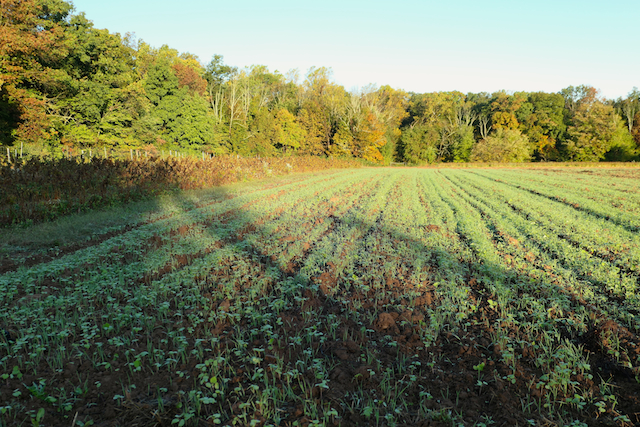 Fall in Field 1. Young cover crop mix of oats and buckwheat in foreground, prior home of husk cherries, tomatillos, and flowers.
Last week was a good and busy one, albeit one with too much midweek heat followed by lows 50 degrees colder. Laboring through summer's heat in October was a challenge, especially given the nature of the tasks that needed to be finished prior to the cool and moist weather. Record breaking everywhere in this region of the world, our previous latest in the calendar year 90 degree day was September 25th, back in '12 maybe. The heat, then the wind, definitely stressed out our young transplants that went in the ground on Tuesday, which needed to be hand watered 5-6 times over two days to get them settled into their new home. Soon I'll set up drip tape once they get some roots established then their management will be much easier. About 375' of beds were planted, 8-10 rows/bed. Another thousand bed feet will be planted in the next few weeks and will provide fresh greens throughout the Late Fall CSA.
Two out of three waterways have been finalized and seeded in Field 1, the last major component of a project that was first initiated in July 2016. In 2018 waterways were established in Fields 2 and 3 and had a huge impact this season when we were once again hit with flash flood rain events. The goal is to keep excess water from entering fields as well as collect and direct the water that falls on those fields to desired areas to prevent erosion and the loss of that precious resource, topsoil.
Ongoing around the farm is the continued collection of roots, storage crops, and the last of the summer fruits including beets, turnips, radishes, daikons, sweet peppers, and tomatoes. Tomato plants had to be removed from our Hoop Tunnel to make way for Late Fall greens. Green tomatoes and green peppers will be distributed for a couple of weeks. Eventually cold weather will nip some fresh crops and we'll dip into roots and storage crops a bit more.