Posts Filtered by Month - January 2016 |
Show Recent Posts
January 24, 2016
After The Blizzard
Expected Harvest
By Derek McGeehan
January Extension Pick Up #4 should include potatoes, garlic, celeriac, kohlrabi, radishes, turnips, kale, and napa cabbage. Once again we're aiming for around 14 pounds of produce.
January 17, 2016
Authentically Winter
Notes From The Field
By Derek McGeehan
About now it feels the way a Bucks County winter should and in the forecast could be our first real snow of the season. Weekly it seems that temperatures dive into the teens one or two nights with a couple of days staying below the freezing mark as well. As part of the jet stream roller coaster we also are able to thaw out over a couple of days in the mid and upper 40s. The sustained cold of the last two winters was a bit drab, but I am thankful that at least the month of January has provided a break between growing seasons with some real cold. This week we're hoping to make a serious dent in the high tunnel kale when it warms up enough during the day to thaw it out and make it harvestable. It basically freezes and wilts and lays almost flat at night but after the warmth of the sun's rays heat up the high tunnel it perks up and is ready for harvesting.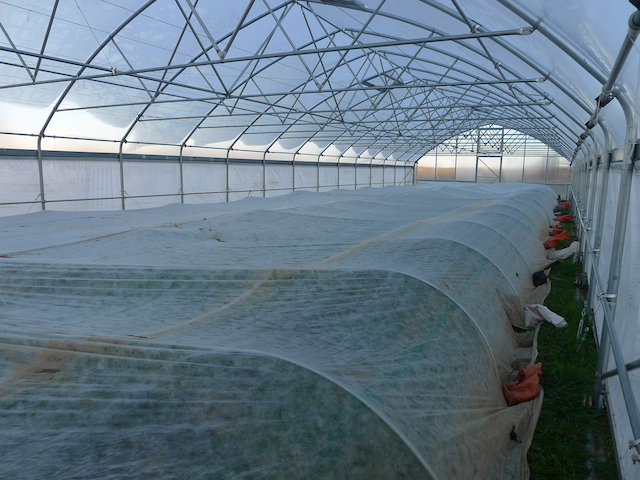 Two layers of protection almost guarantees the survival of greens in the high tunnel, without any supplemental heat.
January 9, 2016
Survived The Deep Freeze
Notes From The Field
By Derek McGeehan
The bitter cold was bittersweet and just part of the weather rollercoaster ride that we have fun experiencing as farmers. We need deep cold to kill some of our cover crops like oats and daikon radish so that we can use those field areas in the early spring without extra tractor work that live plants would require. The cold also sets back bad bugs and hopefully rids the area of plant diseases that affect our cucurbits and nightshades among others. It also gives us farmers a mental break between seasons and reminds us that winter isn't so bad. The cold did finally end the lives of many farm crops that were lingering but spared some roots and all of the high tunnel greens. Before this blast of cold we harvested all of the remaining field crops that we didn't think would survive as well as the mature arugula from the high tunnel. We added hoops and another layer of fabric protection in the high tunnel to preserve the mixed greens, kale, and arugula in there. As daylight slowly increases and approaches 10 hours we'll see new growth from crops that did survive.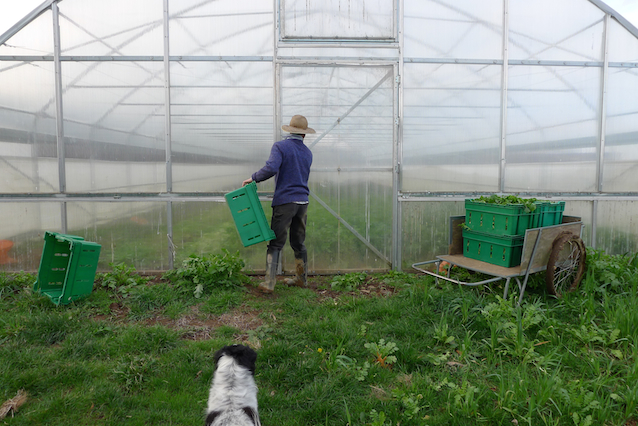 Rescuing the arugula from the high tunnel right before the deep freeze occurred. Due to its maturity it would have been damaged so we harvested all of it as fast as we could. The plants themselves survived and should regrow.
January 9, 2016
The Harvest Continues
Expected Harvest
By Derek McGeehan
January Extension Pick Up #2 should include potatoes, garlic, rutabaga, beets, radishes, collards, kale, and napa cabbage. Fourteen pounds were distributed in Week #1; it should be about the same.