Posts Filtered by Month - May 2016 |
Show Recent Posts
May 29, 2016
Respite from the Heat
Notes From The Field
By Derek McGeehan
I haven't checked the rain gauge yet this morning, but I'm almost desperately hoping we received something close to the amount that was predicted (1-2"). I didn't hear any heavy rain overnight, so I'm preparing to be disappointed. I spent a lot of the weekend doing this week's worth of tractor work and field preparations anticipating wet soil all week. We have about 5000 feet of winter squash, melon, summer squash, and cucumber to plant this week, along with 800 feet of edamame and the weekly 175 feet of lettuces. To stay on schedule, which is of the utmost importance for farm sanity, all of the planting space had to be readied prior to the rain event. For all of the crops that means mowing cover crops, chisel plowing once or twice, raised bed shaping three times while adding soil nutrients, drop spreading minerals, laying plastic mulch for the vining crops, and then pre-making holes in that mulch for water penetration. Even if the rain turns into a dud and disappointment, at least some work is checked off the to-do list. And at least the heat wave is over. And strawberries are here. And peas will be here soon, too!
Abigail is the motivator for quick and thorough washing of these delectable spring radishes.
May 29, 2016
Lettuces, Kohlrabi, & Strawberries Arrive
Expected Harvest
By Derek McGeehan
Harvest #3 (Week A) should include butterhead, romaine, and mini lettuces, kale, kohlrabi, hakurei turnips, arugula, chard, baby kale, mustard greens mix, mizuna, bok choy, dill, cilantro, and strawberries. Some items will be a choice. U-pick should include perennial herbs and strawberries (later in the week).
May 29, 2016
How I enjoyed my harvest this week
How I Enjoyed My Harvest
By Linda Dansbury
How I enjoyed my harvest is on vacation this week, but will return shortly. Please send how you enjoy your harvest to me at lindadansbury@comcast.net.
May 29, 2016
Kohlrabi and Lettuce
Other News
By Linda Dansbury
Due to vacation, I am writing this 2 weeks ahead of this week's harvest distribution. Derek and Dana did their weekly field walk and took a very educated guess on what would be available the week of May 30th. Early in the season this is difficult because early crops are very dependent on sun and warmth to reach maturity - elements which have not been reliable at all this spring.
Kohlrabi is one of the new veggies likely to be seen which kind of resembles a spaceship. It is in the same family as radishes and the delicious white turnips you have been seeing in the pick up room so the taste profile is similar. Kohlrabi keeps for a long time in the fridge, but the longer it stays, the stronger the flavor becomes. Kohlrabi is normally peeled prior to eating, but I have seen Derek noshing on kohlrabi, skin and all! I like it raw with or without a sprinkle of salt - I eat it often with lunch or as a snack while preparing dinner. It is great as part of a crudite platter and delicious as a component of slaw - julienne it along with some of the greens, such as kale and chard and make your favorite cole slaw dressing - one of mine happens to be Asian Style Cole Slaw. There are many recipes on this site for kohlrabi in cooked versions, but this time of year, for me, the mild taste is best when eaten raw.
Lettuces are now making their full appearance and I will feature them in the future but a couple of notes now - the lettuces grown on the farm have so much more flavor than store purchased lettuce - nuances that you don't want to cover up with thick, store purchased dressings. Making your own is really simple. Take a jar with a tight-fitting lid (or a small bowl and whisk). All you absolutely need is a ratio of 1/4 of you favorite vinegar to 3/4 part olive oil, salt and fresh ground pepper to taste - a bit of added Dijon mustard helps emulsify. Shake or whisk until emulsified and lightly dress the greens. Yum!
May 29, 2016
Give me Peas...and Strawberries!
Other News
By Linda Dansbury
Peas and strawberries give us the first opportunity to go out to the field for U-Pick. Here are some tips to make the time in the field enjoyable:
Wear comfortable clothes, shoes/boots and sunscreen - it can be very hot, cool, rainy on any given day
Most crops mature starting at the bottom of the plant so for things like peas, green beans, cherry tomatoes and edamame look for mature veggies lower to the ground, especially when we start picking
Be gentle when picking, holding onto the stem with one hand and the veggie/fruit with the other and gently pull the veggie/fruit off
The crops sometimes fall into the aisles - please walk around - don't trample the plants
Pick only what is listed on the U-pick board and only during your pick up week
Please teach your children the same guidelines, keeping them in the aisles between the rows and showing them how to gently pick the crop
By following these simple guidelines you and those coming to pick after you will have a fun, rewarding experience.
May 22, 2016
A Farm Scene
Notes From The Field
By Derek McGeehan
A wonderful perk of living and working on an organic produce farm is our daily interaction with wildlife/nature/creatures/critters/other inhabitants of earth. The contrast between winter and summer is so apparent with the return of spring and summer that the quietness and solitude of winter feels and seems so drastically drab and dreary (but of course carries other types of perks). As farmers, we constantly and consistently interact with the world in a way that coaxes food from the soil for us to eat. Whenever we plow, bed shape, cultivate, or pull weeds we're mingling with that 'natural' world that occurs whether or not we participate. The cycle of life begins and ends every day around us and we try to understand and appreciate it, respect it, while simultaneously understanding the need to run a sustainable small farm business. Farm-scapes, farm-scenes are an interplay of humans' sculpting their environment and that persistent other component, nature. It's a pleasure, and humbling, to be in the middle.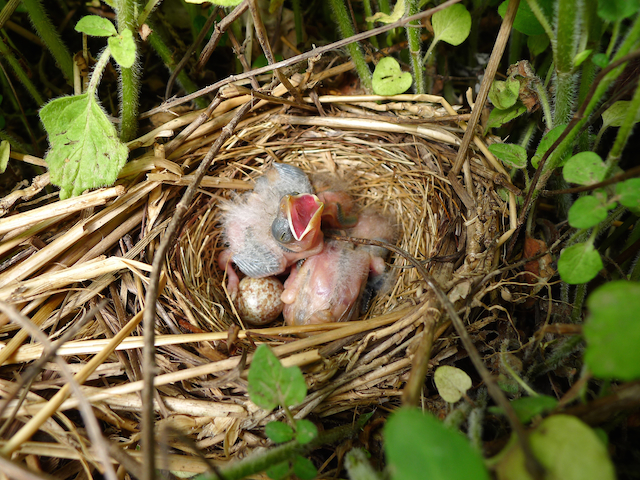 Nestled inside the oregano patch in the herb garden, freshly hatched song sparrows await mama's return with some grub(s).
May 22, 2016
Greens For Health
Expected Harvest
By Derek McGeehan
Harvest #2 (Week B) should include russian kale, baby kale, broccoli raab, swiss chard, hakurei turnips, radishes, bok choy, arugula, pea shoots, spinach, mini lettuces, and herbs. Some items may be a choice. U-pick should include perennial herbs.
May 22, 2016
Green, greens, and more greens!
Other News
By Linda Dansbury
The first few harvests are always predominantly greens - they take much less time to mature and tolerate and actually prefer cooler temperatures than vegetables such as eggplant, peppers and tomatoes. If you didn't read last week's newsletter and this is your first pick up week, go back and read it for tips on how to store and enjoy the pea shoots. Use this site as a resource for ideas and recipes. When you pull up this website, click on Member's Page. Across the top there will be several tabs. Click on Search. A pull down bar will be there - click on it and select Recipes. Type in the veggie you want and hit return and a list of recipes will appear. We hope this helps.
Greens that come from the farm this time of year are delicate and delicious. Below is a summary of what can be done with some of the greens we are receiving so far. When making salads, mix the greens together for wonderful taste combinations.
Arugula - will keep for about of week in the fridge. Delicious in salads, either on its own simply dressed with good quality olive oil, a squeeze of lemon juice, salt and pepper. Arugula is also considered an herb in the culinary world. Its peppery taste is great to pep up things such as pasta salad - just chop up the arugula and add to the pasta salad. If you want to use it in a hot dish, it is best just wilted such as when making pasta. Right after draining the pasta, add chopped arugula and let it wilt into the hot pasta. Finally, it makes amazing pesto - recipe on this site!
Kale - will keep for up to 2 weeks stored in a plastic bag in the fridge. A lot of people juice and smoothie their kale (and other greens), but if that's all you do with it you are missing out. Kale makes wonderful salads, especially Caesar. Remove the tough stems, stack the leaves, roll them up and slice thin. When you have the kale all sliced, place in a bowl and message the leaves - they will turn soft and almost satin-like in texture. Then dress with your favorite dressing - I used to make Caesar dressing, but found a bottled one that is delicious and healthy - it is OPA Caesar and is found with other brands of refrigerated dressings. Kale can be cooked in countless recipes - search this site for them. Baby kale can be simply wilted in stir fries, soups, stews or even added to salads and eaten raw.
Chard - will store for up to 2 weeks in a plastic bag in fridge. When the stems are removed the leaves can be used in virtually any cooked recipe that calls for spinach. On this site there are recipes that include chard and other greens for pasta with greens, soups, salads and more. Check them out to try them or inspire you.
May 22, 2016
How I enjoyed my harvest this week
How I Enjoyed My Harvest
By Linda Dansbury
How I enjoyed my harvest is a column I started a few years ago and in doing our annual survey members rated it very positively. My pick up day is Thursday, so this week there isn't a lot to talk about. I am leaving for vacation tomorrow, so the column won't appear in next week's newsletter.
We want the farm to be an interactive community and I know there are many wonderful cooks, and even a few chefs among our members so I invite you to share with other members by emailing me at lindadansbury@comcast.net with how you enjoy your harvests. It can be recipes, methods, ideas or even questions.
Here is how I enjoyed my harvest:
Kale, garlic (last year's) - made a ground pork from Ledemete Grass Farm (their products are amazing) and kale stir fry which is very simple. Heat a bit of canola oil in a large pan or wok. Add sliced garlic, julienned ginger and the pork and keep it moving until the pork is almost browned. Add the kale and keep moving around until cooked to desired tenderness. Add about a tablespoon of Thai fish sauce and stir. Remove from heat and add a heaping cup of fresh chopped herbs - I have a lot of cilantro that comes up in my herb garden on its own, but you can use a combination of basil and cilantro or add parsley. Serve with brown rice and Siracha. There is a very similar recipe on this site
Pea shoots - made mushroom, pea and pea shoot risotto, which was delicious and added pea shoots to salads. A light dressing using a bit of fresh lemon juice is perfect.
Spinach - will make a large spinach salad tonight using the recipe for Spinach Salad with Warm Bacon Dressing that is on this site.
May 22, 2016
More on Greens - tops, stems and other trimmings
Other News
By Linda Dansbury
Turnips and radishes are delicious - you may not realize that the tops of both of these are not only edible, they are delicious, so don't throw them away. They can be added to soups, stews or sauteed like you do broccoli raab - heat a large saute pan, add garlic and red pepper flakes and cook for a minute - don't let the garlic burn. Add a large pile of chopped mixed greens and keep moving around in the pan. They can be eaten as is, or to bulk it up and make a meal out of it add a can of white beans (or other cooked protein) and serve with pasta or rice. Top with grated cheese if desired.
Stems from kale, chard, onion roots, stems from herbs, etc can be used as a veggie stock base. Place them in a freezer bag in the freezer and keep adding your trimmings until you have enough to make stock - check out the Vegetable Stock recipe on this site for a larger list of what to keep.
For greens that you just can't use in a short period of time, here is an easy way to save them, which I learned from a fellow member. Bring a large pot of water to a boil. While you are waiting for it to boil, prepare the greens you want to save by removing stems and rough chopping any large leaves. Place the greens in a large colander and place in the sink. When the water comes to a full boil, slowly pour over the greens. Let the greens cool enough to handle, then squeeze out as much water as you can, keeping the greens in a fist-sized ball. Place the ball(s) in a freezer storage bag in the freezer. Later, when making soups, stews or saute's, just remove the amount you want.
May 15, 2016
First Harvest, Last Frost
Notes From The Field
By Derek McGeehan
Good feelings and a bit of anxious energy permeate the start of the new harvest season as we grow accustomed to the new routine of harvesting several days each week. It is a pleasure to begin retrieving the fruits of our labor from the past several months and especially to begin eating all of the tasty produce. This year we're also dealing with a potential late final frost that of course falls on the first harvest day of the season. And of course we spent many hours last week transplanting many of our summer frost-sensitive crops like tomatoes, peppers, beans, basil, and corn. So, besides getting ready to begin the harvest season amid the myriad of work that that entails, today we also get to scramble around trying to cover as many susceptible crops as we can. At least the sun is shining and it looks like it will be a beautiful spring day.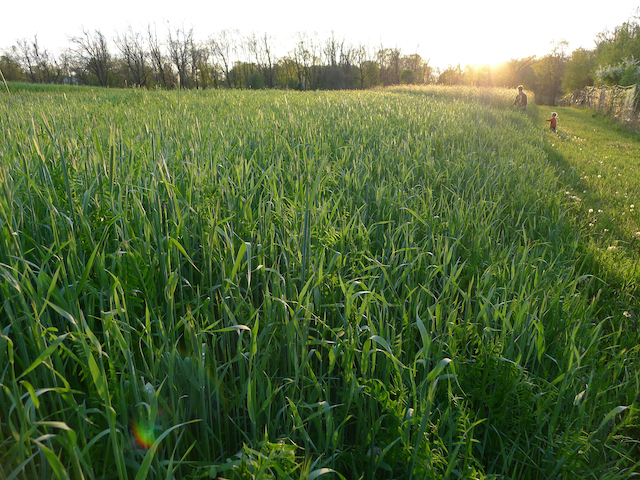 A cover crop of winter rye and hairy vetch protects the soil, adds organic matter, fixes nitrogen, and is fun to walk through at sunset.
May 15, 2016
And It Begins
Expected Harvest
By Derek McGeehan
Harvest #1 (Week A) should include kale, chard, spinach, arugula, pea shoots, collard greens, bok choy, radishes, turnips, mizuna, mustard greens, and a selection of herbs. Some items will be a choice. U-pick will probably include perennial herbs.
May 15, 2016
A new season and new crop
Other News
By Linda Dansbury
It is of course the first harvest of everything this week, but even after all these years of being an Anchor Run member, I still am still often surprised by what our farmers provide for us. This year it is pea shoots! You may be wondering what you can do with pea shoots, or why even bother with them?
Pea shoots are very nutritious, containing high amounts of vitamin C and antioxidants. Store them in a plastic bag in the crisper drawer of your fridge and they are best used within a few days since they are fairly fragile. They can be eaten raw as a garnish for vegetables or a final topping on stir fries. They are also delicious as a component in mixed green salads. They can also be quickly cooked in a stir fry - they should be added last because they are delicate. Here is a very simple method for stir frying the pea shoots - I prefer not to use additional seasonings such as soy sauce or oyster sauce because I like the taste of the pea shoots.
Smash 2 garlic cloves and peel and cut into julienne about 1/2 inch of ginger. 1/4 teaspoon or so of red pepper flakes are optional. Tear the peas shoots into pieces about 2" long. In a non-stick fry pan or wok, heat about a tablespoon of canola or peanut oil. Add the garlic, ginger and red pepper flakes if using and keep it moving and frying for 1-2 minutes. Add the pea shoots and stir fry until leaves are barely wilted - only 1 minute. That's it! A tasty and beautiful side dish on the table in about 5 minutes. Enjoy.
For the other items that everyone is receiving this week, please use the website for recipes. Here are a few that I particularly like:
Spinach Salad with warm Bacon Dressing
- you can use both the spinach and the chard for this recipe. The arugula can be added to many cooked dishes, such as soups and stews. It can be made into
Arugula Pesto.
I love it as its own salad - it is delicious with sliced mushrooms and a simple squeeze of fresh lemon and drizzle of good olive oil and salt and pepper to taste. One mention on the turnips and radishes - when you get them home, separate the leaves from the roots and store in separate plastic bag - don't throw them away! They are delicious sauteed along with the turnips or on their own. In this day and age, you probably have your own favorite recipes for kale and other items, so please email at lindadansbury@comcast.net. It really helps us be a community of sharing ideas on enjoying the harvest!