Posts Filtered by Month - February 2017 |
Show Recent Posts
February 20, 2017
Grateful For Our CSA Members
Notes From The Field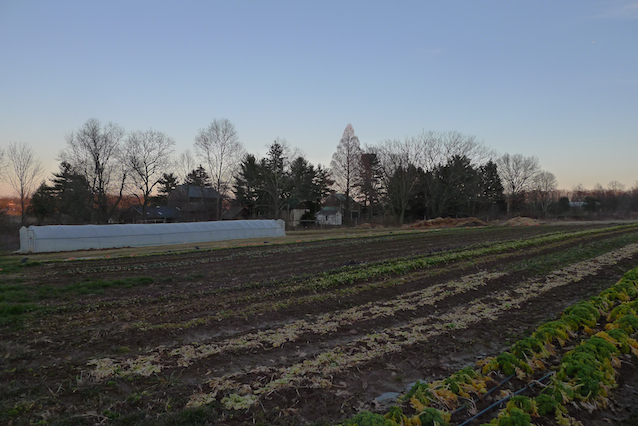 Perhaps it is fitting that the final week of the 2017 Winter CSA will feature April temperatures and really invoke that springtime feeling. It's hard to not become a bit more energized and anxious to begin the next growing season. Typically we fire up the greenhouse and begin seeding in there the week of March 1st and begin transplanting and sowing outside the week of April 1st. With this weather it's quite easy to want to expedite the schedule and get started now. We will begin preparing the high tunnel beds for a March 1st carrot sowing. We'll have to mow and remove most of the leftover organic matter from the winter greens in order to sow the carrots on the raised beds. Last year was the first time we sowed carrots a full month earlier than our typical April 1st date and they did very well in the rocky raised beds of the high tunnel.
Thank you Winter CSA members for supporting us during the inaugural 8-week January and February share - we truly couldn't have done it without you!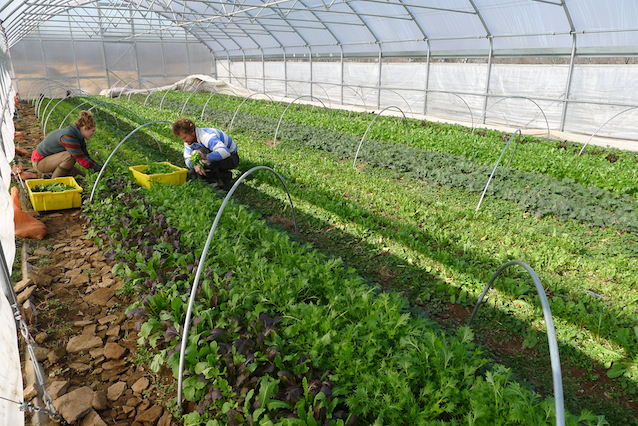 The final week of harvesting high tunnel greens!
February 20, 2017
Final Winter CSA Share
Expected Harvest
Winter CSA Harvest #8 (Week B) should include potatoes, cabbage, onions, napa cabbage, celeriac, kohlrabi, radishes, turnips, mizuna, greens mix, arugula, and kale. Some items will be a choice.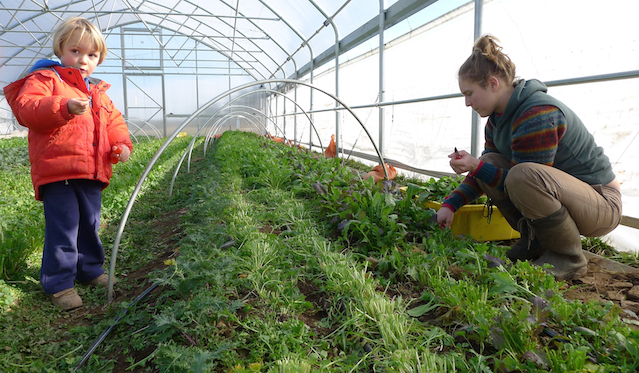 After the final cutting of our high tunnel greens the raised beds will be mowed and hoed and carrots will be seeded for a Main Season CSA June harvest.
February 20, 2017
Late Fall and Winter Survey
Other News
Help us improve our/your Late Fall and Winter CSAs by filling out this very brief survey which
can be found here
.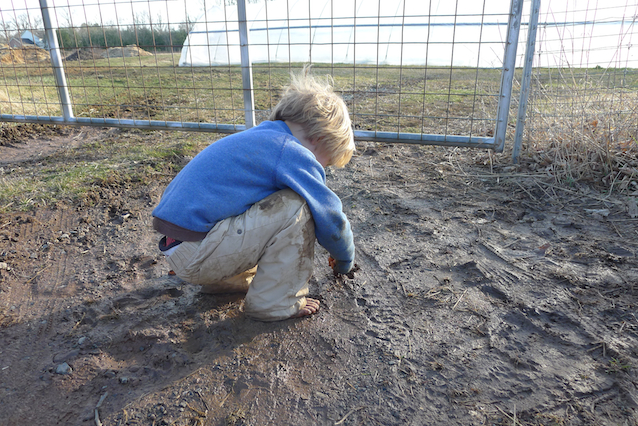 Springtime in February, temperatures in the 60s, warm sun, bare feet, and mud.
February 12, 2017
All in a Week
Notes From The Field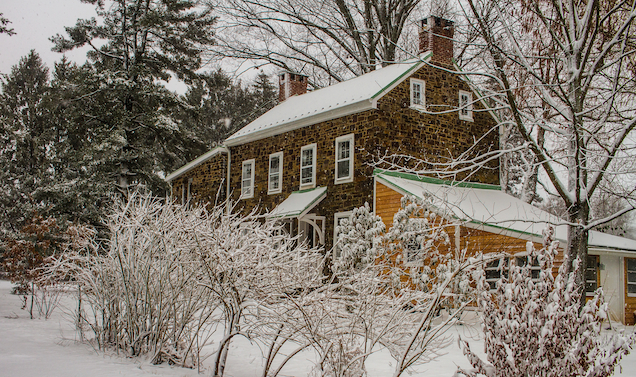 A Bucks County winter farmhouse scene (photo courtesy of Jason Stocker).
A couple days near 60 degrees with a snowstorm sandwiched between. A return to cold and dreary today, but at least the snowfall looked appealing for a day or two. Inside the growing structures springtime has arrived. The higher-in-the-sky sunshine significantly warms the insides and, unopened, reach 80 degrees easily. Pretty soon some of our earlier sowings may begin thinking about reproduction, changing their flavor profile from sweet to bitter, reminding us of their goals during their brief existence. We thank them for enriching our lives this winter by providing a steady flow of greenery and nourishment. One final frontier of experimentation this time of year is observing whether or not the winter greens can sustain their viability through the month of March. We want to determine the feasibility of a Winter CSA running mid-November through March next time around the sun, potentially combining the Late Fall and Winter shares into one longer 20-week season.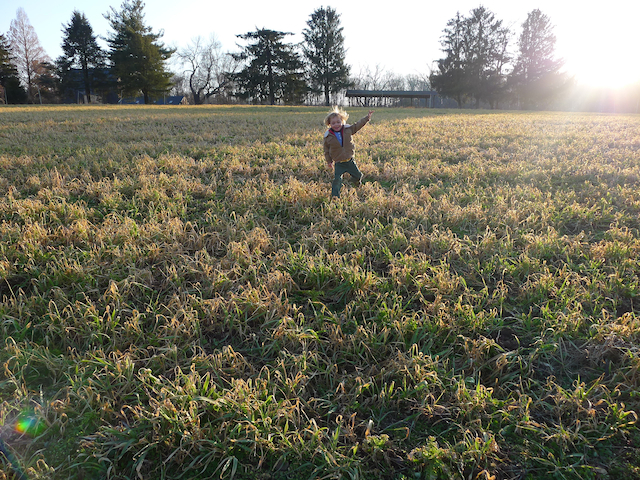 Before the snow and cold arrived we enjoyed an early spring-like evening walking (and frolicking) around the fields in anticipation of the upcoming 2017 growing season.
February 12, 2017
Penultimate Winter Share
Expected Harvest
Winter Harvest #7 (Week A) should include potatoes, cabbage, napa cabbage, celeriac, turnips, radishes, kohlrabi, onions, kale, mizuna, and greens mix. Some items will be a choice.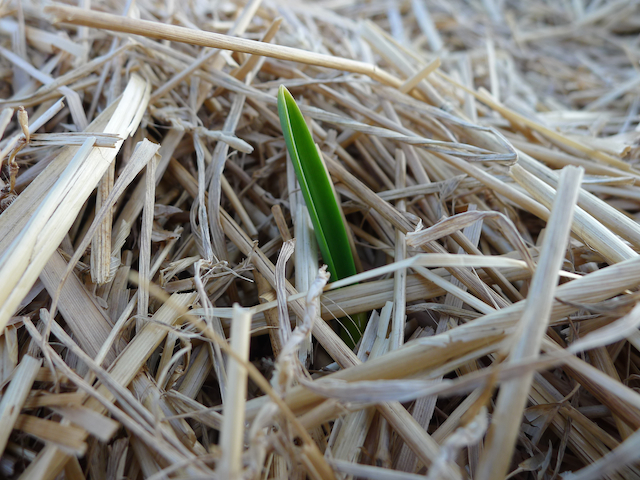 2017 garlic is poking its way through the protective straw barrier on a day in early February.
February 12, 2017
Thank You For Your Support!
Other News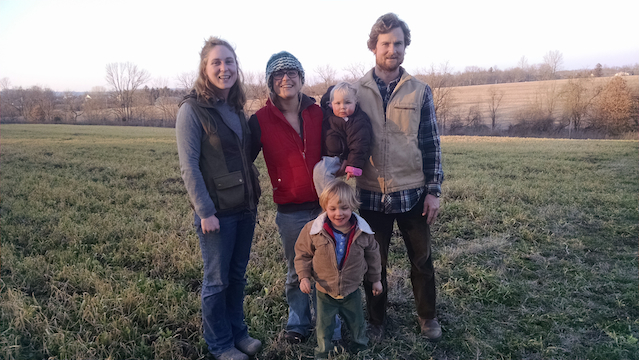 "THANK YOU Winter CSA members for supporting us during our inaugural January and February share! Much appreciation and love from Hannah, Dana, Abigail, Derek, and Gabriel."
February 5, 2017
Classic Winter Morning
Notes From The Field
Gabriel walks down the aisle between the second seeding of of mizuna, arugula, mix, and kale.
Crisp, clear, and cold on an early February morning, how it should be once in a while at least. Temperatures returned to the teens for the first time in a while but at least the sun has risen and is shining. Day length is noticeably longer now. Seems to me that just in the past week we've added about an hour though of course it steadily lengthens. Pretty soon there'll be an extra bounce in our steps as we meander the farm and prepare for the upcoming growing season. Fortunately there's another solid month of winter but once March arrives the 2017 Main Season officially commences with seeding in the greenhouse and direct seeding carrots in the high tunnel. Between now and then we'll continue harvesting fresh greens from both structures plus the hoop house and in between freezes during thaws we'll check outside hardy crops like spinach and kale for potential distribution.
February 5, 2017
Winter Vegetables
Expected Harvest
Winter CSA Harvest #6 (Week B) should include potatoes, cabbage, onions, turnips, kohlrabi, beets, radishes, celeriac, spinach, lettuce mix, mizuna, greens mix, kale, and arugula. Some items will be a choice. FYI: including this week there are three more weeks of pick up for a total of 8 weeks of Winter CSA.
Miraculous regrowth! This greens mix, mizuna, and arugula was harvested the 2nd half of December, about 6 weeks ago. Cut and come again greens are essential for winter growing.
February 5, 2017
Celeriac Fries
Other News
This was passed along by Winter CSA member Lori Bittner-Barnaby:
Celeriac Fries
February 5, 2017
Sign Up For 2017 Main Season And Help Us Plan For Membership Numbers
Other News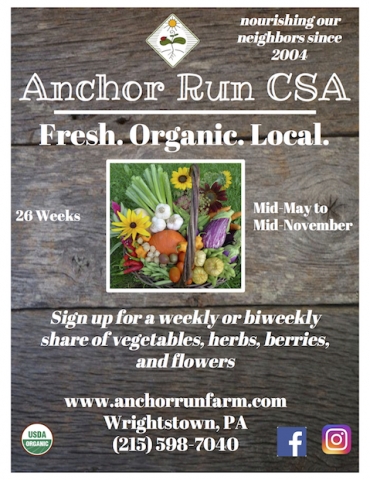 Log in
to the website to purchase your
Main Season
summer share and mail your $200 deposit to secure your spot. Thank you for your continued support! Spread the good word to other past, present, and future members!
Interested in helping promote our CSA by hanging the above flyer around your community? Let us know!
We can look forward to fresh snow and snap peas in spring 2017 (this scene is from 2016).