Posts Filtered by Month - March 2017 |
Show Recent Posts
March 31, 2017
Spring is Here
Notes From The Field
By Derek McGeehan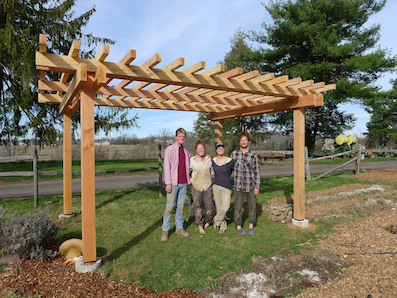 Early season crew, John, Hannah, Dana, and Derek, under the newly completed pergola built in honor of our beloved friend, herb gardener, herbalist, Jeannine Vannais, who passed away in early 2015.
Welcome to the 2017 Main Season CSA at Anchor Run Farm

It's the first full week in April and that means that the race is about to commence. We're worshipping the sun whenever it graces our skies and are hopeful for a solid week of glorious sunshine accompanied by a few windy days to dry out the soil just enough in order to begin preparing raised beds and planting our anxiously awaiting transplants. Over the past nine seasons we've begun our outside springtime growing adventures during the first week or two of April. What began as an early spring in February transformed into a late spring in March and as we enter April we're at least safely into springtime temperatures albeit with plenty of moisture. With increased warmth, longer day length, a higher-in-the-sky sun, and perhaps the waking of the perennial vegetation we're eagerly hoping the ground dries out faster.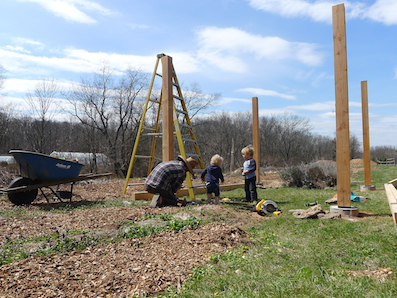 Pergola in progress
Because we're unable to transplant or directly sow seeds into the fields we've been able to focus our springtime energy on other areas of the farm that would ordinarily lose priority to the field crops. Extreme sprucing up of the herb garden, creating a new flower garden right outside of the pick up room, building a pergola, and beautifying the pick up room are some of the jobs we've been immersed in.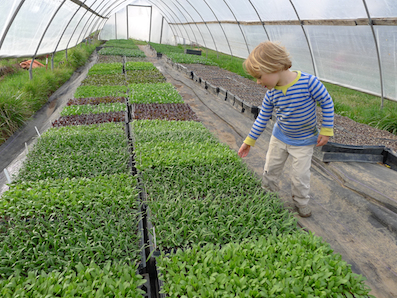 Patient transplants hardening off in the hoop house
We're looking forward to welcoming you back to the farm this spring - hopefully CSA pick ups will begin in mid-to-late May. Open House/Orientation Day is scheduled for Sunday May 7th 10am-2pm. Workshift opportunities should begin sometime in April. See you soon!
March 31, 2017
Wild For Salmon Buying Club Order
Other News
We're once again partnering with local fishermen, fishing family, fishing company
Wild For Salmon
, who trek to Alaska each summer to participate in the sustainable salmon catch in Bristol Bay. They also sell other Alaskan fish, shellfish, and other aquatic products.
For more information and to place your order, please follow this
link
. The fish is amazing!
Orders are due by 11pm Sunday 4/23 and are scheduled to be picked up at the farm on Wednesday 4/26 10am-12noon. If you cannot pick up during this timeframe please contact us at anchorruncsa@gmail.com to coordinate an alternate pick up time.
If you have any questions about ordering or their products please contact info@wildforsalmon.com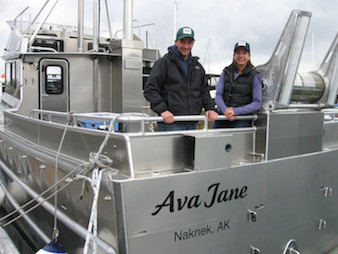 Fisherfolk Steve and Jenn on their boat in Alaska

March 31, 2017
CSA Information and Reminders
Other News
- A $200 deposit is due when you sign up to secure your share (also confirms your interest)

- CSA Open House and New Member Orientation 10am-2pm Sunday May 7th with field/u-pick and barn/pick-up tours on the hour and half hour, respectively, with a total of 4 tours of each (so you only really need to hang out for about an hour; more information will follow)

- Work hour opportunities will probably begin in mid-April. Look for an e-mail from us announcing a schedule.
-
CSA pick up will probably begin either Monday May 15th or Monday May 22nd, depending on the spring weather.
When you signed up for your share you selected a pick-up day;
log in
to check your selection if you've forgotten. If you're a half share owner and are a returning member you'll have the same pick up week as last year; if you're a new half share owner you'll be assigned Week A or Week B before the season begins.
Log in
to check your week, too.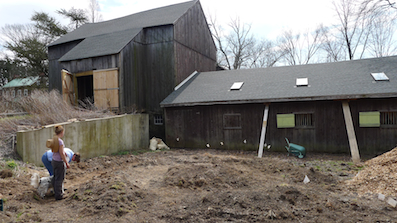 Field Manager/Crew Leader Hannah, her mom Becky, and farm dog Borchie brainstorm and assess new flower garden and CSA member habitat outside of pick up room.