Posts Filtered by Month - April 2017 |
Show Recent Posts
April 30, 2017
Welcoming Incoming May
Notes From The Field
By Derek McGeehan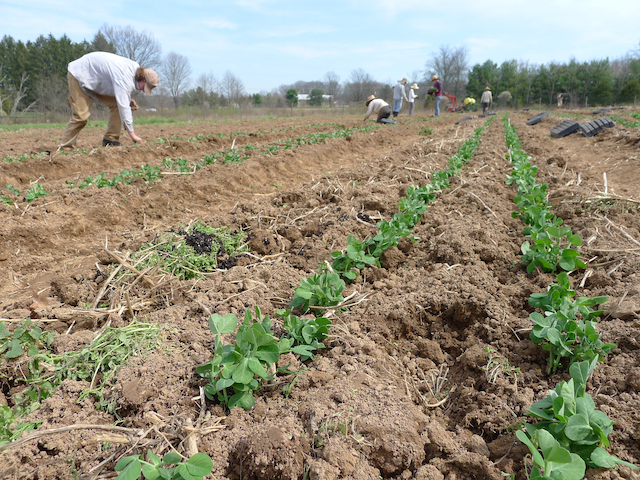 Transplanting patient peas a week later than normal due to the wet weather.
May arrives this week which means we're almost halfway through spring already. It seems like just yesterday we had snow on the ground, received too much subsequent rainfall, and desperately waited for the ground to dry out enough for planting. Just when we couldn't wait any longer the weather pattern changed and we had a few weeks of relatively dry weather. Because of the wet second half of March and the first week of April we basically had to do a month's worth of work in about two weeks time. Early April through mid-May is probably our busiest ground preparation and planting time. A lot of crops go in the ground during this timeframe, both for early and middle of the season harvest. Many crops go in successionally either weekly or biweekly or monthly like lettuces, beets, chard, spinach, scallions, dill, cilantro, parsley, summer squash, cucumbers, and greens, but many large plantings of one-timers go in also such as onions, potatoes, peas, tomatoes, peppers, cabbage, kale, radicchio, and winter squash. We're extremely busy and it feels good to be outside planting and making progress towards the upcoming harvest season.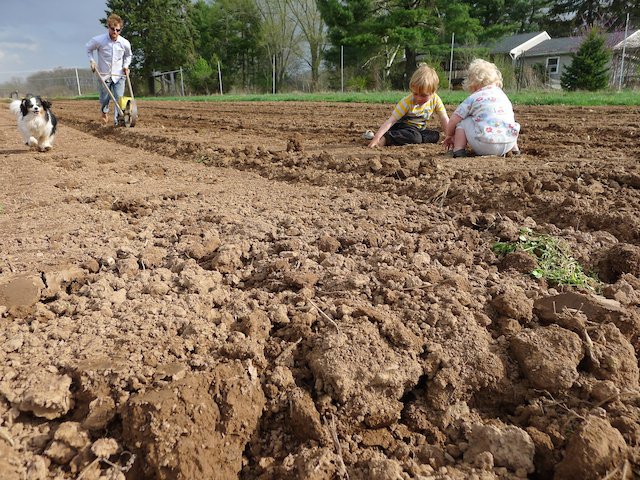 Direct seeding kale, arugula, broccoli raab, mizuna, mustard, radishes, and turnips.
April 30, 2017
CSA Orientation and Open House May 7th!
Other News
When -- Sunday May 7th, 10:00 AM - 2:00 PM
Where -- Anchor Run Farm 2578 2nd Street Pike, Wrightstown, PA 18940. Parking is available on site in a large stone lot at the end of the driveway. Importantly, please drive slowly in and out of the farm, there will be plenty of kids, adults, cats, and maybe a dog or two (on a leash) wandering around.
Who Should Attend -- New members who would like to check out the farm and learn more about how our CSA works before the harvest season starts. Returning members who want to spend time with their food community.
Why -- We'll be hosting field tours and pick-up room tours complete with ample time for Q&A sessions with the farmers and the core group members. See what your food looks like before it reaches your kitchen, where your 'u-pick' crops will be this year as well as how the pick-up room and workshifts function. There will be some snacks and light refreshments under the pavilion. So come on out and meet your farmers, mingle with the farm community, and enjoy some long awaited spring excitement!
Schedule of Events -- Field tours on the hour at 10:00am, 11:00am, 12:00pm, and 1:00pm. Pick-up room tours on the half hour at 10:30am, 11:30am, 12:30pm, and 1:30pm. The Q&A and light refreshments are all on-going.
Can't Make It? - Don't worry; staff or volunteers will be present in the pick-up room for the first two weeks of distribution to help guide new members.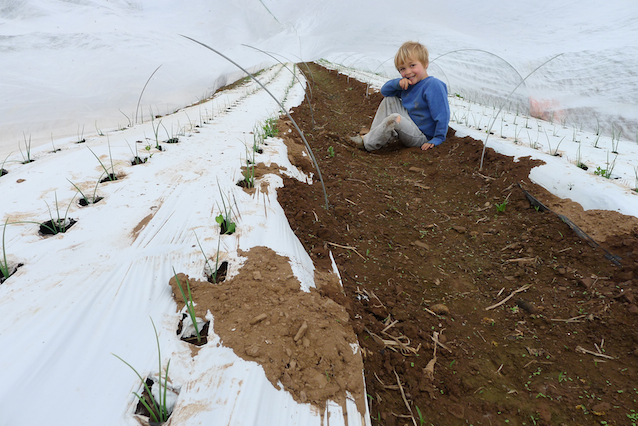 New for us: growing onions in white plastic under hoops and row cover. Why: the white plastic suppresses weeds, is a deterrent to some onion pests, and remains cooler than black plastic. The row cover is used as a barrier to keep the newly arrived allium minor pest away during its spring flight period. We're hopeful that all of this extra effort pays off in higher yields.
April 30, 2017
Pertinent CSA Information
Other News
- A $200 deposit is due when you sign up to secure your share (also confirms your interest)
-
CSA share balance is due by May 1st
-
Log in to check your balance
. If you've only just joined and submitted your deposit, please remit the balance by the middle of May if possible.
- Work hour opportunities will begin soon. Look for an e-mail from us announcing a schedule. We normally spend a lot of time in April cleaning up the strawberry and carrot patches, but this year the strawberry patch is almost perfectly weed free and the carrots are a little behind schedule due to the wet weather.
-
CSA pick up will probably begin Monday May 22nd
, depending on the weather over the next few weeks. When you signed up for your share you selected a pick-up day;
log in
to check your selection if you've forgotten. If you're a half share owner and are a returning member you'll have the same pick up week as last year; if you're a new half share owner you'll be assigned Week A or Week B before the season begins.
Log in
to check your week, too.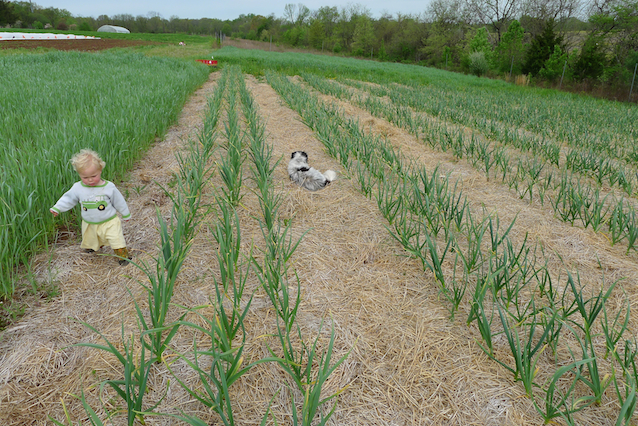 The garlic patch looks great this year and didn't mind all of the moisture!
April 30, 2017
Ledamete Grass Farm's Pastured Meat CSA
Other News
Would you like to eat the BEST organically-raised and pastured chicken, pork, and beef?
Ledamete Grass Farm offers a chicken and also a pork share with pick up at our farm. Each month over the course of our season they'll also set up a monthly market stand, but there are discounts for joining their CSA. Drop offs for their meat CSA also occur once a month for 6 months.
For more information and to sign up follow this link to their website.