Posts Filtered by Month - April 2019 |
Show Recent Posts
April 13, 2019
So Thankful
Notes From The Field
by Farmer Derek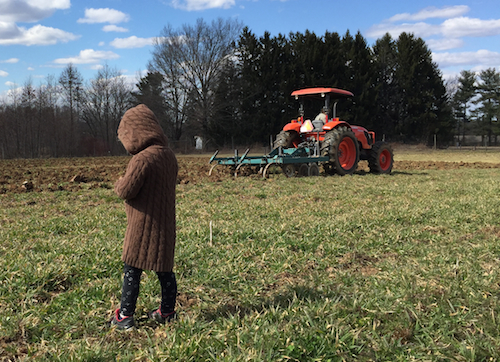 The first step towards planting crops: chisel plowing.
It's only mid-April but it feels like we've been playing out in the dirt for quite a while already. We're very happy to report that (so far) it's been one of the most enjoyable and productive springtimes we've had at the farm. There's been ample sun, plenty of dry weather, warm days, and not too many frosts. We're chugging along right on schedule. Crops that are already nestled in their raised beds include two rounds of peas, kale, broccoli, cabbage, head lettuces, lettuce mix, beets, chard, spinach, arugula, onions, carrots, fennel, dill, cilantro, and parsley. In fact, we're very close to having wrapped up all of our early to mid-spring planting. All that is left are the potatoes (1500 pounds to plant over 10,000 bed feet), the weekly lettuces, and another planting of spinach and lettuce mix in the tunnels. We even cultivated the first planting of brassicas. Practically every spring crop gets covered with floating row cover as a pest barrier but it also acts as a mini greenhouse, protecting crops from frost and heating the space underneath slightly. Thus, weeds germinate more easily and so need to be cultivated right on time with hopes that we can avoid most hand weeding.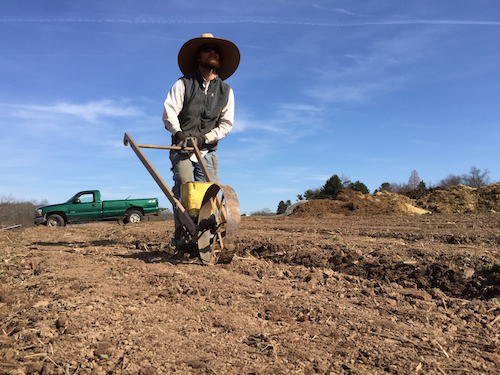 We transplant most of what we grow, but direct seed carrots, turnips, radishes, and greens like arugula, mix, and broccoli raab.
Before this weekend's needed rain event(s) I even began prepping for summer crops including tomatoes, peppers, squash, cucumbers, and watermelon. The soil was opened up in these areas for the first time since last summer. After a cover crop and compost application, the soil should be ready to host our crops and provide them with the nutrients they need.
It's exciting to have returned to this time of year once again. Bulbs and trees are in bloom, peepers and toads are singing, swallows and flycatchers are back, and the green sheen will grace us for another six months. With the plethora of beautiful days we've been fortunate to work outside in, it feels like the scale is balancing against the contrast of last season's weather and subsequent growing challenges.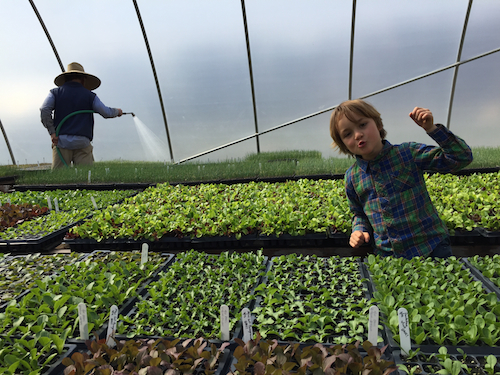 By necessity the most meticulously cared for and monitored space on the farm, the greenhouse is where we start most of what we grow.
April 13, 2019
Harvest Season, Workshifts, Farm Events
Other News
by Farmer Derek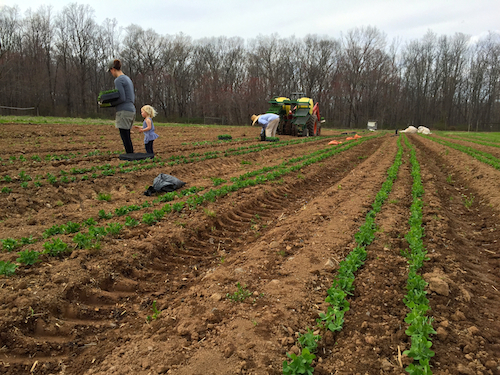 Round number two of snow peas being transplanted outside.
So, when do harvests begin? Good question. Typically we don't know for sure until a week or two prior. Crops truly grow exponentially after May 1st (a magical amount of daylight hours are reached) and then it becomes easier for us to know when enough produce is ready to be picked to ensure a diverse and bountiful first harvest. Even though we're a good month out, if this ideal weather continues I'm going to predict the harvest season will commence the week of May 12th. If the weather trend changes it could be May 19th. Confirmation will be announced in early May.
If you signed up for a share with the work discount you may be wondering when workshifts will begin. Typically they begin in late April or early May or whenever farm staff can no longer keep up with the current workload. As our farming footprint expands and weeds grow in earnest, we'll probably need more help. We'll announce the start of workshifts via e-mail and you can confirm the schedule on our
calendar
.
Open House and Orientation is scheduled for May 5th. Farm potlucks will probably begin in either May or June and we'll host one per month through October. Potlucks are a great way to enjoy the farm with fellow members and your farmers. Typically there will be some live music, a small fire, and of course plenty of good food to share. Additionally, longtime farm member Gia will coordinate and host some workshops that deal with dealing with your farm bounty. These workshops are great for sharing produce use and storage tips.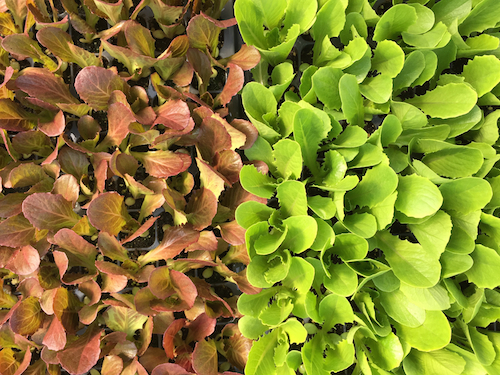 Two varieties of lettuce basking in the sun.
April 13, 2019
Open House and Orientation
Other News
by Farmer Dana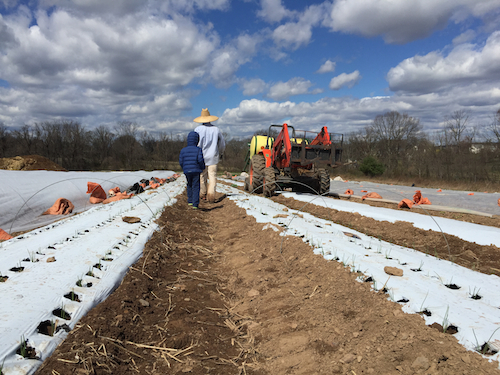 Transplanting onions into white plastic which deters pests while suppressing weeds. It also holds in moisture around the short-rooted onions. After planting we erect hoops over each bed and cover the entire patch with floating row cover until early June which keeps the dreaded allium leafminer off the plants.
When -- Sunday May 5th 10:00 AM - 2:00 PM
Where -- Anchor Run Farm 2578 2nd Street Pike, Wrightstown, PA 18940. Parking is available on site in a large stone lot at the end of the driveway. Importantly, please drive slowly in and out of the farm, there will be plenty of kids, adults, cats, and maybe a dog or two (on a leash) wandering around.
Who Should Attend -- New members who would like to check out the farm and learn more about how our CSA works before the harvest season starts. Returning members who want to spend time with their food community.
Why -- We'll be hosting field tours and pick-up room tours complete with ample time for Q&A sessions with the farmers and the core group members. See what your food looks like before it reaches your kitchen, where your 'u-pick' crops will be this year as well as how the pick-up room and workshifts function. There will be some snacks and light refreshments under the pavilion. So come on out and meet your farmers, mingle with the farm community, and enjoy some long awaited spring excitement!
Schedule of Events -- Field tours on the hour at 10:00am, 11:00am, 12:00pm, and 1:00pm. Pick-up room tours on the half hour at 10:30am, 11:30am, 12:30pm, and 1:30pm. The Q&A and light refreshments are all on-going.
Can't Make It? - Don't worry; staff or volunteers will be present in the pick-up room for the first two weeks of distribution to help guide new members.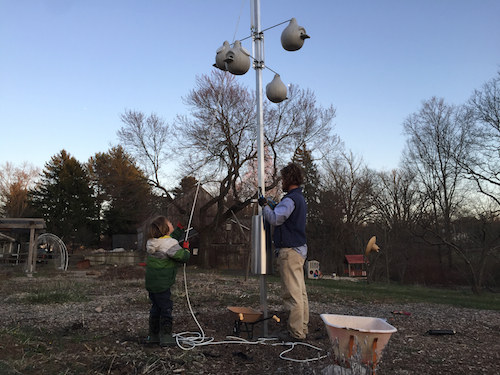 Erecting a home for the beloved purple martin in the herb garden. Now we just need to figure out a way to lure them here.
April 13, 2019
Introducing Farm Staff
Other News
by Farmer Dana
We have a small but diligent, honest, and hard-working crew this year. Craig, Pat, Haley, and Jacob will do a great job growing the organic produce we all love. Over the winter we introduced you to our newest staff, Haley and Jacob, and below you'll find a brief bio of Pat. Follow this link to view the
bio page
on our website.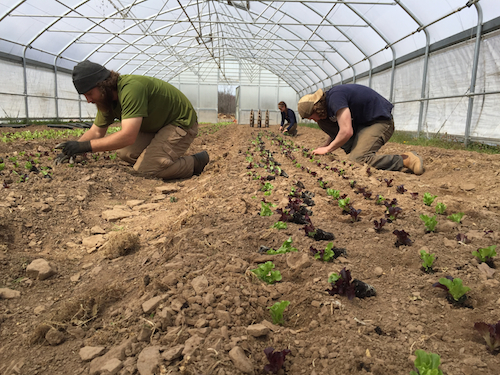 Jacob, Haley, and Pat transplanting lettuce mix into the movable high tunnel.
Pat McGowan joined the crew in the Spring of 2017. As an Anchor Run farmer he is involved in every aspect of production both in the greenhouse and in the field.
Pat grew up in Churchville and has been a part of the farm's community since childhood, as his family has been members for many years. Pat has always had a love for nature and outdoor activities. His interests eventually led him to gain growing experience at Easterly Link Landscapes. While landscaping, he also developed skills as a stone mason, which he puts to work around the farm as well.
Pat lives on site at the farm and looks forward to continuing to learn about sustainable agriculture during the following growing seasons. Concurrently, he is pursuing a degree in Landscape Architecture at Temple University.