Displaying a Single Post |
Show Recent Posts
June 11, 2017
2017 Farm Crew
Notes From The Field
By Derek McGeehan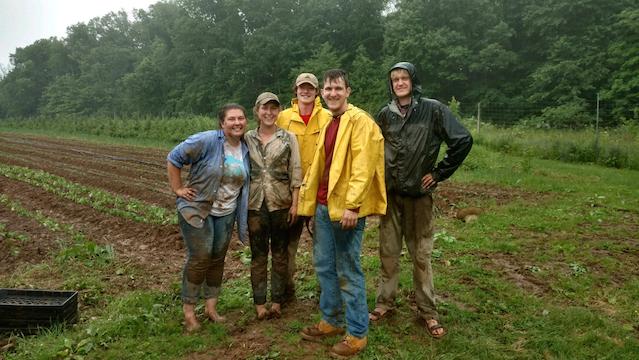 The 2017 Anchor Run CSA farm field crew smiling after transplanting beans in the warm rain: Lauren, Hannah, Pat, Joe, and John
Over the next few weeks we'll introduce individual members of the crew to the Anchor Run CSA community. For more information check out our
Farmer Bio
page.
Field manager and crew leader Hannah Stocker joined the team of growers at Anchor Run Farm in the winter of 2016. She and her husband, Jason, along with their dog, Honey, live on site in the White Pine Ranch. They are so happy to call Anchor Run their home, and they hope to be a part of the farm for years to come.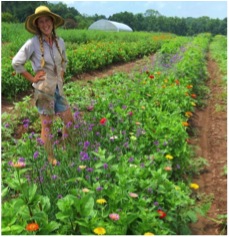 Hannah first cultivated her love of plants and fresh food in her grandfather's and mother's gardens at her childhood home in Newtown borough. Inspired by these memories, she explored her interest in the natural world by taking jobs doing landscaping and working at a perennial plant nursery and even a flower shop. Her passion for things that grow also lead her to pursue a degree in Horticulture. Like Derek and Dana, after acquiring her Bachelor of Science, she ventured to the Washington D.C. area. While there she became immersed in Organic CSA farming at Clagett Farm, operated by the Chesapeake Bay Foundation. After more than 3 years of honing her farming skills at Clagett, she decided to return to her roots and help feed the community she loves in Bucks County.
Hannah's role as field manager allows her to work closely with Dana and Derek and experience the scope of challenging and humbling tasks that are required to keep the farm running. As Derek once said, she is a wearer of many hats, requiring her to oversee everything from the seasonal staff to marketing to barn organization! Each day Hannah falls more in love with life here on the farm, and she is so thankful to the amazing community that allows Anchor Run to be so successful!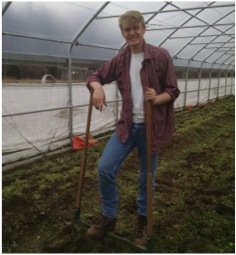 Assistant Farmer John Conner is a Bucks County native, heralding from down the road in Newtown. He first learned of Anchor Run CSA from his sister and field manager, Hannah. John graduated Council Rock High School North in 2012 and The Pennsylvania State University in 2016 with a Bachelors of Arts in English. Besides working at Anchor Run, he is currently undergoing discernment for a vocation to the priesthood in the Episcopal Diocese of Pennsylvania. He is an avid reader, runner, and Dungeon Master and is excited to be helping the members of his community by providing them with fresh food.