Displaying a Single Post |
Show Recent Posts
June 4, 2017
A Week's Worth
Notes From The Field
By Derek McGeehan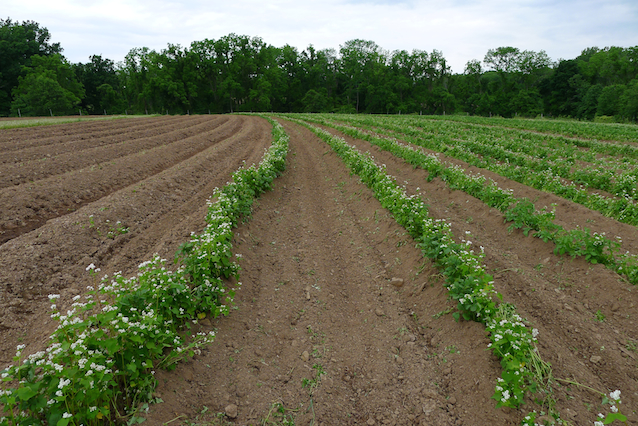 Above, those are freshly hilled potatoes mixed with a volunteer stand of flowering buckwheat, which sprouted and grew this spring following last year's cover crop that went to seed during the warm autumn. By the way, properly hilled potatoes support additional growth for the tubers, since they mainly grow around and above the seed potato. Around 2 miles of potatoes were hilled yesterday, and each bed was hit twice in opposing directions, so I basically drove the tractor for 4 miles in the field on a blindingly sunny day. I did miss my misplaced sunglasses. South or to the left of the greenery are fairly aggressively hilled beds that were just planted with 3000 sweet potato slips/seedlings. Those will appreciate the anticipated moisture arriving Sunday-Monday.
The sun returned last week and we were finally able to cultivate many, many crops and transplant a multitude of new ones including edamame, lettuces, summer squash, cucumbers, as well as the aforementioned sweet potatoes. Here's a list of what was cultivated: basil, dill, cilantro, two bean plantings, flowers, lettuces, beets, and chard.
Some big upcoming jobs include pruning and trellising tomatoes, continued cultivation, harvesting of course, a lot of ground preparation for current and mid-summer plantings, as well as transplanting winter squash, cantaloupe, watermelon #2, beans #3, tomatoes #2, lettuces #11, basil #2, dill #3, cilantro #3, parsley #3, and sunflowers #2.