Displaying a Single Post |
Show Recent Posts
August 11, 2019
Alignment
Notes From The Field
by Farmer Derek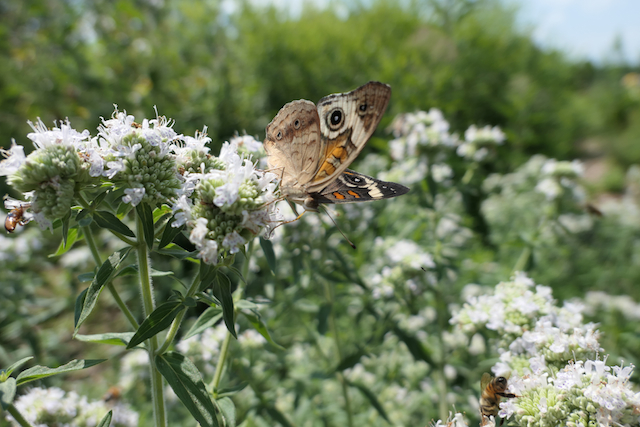 Common buckeye butterflies, honey bees, and other insects gathering nectar and pollen from the mountain mint patch in the herb garden.
We lucked out once again with some precipitation when the farm was ready and waiting, the sky providing almost an inch of light rain in a two-day period. Cover crop and carrot seeds needed another soaking to help stir that inner life force into waking and sprouting. Carrot seeds require a bit more TLC to get going compared to other crops we direct seed. Constant moisture supposedly helps them germinate but we're currently content with our dependency on rainfall which appears to be right on schedule this coming Tuesday. The carrots are just beginning to sprout and push through the soil to begin photosynthesizing the sun's rays into delectable carbohydrates while they pull in that satisfying carbon dioxide from the earth's atmosphere and in turn give us a bit more oxygen to breathe. In a couple of weeks we'll cull their competitors with stirrup hoes and hopefully it will be a successful fall carrot patch.
Speaking of success, the stars aligned this year and for whatever reason(s) we've produced more cantaloupe than we ever have. Which is definitely a good thing, but it also means we've got to make sure we harvest it right on time and store it perfectly until we can distribute it to you in the pick up room. This year we grew two new varieties, one round and one oblong. They're both potential varieties to grow next year.
Last week we underwent our annual Certified Organic inspection. It's a pretty straightforward affair for us since we've been managing the farm organically for 11 years, but we still need to provide documentation for all of our inputs/purchases to confirm they are organic approved, as well as records for crop yields, health, rotation, etc. The certification isn't cheap, but we still think it provides the only true proof across the food market landscape of non-toxic farming and processing practices. Because we're a CSA-only farm and all of our members pick up and harvest here there's probably more-than-enough proof in our members' observation. Having a third-party certifier and acquiring the USDA Organic seal does provide a universally recognized symbol, hopefully of integrity and good and clean food, giving you more reason to love your farm and trust our growing practices.