Displaying a Single Post |
Show Recent Posts
January 7, 2018
All is Not Lost
Notes From The Field
By Derek McGeehan
Heading home after some serious snow play.
Our fingers and toes are still crossed (maybe frostbitten) as we continue to positively hope for successfully getting through this unforeseen deep freeze. Now, at least, 5 degrees without wind doesn't feel all that cold; when it's sunny and 15 degrees it feels warm. At least we have some snow to play in, too.
We are looking forward to trying to wash in the barn this week when it will be 40 degrees instead of 15-20 like last week. The washing experiment taught us that when it is that chilly, water freezes quickly to the conveyor chain on our root washer rendering it unusable. Hannah then bravely sprayed off the roots as much as possible while laying them out on bread trays. It had to be done very quickly before any of them froze.
It appears that a January thaw is in store for us this week and quite unbelievably it may be in the 50s next weekend. Crazy?
One important issue that we somehow (?) overlooked while we were more focused on successfully growing and storing winter crops is how to appropriately heat the barn in the future, warranting some serious consideration for a system that can heat the entire lower floor. We've managed to make the pick up room somewhat comfortable/tolerable using greenhouse plastic, tarps, old row cover, and space heaters, but this doesn't feel like a permanent solution to us, even though it is contemporary-rustic-farm-chic.
Thanks for growing with us!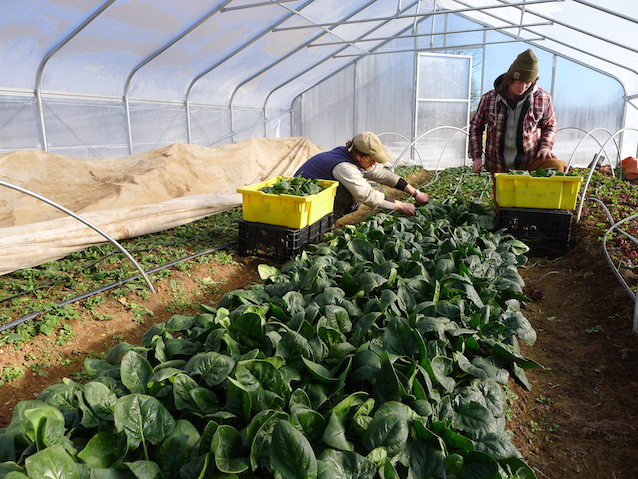 Harvesting cold tolerant spinach with Pat from the new hoop tunnel last week for share #2.