Displaying a Single Post |
Show Recent Posts
July 9, 2017
Beets and Squash Favorites
How I Enjoyed My Harvest
By Linda Dansbury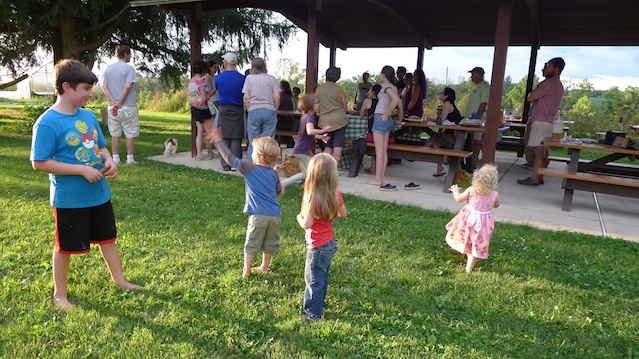 Saturday evening's potluck crowd enjoyed a wonderful meal, kefir making education, and kid entertainment.
We cooked so much for guests over the 4th of July holiday weekend that we spent much of the week finishing up our leftovers that included green bean salad, potato salad, cucumber salad to name a few.
A few things from this week are below, but other members would like to hear how you are enjoying your harvest, so please email me at lindadansbury@comcast.net with your ideas - please put Anchor Run in the Subject line of the email.
Beets, tarragon, scallions - I had 2 bunches of beets (the greens were used long ago) and wanted to use them so I roasted them all at the same time. I made a beet salad with half of them. My method is to slice scallions nice and thin, chop a mix of parsley and tarragon. Put into a small bowl. Add a bit of Dijon mustard, red wine vinegar, salt and pepper and mix well. Add olive oil in a thin stream and whisk into the red wine vinegar mix. I then pore some of the dressing into a separate bowl, chop the beets and add to the dressing and let them sit for a bit - they can actually stay in this dressing for at least a week. It can be eaten like this, but I like to put a layer of lettuce on plates and drizzle with some of the dressing, then top with the chopped beets and a nice grind of pepper and then add little bits of gresh goat cheese.
Summer squash, eggplant, radicchio, scallions - I purposely grilled extra amounts so I had leftovers which I used in sandwiches and in a pasta salad - so my lunches were absolutely delicious! The grilled veggies can also be chopped up and then put onto grilled bread with a drizzle of olive oil and/or cheese - think bruschetta.