Displaying a Single Post |
Show Recent Posts
September 18, 2016
Certified Organic
Notes From The Field
By Derek McGeehan
We took the plunge and it's now official: we're Certified Organic. After a lengthy application, solid record keeping, a thorough onsite inspection, as well as using organic practices since the inception of the CSA 13 years ago, Anchor Run is certifiably organically growing produce. We're happy to have the outside approval, though our true certifiers all these years have been our CSA members who pick up at and work on the farm with us, and continue to trust our growing practices. Thank you for your support!
Some big outside jobs in the field from last week were prepping for and sowing cover crops in anticipation of tonight's potential rain event as well as the removal of all of the plastic and landscape fabric from the winter squash patch. We transplanted another round of spinach, the first round of winter scallions, and some bok choy. Winter carrots and another round of arugula, kale, and mustard greens were direct seeded. This coming week we'll begin preparing the hoop house and greenhouse for winter growing, as well as go dancing in the rain.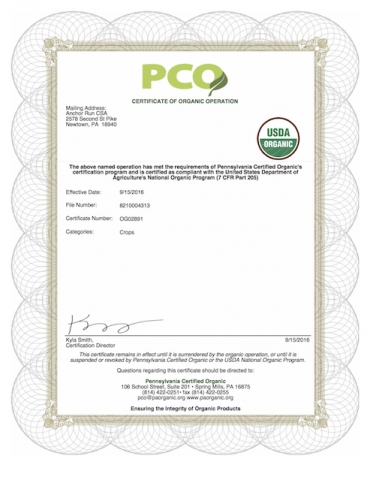 After farming "organically" at Anchor Run for the past 8 seasons, we took the next step to become officially recognized as Certified Organic and were approved last week. The CSA was managed "organically" for the 5 seasons prior to our arrival as well, so after 13 total seasons it's now official.