Displaying a Single Post |
Show Recent Posts
September 8, 2019
Cooking with Farm Goodies
How I Enjoyed My Harvest
By Linda Dansbury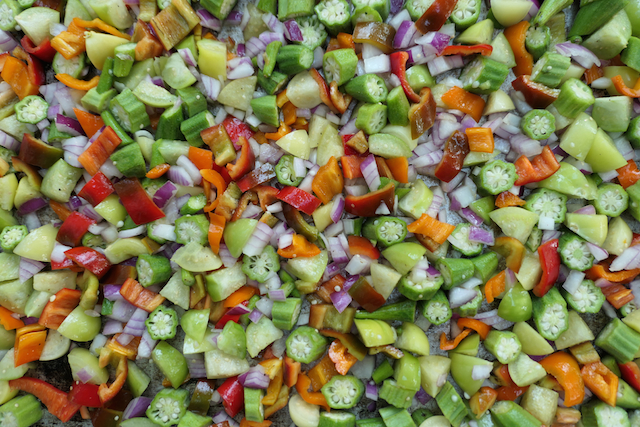 Chopped okra, red onion, tomatillos, and sweet peppers tossed with salt, pepper, olive oil, and a sprinkle of rice wine vinegar to be roasted at 400 for an hour will yield an easy and tasty dish enjoyed over rice.
I love to cook, and it is made extra special when the quality and quantity of such amazing produce is a large part of what is available to me to use. Share how you enjoy your harvest by emailing me at lindadansbury@comcast.net and please put Anchor Run in the subject line.
Doing this newsletter both helps me find new ways to use the bounty and reminds me of favorite methods and recipes that are forgotten in the "off" season for a particular crop. I hope it also helps you!
Kale, butternut squash
- made the
Northern Spy's Kale Salad
that I added last week - I made a lot and it really does keep until the next day. I only used grated Parmesan cheese (not the cheddar that is listed) and used pistachios.
Tomatoes, Hershberger bacon, parsley, scallion - found a new salad this week called BLT Salad. Cook bacon, and then for croutons, use bread you like cut into cubes and "toast" the bread in the bacon fat (I skipped this step). Put lettuces in a large bowl, along with cut up tomatoes or cherry tomatoes. I added a chopped scallion and parsley to the bowl as well, but this could be skipped. Then take about a 1/2 pint worth of tomato and a 1/4 cup of good quality mayonaise and process until smooth - for this I used my immersion blender in the smoothie cup that comes with it so I didn't have to get the big processor out. Add salt and pepper to taste, drizzle over salad and it is finished. Yum...
Kale, tomatoes, onion, hot pepper
- made the
Kenyan-style Kale and Tomatoes.
This is a recipe I had completely forgotten about. As the description says, it is eaten as is with flatbread. I think adding a can of chickpeas, white beans or cooked sausage or chicken would be delicious. I ate it as a side dish with grilled chicken, and then had leftovers for lunch.
Potatoes, onions, parsley - made German-style potato salad. Love making it this way because it keeps for days afterward, so I make large batches and then can eat it for a few days.
Tomatillos, cilantro, hot pepper
- made
Salsa Verde
with the last of my tomatillos.