Displaying a Single Post |
Show Recent Posts
April 16, 2018
Early Spring Planting
Notes From The Field
By Derek McGeehan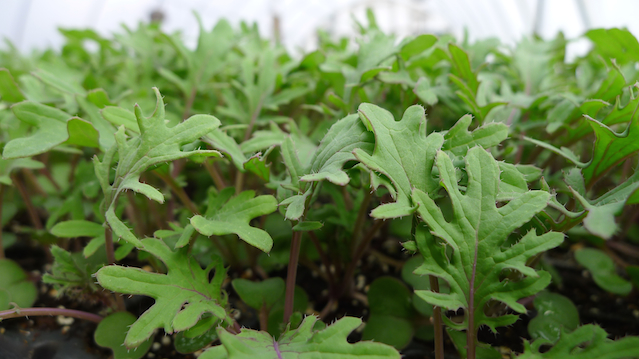 Kale transplants ready for life outside the greenhouse.
Since our last newsletter went out we've truly hit the ground running! Plowing, bed shaping, planting, direct seeding, cover cropping, and row covering have been in full swing and we're right on the crop schedule, thankfully. It wasn't long ago that we all thought we would be delayed by the cold wet weather but the first half of April was fortunately dry and allowed us to work accordingly. Today's rain event was perfect for giving the transplants a much needed drink and for germinating the seeds in the two miles of rows that were direct seeded with carrots and spring greens (as long as nothing washed away...). Around 75% of our crops are currently covered by fabric to deter pests but to also protect the seeds and plants during extreme weather such as this. As long as we use enough sand bags to anchor the 30-foot-wide sheets to prevent them from kiting we'll be okay. I think we've learned that lesson.

After this deluge awakens weed seeds the cultivating season will begin and will last into September. Timing is everything when combating weed pressure and we do all of it manually for the most part. The tops of the beds where the crops reside will dry out much quicker than the driving/walking aisles which will allow us to get to the germinated weeds on time.

For now through September our weekly routine will include field prep, transplanting, seeding, and cultivating (and more). Soon harvesting will be added to that list. Historically our harvests begin in mid-May and we will be in touch via e-mail letting you know precise harvest start dates early in May. April showers bring May lettuces.


Transplanting snow peas on a windy cold but dry spring day.