Displaying a Single Post |
Show Recent Posts
February 23, 2016
Farm Upgrades and Updates
Notes From The Field
By Derek McGeehan
This winter is quickly coming to a close and the 2016 growing season is about to be officially underway. Over this past month we welcomed our first 2016 crew member and farm manager, Hannah, to the farm. She will be living onsite with her husband in the White Pine Ranch and has been very busy helping out already. A Bucks County native, she arrives with three years of CSA farming experience in Maryland and hopes to run her own small farming business in the future. We're hoping we can help her along that path while also learning from her while she is here. Already it has been very helpful to us having someone onsite with a lot of prior CSA farming experience. Over the next couple of months we'll post more detailed bios of our 2016 farm staff, who we're very excited and enthusiastic about, and will be welcoming to the workload in March, April, and May.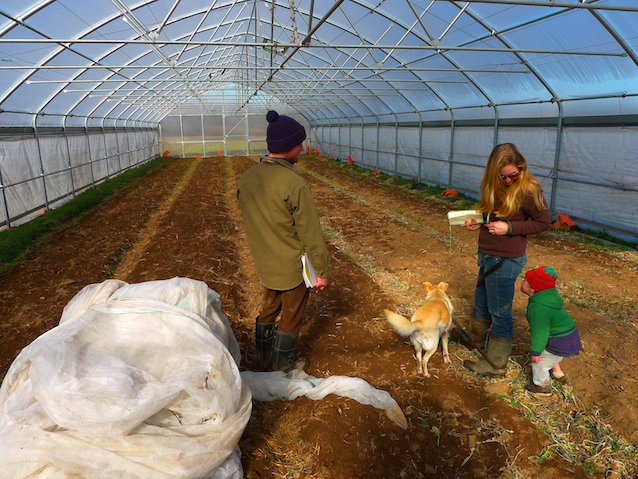 A view of the inside of the high tunnel where carrots will soon make their home. Gabe plays peekaboo.
Over the past month the greenhouse has been cleaned up, organized, and weeded so we can begin seeding our spring crops next week. Five to six weeks later they'll be planted outside in the fields after hard freezes are over, typically in early April. The five beds in the high tunnel are almost ready to house a carrot seeding. The debris left over from our winter greens was removed and raised beds were re-prepared. After hoping to trick some weed seeds into germination over the next week, we're planning to cultivate the beds one final time and then seed carrots for late spring or very early summer harvest. Typically we seed carrots outside in early April, so this will give us a 6-week head start. Hopefully this experiment works!