Displaying a Single Post |
Show Recent Posts
July 30, 2017
Ground/Husk Cherry Recommendation
How I Enjoyed My Harvest
By Linda Dansbury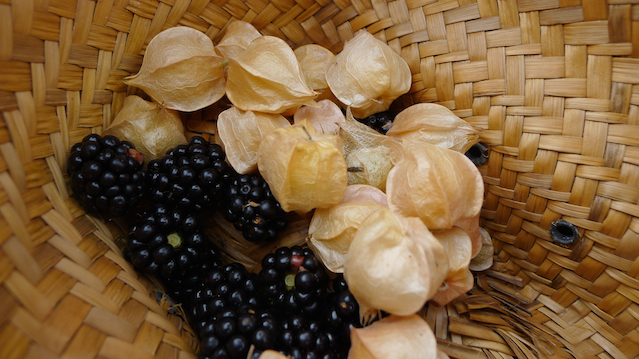 Fellow member Julianne immediately responded to the newsletter last week with a recipe for husk cherries that her family loves. It sounds delicious and incorporates so many of the veggies we are receiving right now - very important to me when choosing recipes to keep on this site. I can't wait to try it! It is simply called
Fresh Ground Cherry Salsa.
Thank you Julianne - if you have something you would like to share with membership, please send it to me at lindadansbury@comcast.net. Please put Anchor Run in the subject line so I can find your email.
Again this week, I kept up with my harvest by making a lot of salads with vinaigrettes so we could have them alongside grilled meats and leftovers for lunch.
Eggplant, squash, garlic, mint, scallions
- I made the
Thai-style Grilled Eggplant Salad
. I don't believe I have made this in a couple of years and it is delicious and keeps very well. Try it, as I say in the recipe description, even people who aren't crazy about eggplant like this dish.
Tomato, garlic scape, basil - yes, I found a bag with garlic scapes in the bottom of my crisper drawer and they were still good. I like using them in bruschetta as I did a couple of times this past week because they are more mild than garlic cloves so the flavor of the delicious tomatoes comes through.
Eggplant, basil
-
Eggplant Parmigiana
is a great way to use eggplant. For me, though, traditional recipes for the dish are very time consuming and make a mess of the kitchen. I found a recipe a few years ago by Mario Batali. You simply roast thick eggplant slices until nice and brown and somewhat soft. Allow to cool, then make eggplant "stacks", alternating eggplant, mozzarella cheese, sauce and basil. Then bake again. It is lighter than the usual versions too, which is nice in the summer - pair with a large salad for a complete meal.
Fennel, fresh onions, garlic, herbs - made the pork and fennel dish I described last week again - it was that delicious!
Tomato, garlic - I had the wonderful experience of being in Barcelona last year, and one of the most famous Tapas in the Catalan region is Tomato Bread. There are many, many versions, each bar and restaurant has its own recipe. I chose one that is very simple because I didn't want to hide the flavor of the tomato. I was making dinner for a friend that night and she loved it so much, she ate a half loaf herself! Start with a loaf of good quality bread, one that can absorb liquid. Brush with olive oil and sprinkle with a little salt and either grill or bake in oven until just nicely browned (you don't want to get it too brown or it will be too dried out to absorb the liquid). To prepare the tomatoes, cut them in half and with a box grater set over a bowl, grate the tomato halves - this method is great - flatten your hand out while you do it and you will be left with just the skin of the tomato. A puree is in the bowl, which would also be wonderful for a simple tomato sauce. Add a little salt to the tomato. When bread comes off the grill, take a garlic clove and rub the bread. Then spoon the tomato on the bread and allow it to soak in. That's it! This description makes it sound more complex than it is.