Displaying a Single Post |
Show Recent Posts
May 13, 2018
Harvest Season Begins Week of 5/21/18
Notes From The Field
By Derek McGeehan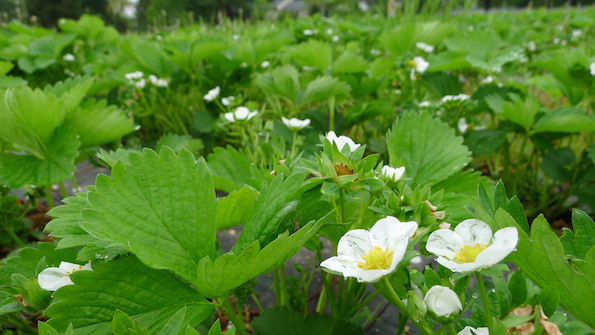 Strawberry plants are flowering!
Wow, we've been busy and time has flown by! It's now the middle of May, the harvest season is about to commence, tomatoes are in the ground, swallows have returned, eastern gray tree frogs are singing, forests and fields are green, and strawberries are flowering. It's been a month since our last official newsletter went out. It's difficult to spend enough time in front of a computer with all of the outside work we've had to do and a lack of rainy days hasn't forced us inside (until now). We've turned the corner away from frost and are now focused on planting traditional summer crops like squash, cucumbers, basil, melons, tomatillos, husk cherries, flowers, and tomatoes. Things are rolling along and we're right on schedule.
Most crops on the farm are looking healthy without any major surprises. Fortunately leaf miner damage seems to be minimal, almost absent. The ever-present springtime flea beetle, however, seems to have outsmarted our floating row cover in one field and is completely absent in another. The cool and previously dry weather hasn't stimulated too much weed growth though we've spent a lot of time cultivating to keep them from gaining any footholds.

We muscled through 3 or 4 days in the 90s, set up irrigation on the entire farm, and now of course are enjoying days and days of moisture and cool weather. It comes at a good time anyway. We're looking forward to seeing returning members and new faces on the farm, see you soon!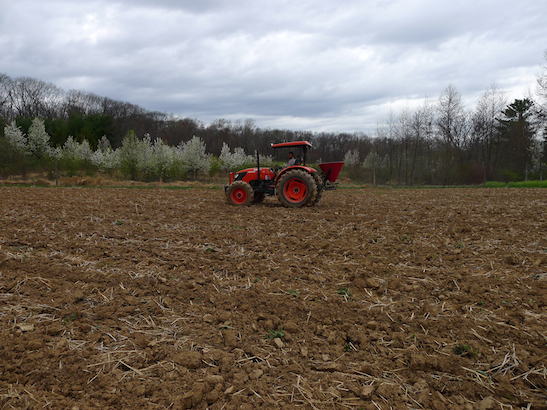 Sowing a cover crop mix of oats, peas, and sunflowers on a fallow field.