Displaying a Single Post |
Show Recent Posts
December 16, 2018
Healthy Greens
How I Enjoyed My Harvest
By Linda Dansbury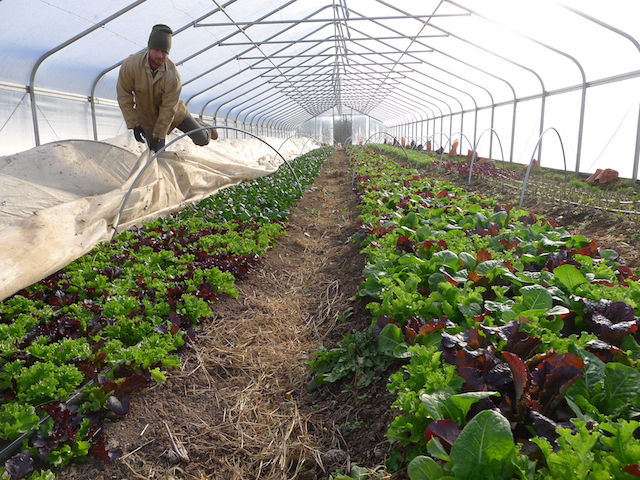 Uncovering lettuce mix and spinach in the hoop tunnel.
I grew up eating salads almost every night, so for me I feel better and healthier if I consistently eat them. We take the Italian approach to salad eating and enjoy it at the end of the meal - the reasoning behind this is it aids in digestion but another thought process is if you eat a salad at the start of the meal you will eat less of the main course.
Either way, enjoying salads, especially at this time of year helps you get the nutrients you need to stay healthy. Add ingredients such as honey roasted almonds or pecans; dried cranberries; fresh figs and pears; or roasted beets. Also consider using a nut oil such as walnut. All of these additions change an every day salad into a special holiday dish!
We have been enjoying the spinach immensely! The
Spinach Salad with Warm Bacon Dressing
has become a weekly enjoyment - we have a simple piece of fish to keep the meal lighter. I also decided to make
Creamed Spinach
with our pastured, grass fed rib eye. Made with fresh spinach and just a bit of cream make this a delicious side dish - and when I didn't have quite enough spinach for the dish, I added in some of the greens mix - I wasn't sure how it would be, but I really enjoyed the added flavor.