Displaying a Single Post |
Show Recent Posts
August 6, 2017
Into August, Into Cooler Temperatures...
Notes From The Field
By Derek McGeehan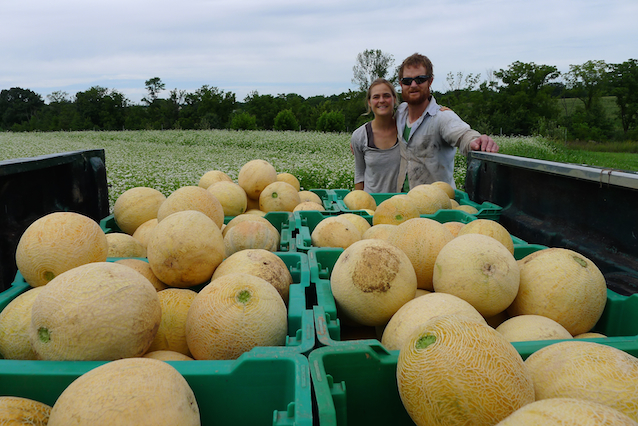 Snagging a photo of ourselves, sans kids, working outside on the farm, happens very infrequently these farming days, but this time we're all smiles after harvesting a satisfying amount of a cantaloupe-type melon, a crop we're still determined to grow successfully with good yields and good taste. The variety this year appears to be a winner, though there are so many variables affecting a crop that it's hard to say if it is specifically the variety. It could also be our extra attention, kind weather, fertile soil, or all of the above. When cantaloupe-type melons begin ripening the patch must be checked daily or every other day because they ripen very quickly, almost uniformly, and quickly deteriate outside.
Watermelon, on the other hand, are slightly less temperamental in our minds, tolerate slightly more stress, and can hold in the field much longer when ripe. Too much water on an almost mature crop, though, can quickly kill the plants leaving almost ripe fruit to fend for themselves under the sun. This year we grew two plantings of watermelon, one of which has already been successfully harvested and stowed and will be distributed over the next couple of weeks. Round two is about ready so hopefully it will tolerate the incoming moisture inundation.
Onions are 95% harvested and safely stored. Next on the harvest to-do list is embarking on the 10,000 feet of potatoes. We're anticipating a good crop this year.