Displaying a Single Post |
Show Recent Posts
October 6, 2018
Into The Mistic
Notes From The Field
by Farmer Derek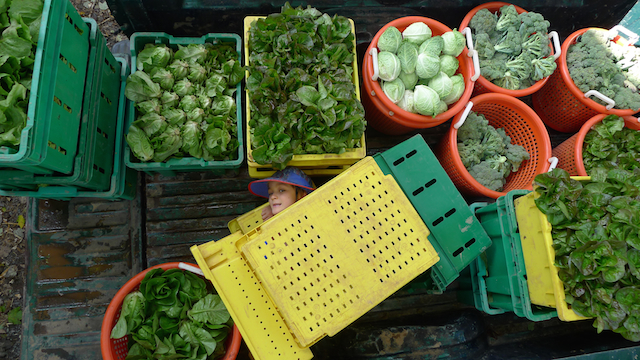 A portion of Thursday's harvest.
The final 6 weeks of the Main Season CSA are here. Twenty harvest weeks, about four-and-a-half months, have gone by. We've persevered through all types of weather but mostly a lot of rain (record breaking). We've had a few heat waves and some weeks of dry soil when we actually had to irrigate (what?). We've endured days and weeks of gray misty weather. Harvests have been good and fairly consistent but nothing has been epic. Some crops didn't perform as well as we would have liked but that can mostly be blamed on the excessive rainfall. Tomatoes produced well and over a long period and onions and leeks have performed well. The summer carrot harvest was big and we probably distributed them for longer than we ever have. Fall carrots should arrive later this month.

We're now focused on harvesting the remainder of fall storage crops like sweet potatoes, carrots, watermelon radishes, daikons, rutabaga, kohlrabi, and beets. We also turn our sights indoors as we prepare for and transplant and direct seed crops into our 4 tunnels for fall and winter growing. We have one more window of opportunity to sow cover crops before the next rain event; after that they won't grow enough to protect the soil over the winter. Last week with the help of multiple workshifts we put a serious dent in weed pressure but of course that will stay on our radar.

Broccoli has slowly started to mature and we're hopeful that it will increase in volume so that everyone gets a taste. Cauliflower should mature soon and with luck will be bountiful. Regular cabbages appear to be slightly stunted from the moisture but napa cabbage seems to be thriving and sizing up nicely. Chicories like endive, escarole, and dandelion as well as fall lettuces have tolerated the fall weather miraculously. We're anticipating an increase in greens for the last six weeks of harvest as well as a continuous assemblage of miscellaneous fun fall roots. Potatoes and sweet potatoes should round out shares (sweet potatoes need to cure for two more weeks and will be distributed starting with week 23).

We hope you enjoy your CSA shares!