Displaying a Single Post |
Show Recent Posts
April 13, 2019
Introducing Farm Staff
Other News
by Farmer Dana
We have a small but diligent, honest, and hard-working crew this year. Craig, Pat, Haley, and Jacob will do a great job growing the organic produce we all love. Over the winter we introduced you to our newest staff, Haley and Jacob, and below you'll find a brief bio of Pat. Follow this link to view the
bio page
on our website.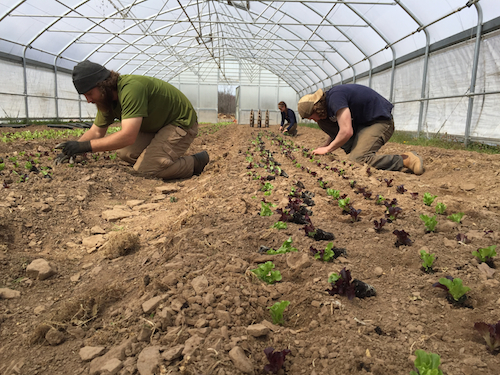 Jacob, Haley, and Pat transplanting lettuce mix into the movable high tunnel.
Pat McGowan joined the crew in the Spring of 2017. As an Anchor Run farmer he is involved in every aspect of production both in the greenhouse and in the field.
Pat grew up in Churchville and has been a part of the farm's community since childhood, as his family has been members for many years. Pat has always had a love for nature and outdoor activities. His interests eventually led him to gain growing experience at Easterly Link Landscapes. While landscaping, he also developed skills as a stone mason, which he puts to work around the farm as well.
Pat lives on site at the farm and looks forward to continuing to learn about sustainable agriculture during the following growing seasons. Concurrently, he is pursuing a degree in Landscape Architecture at Temple University.