Displaying a Single Post |
Show Recent Posts
July 7, 2019
Maple Syrup & Honey For Sale Thursday 7/11
Other News
by Farmer Dana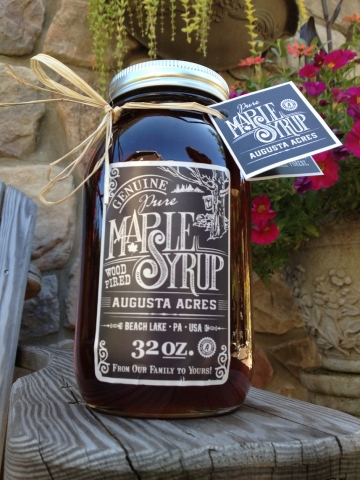 Susan and Todd Klikus of Augusta Acres Farm will be at Anchor Run CSA on Thursday, July 11th, 1:00-6:30pm to share and sell their maple syrup and honey!

Augusta Acres is located in Beach Lake, PA and is a family-run operation. They farm using only organic methods and are members of Pennsylvania Association for Sustainable Agriculture and the Pennsylvania Maple Producers Association.
Sap from trees located strictly on the farm is boiled down in small batches on their wood fired arch to produce a maple syrup that is dark and robust.
Their honey is extracted from on-farm apiaries and is an "all season", raw honey which is dark and very sweet.
Pints are $15; Quarts are $24.
Cash, checks, and credit cards are acceptable methods of payment.
Questions and to pre-order, contact Susan Klikus directly at susanklikus@gmail.com.
If you can't make it to the farm this Thursday during those hours and you would still like to participate in this opportunity contact Susan at susanklikus@gmail.com by end of day Tuesday July 9th and she will set aside your order to pick up on your regularly scheduled pick up day.