Displaying a Single Post |
Show Recent Posts
December 10, 2017
Ode to Wintry Roasted Vegetables
How I Enjoyed My Harvest
By Linda Dansbury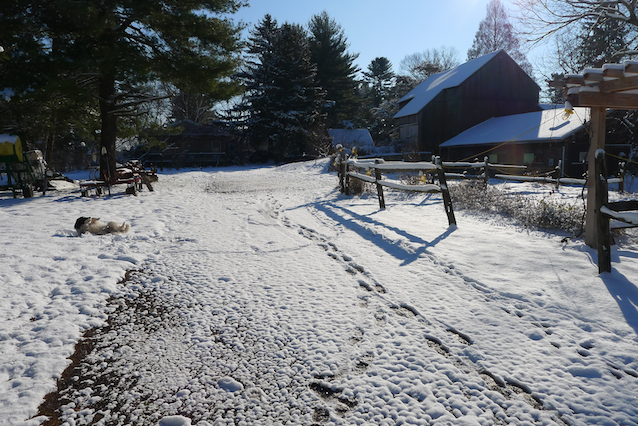 Farm dog Borchie relaxes on his back in the winter sun and snow (i.e. found something to roll in).
I love grilling veggies in the summer months, but have to admit that when the cooler days come and the pick up room is filled with potatoes, beets, leeks, garlic, turnips, celeriac, etc, I can't wait to "fire up" the oven for roasted veggies! The combinations are virtually endless, the colors are beautiful, and the flavors are scrumptious. We recently had European house guests (this guest has a food blog of her own that is pretty impressive). When they arrived, I had 2 cookie sheets filled with cut up veggies and they were very impressed with the beauty and the variety of veggies. I had intended that some of these veggies would be leftover for use in a frittata during the week, but when they came out of the oven and we were waiting for the meat to rest, we all picked at the tasty veggies so much that 4 of us finished off 2 full cookie sheets! Yes, they were that delicious!
Here are some quick and easy guidelines: cut up all veggies into the same size, so they cook at the same rate. In addition to what is listed above, include fennel, sweet potatoes, turnips, kohlrabi, daikon radish and onions. I also add cauliflower, broccoli, romanesco and/or Brussels sprouts if I have them. The temperature you cook at is somewhat flexible, but I find 375 to yield the best results - the vegetables become tender and nicely browned. I used to sliver the garlic, but found I always ended up with garlic "chips" so I now mince or grate it and mix it into the olive oil - if I am thinking ahead I let it sit for a bit. Toss the veggies with olive oil, salt and pepper and then bake until nicely browned and tender, about 45 minutes, less if you cut the veggies up small, more if the pieces are larger. Check on them every 10-15 minutes and shake or mix them up so they cook evenly.
As I said, the mixtures are almost endless. Try these additional add-ins to vary the flavor:
- sprinkle fresh parsley and parmesan, gruyere, or other cheese when just out of the oven
- cook with fresh thyme, rosemary or sage
- after cooking, add dried cranberries or fresh pomegranate seeds
- a bit of sesame oil and soy sauce/tamari mixed in when cooking or when out of the oven
- add fresh, chopped cilantro after cooking
I made romesco sauce in the late summer when we had a lot of red peppers and that served alongside the veggies is delicious too. As I said, the combos are almost endless - enjoy!