Displaying a Single Post |
Show Recent Posts
July 29, 2018
Off and On Monsoon
Notes From The Field
By Derek McGeehan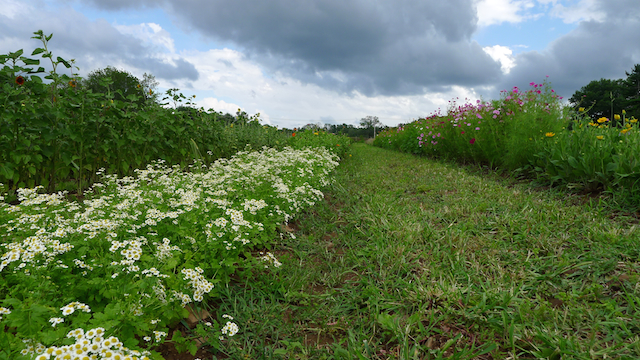 U-Pick flower patch on a stormy day.
It's safe to say it's been a difficult week on the farm though it could have been worse. We only received 4-5" of rain whereas locations in Central PA received 12-16". We're definitely super thankful for the sunshine the past couple of days as well as for Friday's rainfall missing us. We are lucky that the soil has dried out just enough for weed-killing tillage and bed-shaping which will allow us to transplant beets, chard, kale, lettuce, dill, and cilantro and direct seed carrots and rutabaga this week and thus stay on our planting schedule. Tomorrow, Monday, with hopefully enough time to for subsequent drying, we'll manually cultivate the thousands of feet of broccoli and cauliflower (and wherever else we have time for after a morning of harvesting for pick up). Tuesday, hopefully before another inundation of moisture, we'll do all the planting and seeding we have to do for the week. After that it will be whatever crop maintenance and harvesting the weather will allow for.
So far we've harvested 40% of the onion patch and will plan to harvest the remainder over the next couple of weeks. We let them semi-cure in the field before we transfer them to cold storage. They'll be in shares very soon. Round 1 of watermelon has been safely stowed and is currently being distributed in shares; we're monitoring round 2 closely and will hopefully be able to harvest it before it succumbs to excess moisture and disease pressure. Same goes for the cantaloupe. The earliest variety of potatoes could be harvested whenever the ground dries out enough for us to use our tractor-pulled potato digger. Winter squashes are slowly beginning to mature but also are battling disease pressure. Beginning in mid-August we'll think about retrieving the early varieties.
Thank you for your support and understanding during this difficult and challenging weather season - it could end up being our wettest or 2nd wettest season in 10 years! So far it feels like shares haven't been negatively affected by the extreme weather and we'll hope for continued quality and quantity.