Displaying a Single Post |
Show Recent Posts
June 3, 2018
Onward
Notes From The Field
By Derek McGeehan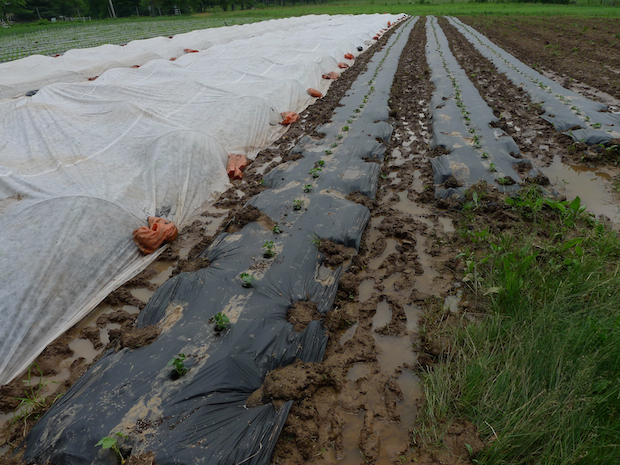 Soggy Field Two.
by Farmer Derek

A typical wet farm scene from the past few weeks is shown above. This is the summer nightshade patch including tomatoes, peppers, eggplant, okra, and sweet corn. We're righteously assuming the perpetually soggy ground will eventually dry out leaving happy plants in its wake. This field had been left fallow for almost 4 full seasons so we're anticipating robust growth and healthy crops. This field does seem to be subjected to a high water table so we'll see what does happen. Tomato plants that have been in the ground for almost 4 weeks are thriving fortunately.

We did manage to transplant a lot of crops this past week, pushing and pulling the transplanting wheels up and down thousands of feet of raised beds. We're so used to wet ground that we don't even think about using the tractor for this task anymore. Most of the time during the growing season we pull the water wheel transplanter with the tractor. It deposits water in holes made in the soil with 3 spiked-wheels that are fully adjustable based on row space needed for specific crops. In wet weather we pull it with human power, and skip the water addition part. It is a really good system and a really good work out.

Upcoming this week: trellis and prune tomatoes, transplant 3000 sweet potato slips plus other crops, cultivate, seed, weed, harvest, bed prep. Onward.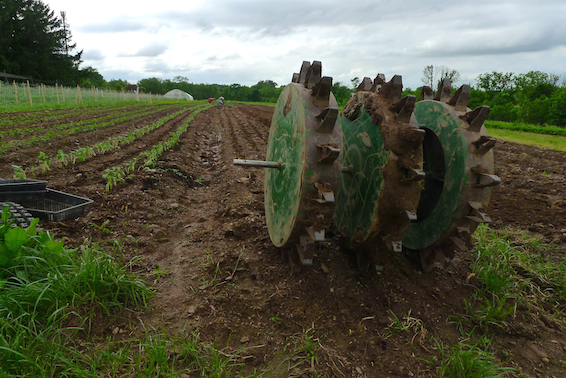 Transplanter spiked-wheels.