Displaying a Single Post |
Show Recent Posts
May 20, 2018
Out of the Rain and Into the Harvest
Notes From The Field
By Derek McGeehan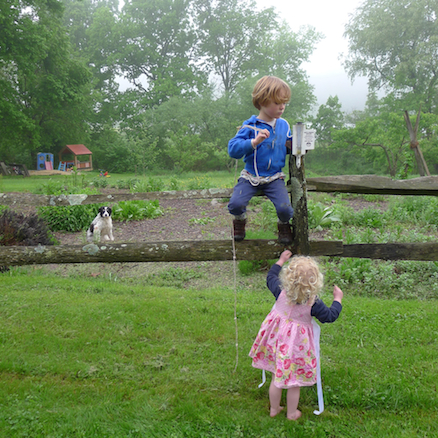 A lot of time was spent at the rain gauge this past week.
Hooray! Maybe the rain is finally over! Five inches were received last week, more than a typical month's worth. The crops - and farmers - will be happy to dry out a bit, hopefully with some sun and wind this week. Amazingly most of the crops seem to have tolerated the cool and moist weather and perpetually wet feet. Raised beds are a must these days. Amidst this auspicious time of harvest commencements we're not immune to extreme weather events though and there will most likely be some adverse effects that will reveal themselves. Certain crops are more sensitive to excess moisture than others, such as spinach.

Okay, enough with the weather - how about a 'hooray' for the start of the harvest season? This week officially begins the 2018 harvest season, the 15th season of Anchor Run CSA, our 10th here. We're excited to finally begin retrieving lots and lots of tasty spring crops from the fields. Specialties like green garlic, pea shoots, chives, radicchio compliment staples like kale, spinach, lettuce, radishes, and turnips. Some items are really bursting with growth and water and hopefully flavor.

Once the ground dries out just enough we have a busy week of cultivating, weeding, and transplanting crops such as basil, dill, cilantro, scallions, winter squash, sweet corn, eggplant, edamame, and lettuce. Last week we spent a lot of time push mowing, weed wacking, potting up, and weeding carrots. We worked outside when we could and inside when we had to. The farm's in good shape overall. See you soon!