Displaying a Single Post |
Show Recent Posts
October 15, 2017
Rain and Cauliflower Events
Notes From The Field
By Derek McGeehan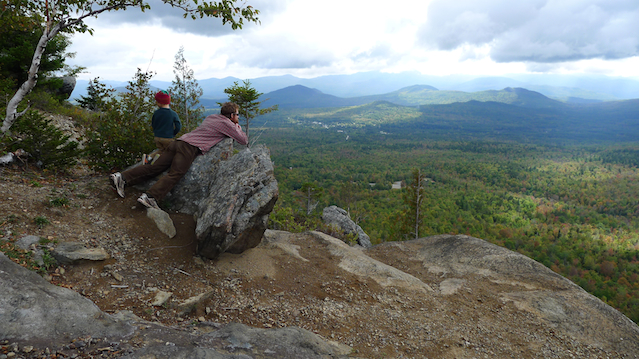 View from Field 5 facing south...or maybe the Adirondack Mountains.

We received the rain that we needed after 5 weeks of dry weather. Now, after days of cloudy misty weather we're again looking forward to some sun and drying out. These moist days interfere with the bleached white quality of the cauliflower which are huge and very prolific right now. Somehow we had overlooked the patch, thinking it wasn't quite ready for sustained picking, then were slightly overwhelmed by the 500 pounds that came out of the field on Tuesday, followed by another 250 pounds on Wednesday, and I expect to harvest another couple hundred pounds today. Harvesting this weight solo proves adequate daily exercise. Broccoli is waning but cauliflower should be around all week.
On the farm right now we're trying to deal with soooooo many crops that are ready for harvest, plus great roots that are already in storage. With the sustained heat of late September and early October, many of our crops raced to maturity instead of growing slowly as they typically do this time of year. Even with the dry weather all of our greens grew explosively (the price we pay I guess for improved soil conditions and fertility). Many of the greens are cut-and-come-again, but benefit the most when they're cut before they get too big. Since we currently have so many crops at our disposal to distribute, we're trying our best to craft shares that are hopefully most appealing to you, plus offer choices.
Any feedback on shares would be appreciated. Very soon we'll send you a survey to fill out.