Displaying a Single Post |
Show Recent Posts
December 9, 2018
Relishing the Dark Time
Notes From The Field
by Farmer Derek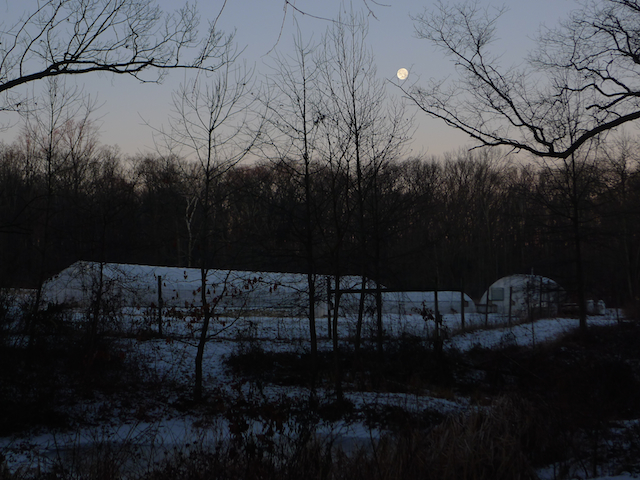 A winter moon scene.
The hustle and bustle of the outdoor growing season safely behind us, we can now allow our minds and bodies to recover, reflect, as we drift into winter's solace. Much of my work during December is done from the comfort of the couch, near the wood burning stove. Since everything and everyone is connected through the internet via some kind of computer device, most of our supplies can be ordered without me leaving the couch (except for the inventorying part). All of our crop planting plans, crop rotations, crop schedules are recorded digitally using one kind of spreadsheet or another. Eventually I will tire of this type of task, but for now it's a welcome change from the pressures of the outdoor growing season and the physical demands of farm work. If I need a break from sitting, there remains plenty of miscellaneous jobs to do outside this time of year including collecting more irrigation and season extension components from the field as well as spreading compost and mowing if the weather allows. Not to mention harvesting and distributing shares every Wednesday and Saturday through the end of this month.
My lofty goal is to finish the majority of my winter administrative work this month while hoping that I can truly take some time off in January. Thinking about and planning for the next growing season is a pleasant task due to
the glossy and glamorous pictures in the seed catalogues coupled with a fresh start on a clean field; it puts a positive spin on our aspirations for next year.