Displaying a Single Post |
Show Recent Posts
December 3, 2017
Sign Up Soon for Anchor Run's Winter CSA
Other News
by Dana Hunting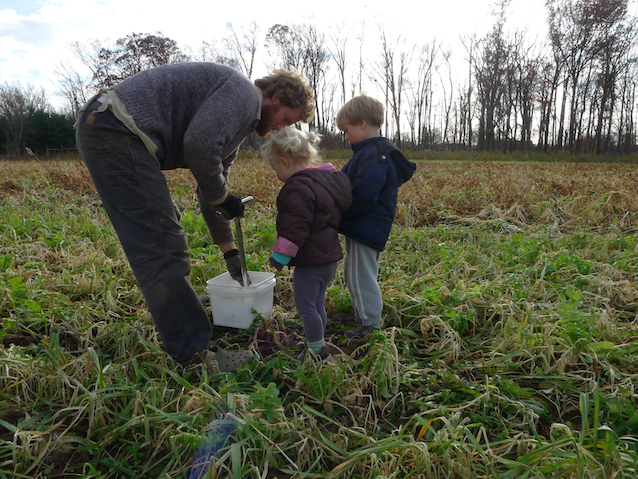 Collecting soil from random locations in Field 1 to mix and send to the lab for analysis to see how it's doing, what it needs, to compare it to the tests from 2009, 2012, 2015, to chart its improvement, and to determine what amendments and fertilizers could be useful. Five samples were sent from different parts of the farm that have been under our care for varying lengths of time and/or have different underlying soil properties.
Produce shares will include: a mix of fresh salad and cooking greens like lettuce mix, arugula, spinach, green and red mizuna, tatsoi, curly kale, baby red russion kale, and claytonia plus green and red cabbage, napa cabbage, potatoes, sweet potatoes, carrots, beets, hakurei turnips, scarlet queen turnips, daikon radishes, watermelon radishes, celeriac, kohlrabi, onions, garlic, and leeks (and some miscellaneous others). Quantities distributed will be similar to Late Fall shares, approximately 10-13 pounds each week (7-10 for Mediums).
Currently the Winter CSA is about 75% full. Our Late Fall CSA has about 100 members picking up each week but we'll cap the Winter CSA at or below 75 members due to our reduced growing footprint.
Log in to the website here. Sign up soon if you're interested, shares are limited!