Displaying a Single Post |
Show Recent Posts
June 24, 2018
Summertime
Notes From The Field
by Farmer Derek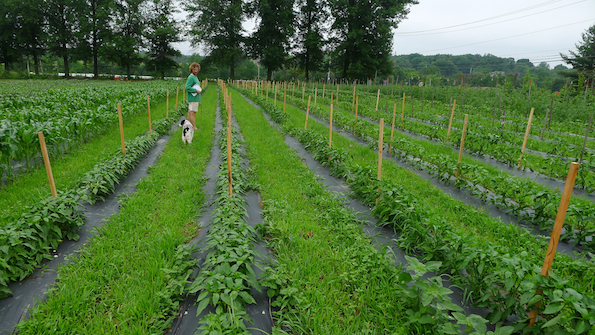 Pepper plants freshly staked and mowed thanks to farm staff.
Seasons changed this past week and along with the planet's relative location to the sun along its orbit our farm work begins to transition to more harvesting and crop maintenance and slightly less ground preparation for planting. This translates to a hopefully reduced amount of time I have to spend on the tractor. Harvests transition now as well, with the early summer crops of zucchini and cucumbers beginning to increase exponentially. Strawberries are unfortunately waning but in their place raspberries are coming in. Peas will end soon but beans are ripening and will be in shares for a couple of months if all goes as planned. Turnips, kohlrabi, radishes, endive, escarole, and romaine will exit shares until the fall. Chard, kale, and dandelion should be in shares to satisfy the need for cooking greens. Lettuces will be abundant for a while (our plan is for them to be available the entire season).
Last week was a busy time. With the continued lack of rain irrigation had to be set up and used. Around 5,000 leeks and 2,000 celeriac were planted, along with the 3rd installment of zucchini and cumbers, the 12th planting of lettuces, the 6th of scallions, dill, cilantro, and the 4th of basil and beans. Thousands of bed feet had to be finalized for all of those plants and another few thousand made ready for the 7,000 strawberry plants that are arriving this coming week.
Since we're now in summer it's worth briefly reflecting on spring's treatment of the farm. Overall I think harvests have been good and I'm thankful for that. Some crops suffered from our wettest May ever, such as spinach, which we lost 70% of, and radishes, which split and cracked. Early spring greens like arugula bolted prematurely, I'm assuming from the hot days we endured while the crops were covered to keep insects out. The 1st planting of beets was great, which came out of our movable high tunnel, but numbers 2 and 3 are a bit delayed and smaller than we would like. Peas and strawberries have been as good as we could ask for. We were very lucky the extremely wet weather didn't coincide with the strawberry season. Pea shoots didn't work out as well as I remembered them from years past; they weren't as tender as we would have liked. The turnips coming out of our hoop tunnel were more damaged than is ideal however the kohlrabi was great. Head lettuce, romaine lettuce, endive, escarole, and radicchio have been great. Kale met its potential but Swiss chard did not. We lost the 1st planting to leaf miner and plantings 2-4 were slow growing, perhaps also due to the excess moisture. They're now happier and will be harvested into the foreseeable future. Italian dandelion has been a reliable producer like always.
Ultimately we hope you've enjoyed the harvests thus far and are excited to eat the next phase of food coming out of our organically managed soils and farm with the help of our farm crew and members and support from our community.