Displaying a Single Post |
Show Recent Posts
November 13, 2016
Super food - Super Moon
How I Enjoyed My Harvest
By Linda Dansbury
This week we had beautiful fall weather and the moon the past couple of evenings has been so pretty - tonight at sunset begins the arrival of the Super Moon - a full moon that appears larger and brighter than normal because the moon is closer to the Earth. We won't see a moon like this again until 2034, so get outside tonight and enjoy the show!
Here are a few yummy things I made this past week.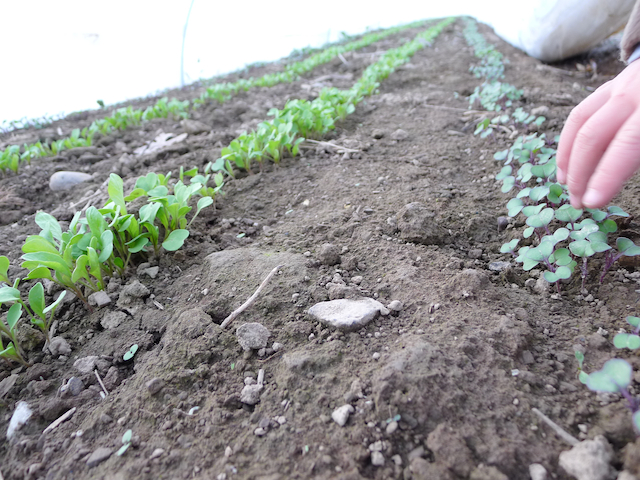 Baby arugula and baby kale and a baby hand.
Kale, onions, garlic, cilantro, Ledemete Grass ground pork - made a delicious and healthy soup roughly using a recipe from Eatingwell.com. The recipe called for using a pork tenderloin but I used the ground pork instead. It also incorporated a can of white beans and we also added a can of black beans and used a lot of the beautiful cilantro from the farm. Simple to make and it provided 2 nights of delicious, healthy dinner.

Potatoes, sweet potatoes, celeriac - made a "mixed mash" - my term for a delicious variation - if you haven't already tried it, you should - you and your family won't be sorry.
Spaghetti squash, parsley - we received this delicious parsley so I incorporated a good amount of it in this dish - cut the squash in half and dug out seeds and membranes. Drizzled a little olive oil and salt and pepper and baked cut side down until cooked through. Meanwhile, in a large bowl, mixed together some ricotta cheese, chopped toasted hazelnuts(some other nut would work, but this was delicious), toasted breadcrumbs and a healthy amount of chopped parsley. When squash was finished, "forked" the squash strands and put them in the bowl and mixed everything together. Drizzled a bit of good olive oil over the top. It was delicious. Sadly, this was the last of my spaghetti squash from the farm.
If you would like to share something you are making with the rest of the membership, please email me at lindadansbury@comcast.net and please put Anchor Run in the subject line.