Displaying a Single Post |
Show Recent Posts
November 18, 2018
Welcome to the 7th Annual Late Fall CSA
Notes From The Field
By Derek McGeehan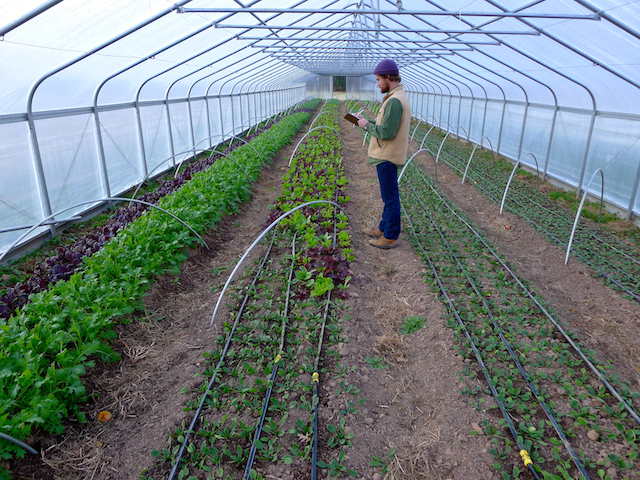 Greens in the hoop tunnel.
Thanks for joining us! Most of you were members of our Main Season CSA while some of you are new to our farm and perhaps new to CSA in general. This six week season should be a good one. Crops in our four tunnels are looking happy, healthy, robust, and right on schedule. After all of the extreme weather we endured during our 26-week Main Season it's nice to now be able to harvest from inside a more protected and almost weather-controlled environment. We still need to monitor and adjust accordingly the levels of moisture in the soil (irrigate or no), humidity levels (open doors during the daytime), and temperature (add extra covers inside the tunnels on low hoops). The cold weather suppresses diseases as well as pests so it almost feels 'easy' to farm inside during the cold months. A forecast high below freezing followed by night in the teens this coming week will have us perhaps feeling a tad uneasy but from experience we know that crops in the unheated-except-for-solar-radiation structures can endure much colder outside temperatures before they're damaged. One of our tunnels has a propane heater which we'll gladly set for 35 degrees.

We still have some crops outside under hoops and heavy duty row cover but we're not sure how they and the hoops plus cover fared with the 4-5 inches of snow. They're probably okay except for a few bent hoops and maybe flattened plants but we won't know until the snow is fully melted and we can remove the cover. (Monday update: hoops, cover, and crops stood up to the snow load so we'll retrieve what we can there before 15 degrees descends Thursday night).