Displaying a Single Post |
Show Recent Posts
July 15, 2018
Whew
Notes From The Field
by Farmer Derek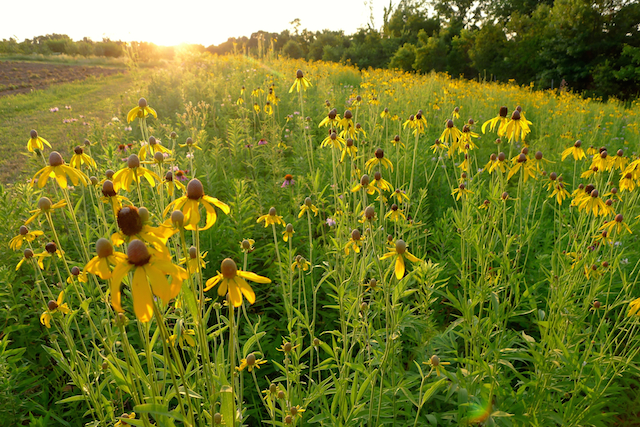 Gray-headed prairie coneflower pollinator habitat sunset.
Tired, relieved, thankful. Carrots and garlic are out of the soil and resting in the safety of the barn. Both will be in shares starting this week. Carrots look and taste great (in our humble acceptance of a variety of sizes and strange shapes). For a mid-summer carrot the ones I've sampled are definitely sweeter than I remember. Our farm crew probably spent about 40 cumulative hours retrieving these from the soil with the help of 4-5 workshifts; they're out and we're very happy about that. There was even enough time Friday afternoon and Saturday morning to chisel plow, sow a cover crop, and disc it in there plus where the peas, strawberries, spring greens, spring brassicas, and spring lettuces were.

Today's epic garlic harvest was also a major success. Around 45-50 CSA members came out over the course of 4 hours to help pull, clean, pile, retrieve, tie, prune, and hang around 12,000 garlic plants. Added to the already frantic nature of this immense task was imminent incoming rain which conveniently, thankfully, beneficially held off until the final truck load was driven back to the barn (amidst rumbles of thunder). We did end up having to move everything inside the barn into any and all available space to continue tying for hanging. Amazingly it all went smoothly and successfully and we even finished up 15 minutes early. I was truly exhausted after the 4 hours of hustling, very thirsty after forgoing water for 5 hours, thinking about breakfast at 12:30pm, and running low on the 1 mug of coffee I enjoyed around 7am. Completing this kind of job done with so many great members of our food community is one of the main reasons I love Community Supported Agriculture. Thank you folks!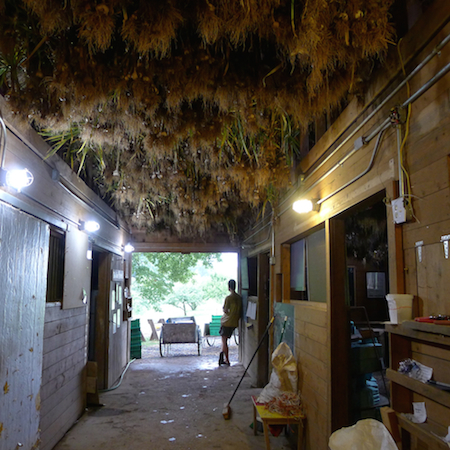 Job complete.