Registration for the 2014 growing season is now available to 2013 CSA members and those who have signed up for our waiting list. Good news: Our share prices are the same as in 2013!
If you are a current member,
log in
to register and look for the 'Join' button in the upper right portion of the Members' Page. Those on the waiting list should have received an email with registration instructions, if you did not, please
contact us
!

Public registration for the 2014 growing season opens on Jan 1. Watch this space for instructions on how to register.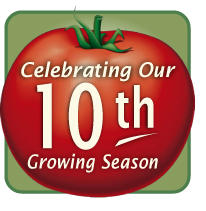 Community Supported Agriculture (CSA) is a system of farming that brings together farmers, community members and agricultural land into a mutually beneficial relationship.
Members of the community purchase a "farmshare" for a full growing season. This commitment implies a willingness toshare with the farmer both the bounty from the land and at least some of the risks of its production.The farmer receives fair and guaranteed compensation. In return, members receive a variety of fresh picked produce, sustainably grown by farmers they personally know and trust.
Now entering our tenth growing season, Anchor Run has always provided a true CSA experience to its share owners, who make regular visits to the farm for produce pick-up, field work, and social gatherings. From the beginning, CSA has been our purpose and our passion, and virtually 100% of our operation is devoted to production for CSA share owners.
Direct from Mother Nature, and our diligent preparations, comes fresh farm bounty for you to enjoy...
Anchor Run CSA members receive a portion of our farm bounty each week, picked and washed just hours before pick-up.
At Anchor Run CSA, we are committed to responsible use of precious agricultural land. Our produce is grown without synthetic fertilizers, pesticides, herbicides or genetically modified organisms. We make use of compost, cover crops, and crop rotation to promote healthy soil and plants.
You are encouraged to learn more about Anchor Run CSA by exploring this website.