Farmer Biographies
2018 Anchor Run CSA Farmers!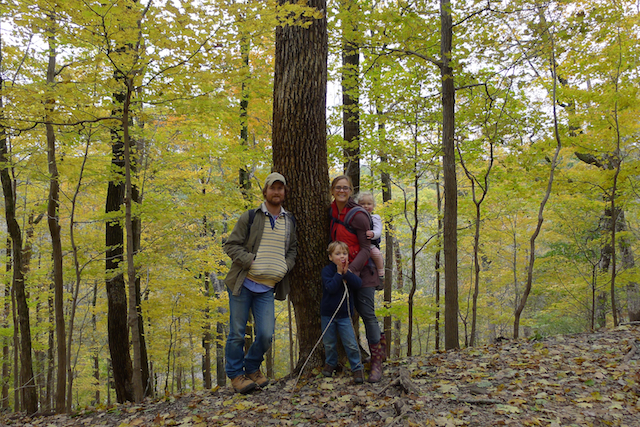 A late October 2018 hike in Ralph Stover State Park.
Dana Hunting and Derek McGeehan own and operate Anchor Run CSA. They arrived in the fall of 2008 to assume management of the 5-year-old CSA from the previous farming family. 2019 will be their 11th season of farming at Anchor Run.
Derek is one generation removed from Bucks County, growing up in central PA just outside of Hershey amid dairy and grain farms and newly spreading suburbia. His parents were raised about 10 miles south of Anchor Run Farm. He still has family in the area. Dana grew up in Montgomery County just outside of Philadelphia, about 25 miles southwest of the farm, a combination of California and Hudson Valley New York lineage.

Immediately prior to arriving at Anchor Run Farm they managed a CSA near York, PA; were on the receiving end of a CSA in VA; and apprenticed at a CSA near State College, PA. Other previous horticultural/farming experience includes gardening, landscaping, nursery work, and baling hay. In 2006 they graduated from Penn State University with Bachelor or Science degrees in Geography. After earning their degrees Dana then worked as an Urban Planner for the City of Alexandria, VA, while Derek was a Geographer for an engineering company. Growing food in a community garden during this time allowed them to keep their sanity while also exposing them fully to the benefits and pleasures of growing organic and healthy produce.
In 2013 future farmer Gabriel arrived, followed by his apprentice, Abigail in 2015. They now run the personnel and human resource department. When they're not fully involved in running the farm - which is hardly ever it seems - mom, dad, brother, sister enjoy being outside, gardening around the house, observing wildlife, listening to nature and music, reading, stargazing, bird watching, hiking, swimming, biking, walking, eating, cooking, and tree planting.

Pat McGowan, Assistant Farmer

Pat McGowan joined the crew in the Spring of 2017. As an assistant farmer he is involved in every aspect of production both in the greenhouse and in the field.
Pat grew up in Churchville and has been a part of the farm's community since childhood, as his family has been members for many years. Pat has always had a love for nature and outdoor activities. His interests eventually led him to gain growing experience at Esterly Link Landscapes. While landscaping, he also developed skills as a stone mason, which he puts to work around the farm as well.
Pat currently lives on site at the farm and looks forward to continuing to learn about sustainable agriculture during the following growing seasons.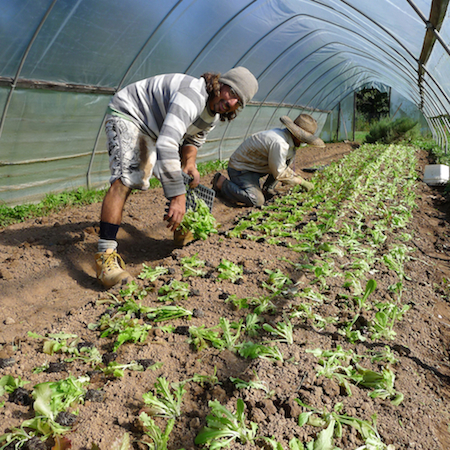 Craig Oppenheimer, Assistant Farmer

Craig Oppenheimer is excited to join the farm staff at Anchor Run Farm for the 2018 growing season! Craig joins the crew this year after completing an internship and a full harvest season at Pennypack Farm & Education Center in Ambler, PA.
Craig brings a unique skill set and diverse background to the Anchor Run Farm crew. In addition to his previous exposure to organic farming as member of Pennypack's seasonal crew, Craig holds two degrees and has spent several years working in the corporate sector.
In an effort to seek a more natural, healthier, and more sustainable way to live, work, and consume, Craig began exploring organic farming in general and Community Supported Agriculture in particular. Always being a life-long learner and a kinetic, hand-on-approach individual, Craig quickly became intrigued by the ideas of organic farming and the potential for a saner work-life balance. A hiatus from his work in the corporate world soon followed and Craig has not looked back since. Craig especially is looking forward to expanding upon his existing base of knowledge while also working side by side with an awesome, knowledgeable, and deeply committed close-knit group of farmers.
In his spare time, Craig is an avid runner, hiker, and long-distance backpacker, and is always on the lookout for a new set of hiking trails, mountain ranges, or untapped wilderness areas to tackle. Come winter, Craig is often set to embark on another "voyage" with his beloved van "Edna" to warmer, sunnier climates and is (slowly) seeking to consummate his life-long love of travel and exploration, one country at a time!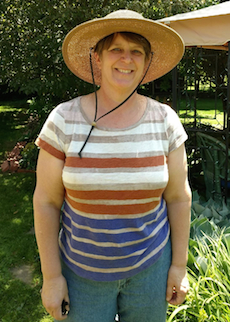 CSA Pick Up Room Manager Becky Conner
Becky Conner is a native of Newtown and has been a member of Anchor Run since the 2016 season. She discovered the farm when her daughter, Hannah, became the Field Manager and has now fully embraced CSA life! Becky is thrilled to be helping out in the pick up room and, as a long time gardener, looks forward to continuing to learn about growing food!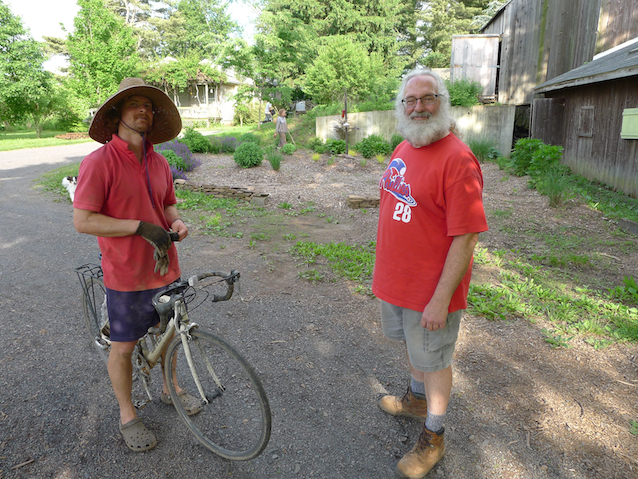 Workshift weeknight and weekend leader Jeff Bence (on right).

Might not always be this hairy. Farm member since 2004!