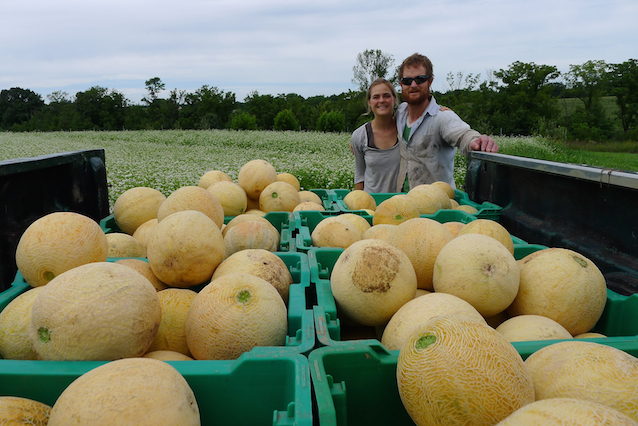 Know Your Farmers

Full-time Farming for a Decade!
Dana Hunting and Derek McGeehan arrived at Anchor Run Farm in late fall 2008. At that time the 5-year-old CSA program maintained and managed 10 acres and fed 175 neighborhood families weekly during a 25-week season. Since then, the farm has sustainably grown to 25 managed acres (15 active acres per season) while nourishing 400 of our neighbors with Full, Medium, and Half Shares over a 42-week harvest season, and has become Certified Organic. Weekly pick ups of full-share-equivalents include: Main Season, 250; Late Fall, 100; Winter, 75.
(A brief aside, an act of growth then balance: The farm is no longer increasing CSA membership size as it has discovered the perfect steady-state system of much improved harvest yields from prolonged organic crop and soil management and overall farm efficiencies, as well as the benefit of experience coupled with a work-life-financial balance. With a 75-80% CSA retention rate, we believe that we're meeting members' CSA needs. 100% of our endeavors are towards membership satisfaction. Our farm size allows us to connect with our community.)
Dana and Derek currently own and operate Anchor Run CSA in the heart of Bucks County on land that is part of a 100-acre open space preserve that is owned by Wrightstown Township. In 2014 they purchased the homestead area of the farm from the township which includes the barns, outbuildings, 200-year-old stone farmhouse, and ranch house where Field Manager Hannah lives.
Derek and Dana met while studying geography at Penn State University. During that time, Dana fell in love with local food and farming through her internship at Village Acres Farm, an organic CSA just outside of State College, PA. After completing their Bachelor of Science degrees in 2006, Derek and Dana moved to Washington, D.C. While there, Derek continued to learn about the natural world through an internship at National Geographic Society. As an urban planner, Dana also discovered more about the impact of human activity on the environment. They maintained a farming connection by becoming members of a local CSA-only farm and growing food on a plot of land in a community garden. After a year-and-a-half of city living, Derek and Dana were ready to immerse themselves in farm life and return to Pennsylvania. In early 2008 they accepted management positions at Spoutwood Farm in York County. While there, they learned about the wonderful opportunity at Anchor Run Farm, which brought them close to family roots in Bucks and Montgomery Counties. Since their arrival at Anchor Run, Dana and Derek (now with the help of their two little farmers Abigail and Gabriel) have labored to grow the highest quality produce for their neighbors, while protecting the precious resources that allow the farm to thrive year after year.