Start of the Winter CSA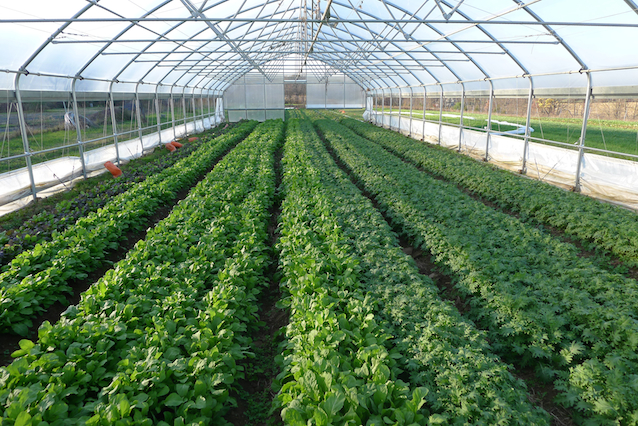 We successfully moved the 30'x96' high tunnel two positions uphill - about 200 feet - to cover beds of early winter greens. The arugula, kale, and greens mix have matured much quicker this season.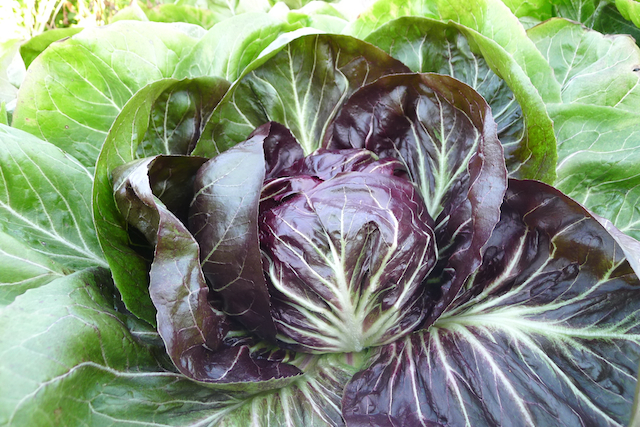 Radicchio is a particularly attractive crop, and one that tastes great. It is bitter and very healthy, great for your digestion. I love it grated into salads or in a morning smoothie.
News
Notes From The Field
The Next Chapter
By Derek McGeehan
We're embarking on the 4th annual Winter CSA this week amid what feels like a mild autumn. This was the type of autumn that initially inspired us to extend the growing season and offer additional CSA shares and was also what we enjoyed during the first season, 2012. The two years in between this year and the first felt more like growing produce in January and February, not November and December. Can we thank El Nino? Or is this more normal? I'm not sure. After 7 seasons at Anchor Run I've come to expect the unexpected, weather wise. Having too many rigid expectations would narrow our vision and allow the farm to become totally mechanized and streamlined, I perceive. We're able to withstand the vagaries of the weather and its forecast because we're diverse; we grow hundreds of varieties of crops over 9 months on perhaps 13 acres, fallowing 5 acres, rotating plant families around the farm. Crops tolerate different conditions, temperatures, moisture, so having diversity guarantees something will survive, or thrive. We're always thankful for good growing conditions.
Expected Harvest
Thankfully Continuing
By Derek McGeehan
Winter Harvest #1 (Week A) should include potatoes, sweet potatoes, onions, garlic, winter squash, lettuce, mini lettuce, cauliflower, kale, cabbage, napa cabbage, arugula, endive, radicchio, and fennel. U-pick should include herbs.
Pick Up Details
By Derek McGeehan
- Pick up is 1-8pm on Tuesdays and begins this week for Full Shares and Week A Half Shares. Week B Half Shares begin on Tuesday November 24th.
- If you're a Half Share, you should have received an e-mail with your designated week. E-mail us if you haven't received that e-mail.
- Full shares pick up every week.
- Pick up is in the same place in the barn as the Main Season.
- Bring your own bags to retrieve your veggies.
Welcome to the Winter CSA
By Linda Dansbury
This year we have decided to expand the newsletter during the Winter CSA. We find ourselves cooking differently starting at this time of the year for a couple of reasons: it is colder and darker, so the body craves richer, stronger flavors; and, we cook differently for and with family and friends for the holidays.
I will have a column or 2 when there are new items and when I cook something that is different - especially if it is fitting to serve as part of a holiday meal. Although we won't formally have Members Ideas and Suggestions for this 6 week CSA, if you have a recipe that is special in your family for the holidays and incorporates the bounty of Anchor Run, please send it to me at
lindadansbury@comcast.net
.
We are not receiving a new veggie this week, but I do want to mention the kale we received last week, because it is more tender, almost delicate, so it needs to be treated differently than the kale we receive the rest of the year. It is excellent in stir fries - try it in the Easy Korean Beef recipe that is on this site. Delicious and fast and easy!
I assisted in a winter squash demo at the Wrightstown Farmers Market yesterday and made a recipe that was easy, but delicious - a lot of people that tried it plan on making it. Not only is it delicious - it is also really beautiful! It is called Honey Glazed Roasted Squash. If you still have your delicata squash, the skin doesn't have to be peeled and it looks especially beautiful. Enjoy
Recipes
V Honey Glazed Winter Squash
From eatingwell.com. Ready in about a 1 1/4 hour, but only 30 min is active. If delicate squash is used, the skin does not need to be peeled. Serves about 6 as a side dish. Can be made ahead up to the final 2 steps and left at room temperature. Reheat and finish the dish right before serving.
2.5 pounds delicata or acorn squash(2-3squash)
2 shallots, quartered lengthwise - leeks or onions can be substituted
3 tablespoons extra-virgin olive oil
1/4 teaspoon fine sea salt plus a pinch, divided
1/8 teaspoon ground pepper o to taste
1/4 cup honey
1/4 cup cider vinegar
1/4 cup pomegranate seeds
2 Tablespoons pine nuts, toasted
2 Tablespoons mint, torn

1.Position racks in upper and lower thirds of oven; preheat to 400°F.
2.Halve squash lengthwise and scoop out the seeds. Cut crosswise into 1-inch-thick slices. Toss the squash slices and shallots with oil, 1/2 teaspoon salt and pepper in a large bowl. Divide between 2 large rimmed baking sheets.
3.Roast, turning each piece over and rotating the pans top to bottom halfway through, until the squash is tender and caramelized in spots, 30 to 40 minutes. Transfer the squash and shallots to a serving platter.
4.A few minutes before serving, combine honey, vinegar and a pinch of salt in a small saucepan; bring to a boil over high heat. Reduce heat to a lively simmer and cook, watching closely toward the end, until reduced to about 1/2 cup, 5 to 8 minutes. Immediately drizzle the syrup over the squash. Serve topped with pomegranate seeds, pine nuts and mint.

V Easy Korean Beef
Member Kim Glassman sent this to me from a blog she found - it has also been in a recent Food and Wine issue. Substitute ground pork, chicken or turkey for the beef. The greens and scallions can also be changed to whatever you have on hand.
1 pound lean ground beef (or pork, turkey, or chicken)
1/4 cup brown sugar
1/4 cup soy sauce (I always use reduced sodium)
1 Tablespoon sesame oil
3 cloves garlic, minced
1/2 teaspoon fresh ginger, minced
1/2 – 1 teaspoon crushed red pepper - or minced hot pepper
Bunch of kale - de-stemmed and roughly chopped
salt and pepper
1 bunch green onions, sliced - or add sliced leeks or onions to the pan with the ground meat
Heat a large skillet over medium heat. Brown the ground beef in the sesame oil. Add the garlic towards the end of browning and cook for a couple of minutes. Drain the fat.
Add the kale and stir to wilt.

Add the brown sugar, soy sauce, ginger, salt and pepper and red pepper. Simmer for a few minutes to blend the flavors. Serve over rice and garnish with scallions, if using.