Carrot Time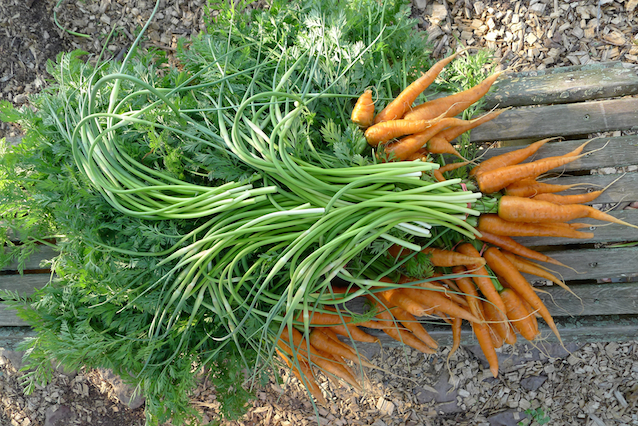 Arranged vegetable art as composed by Dana makes me hungry. A sign of June is the tasty garlic scape. A sign of successfully growing earlier carrots in the protected high tunnel shows progress.
Dana hosted a Wrightstown Elementary brownie troop a few weeks ago. The carrot patch is seen behind.
News
Expected Harvest
Carrots and their Greens
By Derek McGeehan
Harvest #5 (Week A) should include carrots with greens, beets with greens, romaine, butterhead, and mini lettuces, garlic scapes, endive, escarole, dill, cilantro, summer squash, kale, chard, baby kale, collards, kohlrabi, and Italian dandelion. Some items will be a choice. U-pick should include snow peas, strawberries, and herbs.
Notes From The Field
The Next Phase
By Derek McGeehan
Summer is about to officially begin but we're already thinking about fall, oddly enough. This week in the greenhouse we seeded fall cabbages and beets which won't be mature until September and October and some will be stored to get us through the winter. As CSA farmers it feels like we live in the past, present, and future because we're always managing diverse crops with varying maturities while preparing fields for plantings weeks and months and years in advance. Spring crops are still rolling in, summer crops are about to start, fall crops are now being seeded and planted, and 2017 strawberry plants will go in the ground later this month. Years? Well, on Friday with the help of a workshift we transplanted asparagus plugs that were started from seed the first week of March. Before we were able to plant we had to meticulously scout for the eggs and larvae of the asparagus beetle and squish these critters with our fingers. These asparagus spears won't be harvested until 2018 or 2019. This part of the farm had been fallow since 2014 and was slowly transitioned to raised beds starting in March. It takes a long while to eradicate the grass species that slowly take over fallowed fields.
Potato plants are flowering and need another round of cultivating and hilling with the tractor. Gabe mingles.
Speaking of the blending and mixing of seasons, sweet potato slips as well as succession plantings of beans, lettuces, basil, dill, cilantro, and parsley were planted last week with tremendous help from farm members. One of the best aspects of a CSA farm is the involvement of the community to help the farm succeed which in turn feeds its members. This is an essential tenet of CSA but of course the CSA model is fluid like everything else and can be interpreted in a multitude of ways. Personally, I love the CSA model because it benefits members and farmers equally well and is centered around growing healthy food, which feels good deep down in the bones and bellies of our bodies as well as somewhere in our minds.
Half of your committed work hours should be completed by the end of July! Over the course of the season full shares work 8 hours; half shares work 4 hours. If you're unable to contribute the physical portion of your share, you may contribute to the farm financially at the rate of $15/hour. This fills out the balance of your share cost.
This week we'll harvest carrots, pull weeds, and probably cultivate. Beat the heat by coming in the morning!
Tuesday 7/19 8-10am; 10am-12noon
Wednesday 7/20 8-10am; 10am-12noon; 6-8pm
Friday 7/22 8-10am; 10am-12noon
Saturday 7/23 8-10am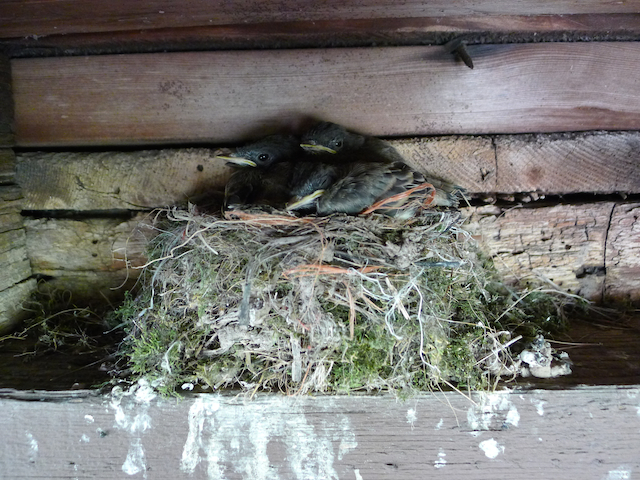 Baby flycatchers nestle on a beam in the Walnut Barn. A parent or two made a beautiful nest, including some orange straw bale twine.
Our first potluck of the 2016 season will be held under and by the pavilion on Saturday, June 25th, at 6pm, as we celebrate summer and the solstice and the successful start of the CSA harvest season. Mingle with your community and meet your farmers. Bring a dish to share (main course, side, and/or dessert) that can feed at least 6 adults, place settings (dishes, silverware, cups), as well as a beverage of your choice. If you play an instrument, feel free to bring that for an impromptu jam session or to serenade the gathering.
Now What?! Workshop Recap
By Gia
The Now What?! Workshop was attended by about 20 members! It was a great exchange of ideas and information. Judith, another Core Group member, was also present and helped to field questions (Thanks Judith!). We spoke about how to keep the produce fresh (Greens Bags, Rubbermaid FreshWorks and Produce Saver containers), separating the greens from the bulbs and storing them separately. We talked about different tools which make the veggie prep work easier. We feasted on a variety of Pistou (I usually make my Pesto without the nuts) – Garlic Scape Pistou, Kale Pistou Lite and Mizuna Pistou were all tried. Members also tasted ARF Week 3/4 Quiche (see the recipe below).
This year we spent some time talking about using a solar oven to cook. My (flat) Mango Banana Bread- baked on Friday in my solar oven – was enjoyed.
Food Dehydrators were also discussed, and Zucchini Chips (from last year's bounty) were shared. Tomatoes and Zucchini were the stars of this discussion.
The Now What?! Workshop was so successful that I was asked if we would do something on a more regular basis! We will be planning workshops with more of a Member Idea Exchange theme. We will also be having a Member Share Fermenting Workshop. Stay tuned for more info on both of these! This workshop was the perfect example of the C in CSA – Community. Thank you to everyone who attended!
ARF Week 3/4 Quiche
Beet Greens, Kohlrabi Greens
• Chopped
• Steamed (about 5 to 15 minutes)
• Squeeze out liquid when cool
Mizuna – about 1 bunch
• Chopped,
• Sautéed
Kohlrabi Bulbs - about 3 medium bulbs
• Shredded or pureed
• Mix with 1 tsp salt
• Squeeze out moisture
Dehydrated tomatoes – 1 to 2 handfuls
Cilantro – ½ to 1 handful chopped
½ to 1 cup Shredded Mexican blend cheese
2/3 to 1 cup whole wheat flour
8 to 10 eggs
2/3 to 1 cup milk
1. Combine ingredients.
2. Pour into 8x8 greased casserole pan
3. Bake at 400 degrees for 30 – 45 minutes
Experiment with the greens you use! Experiment with the type of cheese!
Top of the carrots to ya!
By Linda Dansbury
My guess is most of you throw the carrot tops into your compost pile, or leave them at the farm for the same thing. Maybe you use them as one of the items to make vegetable stock, which is a really good use for them. But, you should make Carrot Top Pesto out of the tops you will be receiving over the next couple of weeks - it is delicious and nutritious. As with the turnips and beets, remove the greens from the carrots as soon as you get them home and store in the fridge in separate bags. To use the greens remove the thick, tough stems and put into veggie stock or compost pile - the thin fronds can be made into salads or made into Carrot Top Pesto. The carrot top pesto can be used like any other pesto - on pasta, added to chicken or tuna salad, as a topping for fish or meat, drizzled onto hard boiled eggs - the list goes on. Also, keep an open mind in making the pesto itself - use the recipe as a baseline, the nuts, cheese type, herbs and citrus can all be changed to what you like and have on hand. I have added the recipe for this week.
New Crops
By Linda Dansbury
Last week brought us a new item that is a farm treasure - garlic scapes which is the flower stalk and bud from the garlic plant. If left on the plant, it will take most of the energy from the plant so the bulbs won't form. By harvesting the scapes, we essentially have an extra crop. Scapes keep in the fridge for at least when stored in a plastic bag. They can be chopped up and frozen, or made into
Garlic Scape Pesto
or
Garlic Scape and White Bean Dip
and eaten immediately or frozen. It is best eaten uncooked, but if you want to cook it, add it at the end of the cooking process because long term cooking diminishes the flavor of an already mild garlic flavor.
This week brings us the first of the summer squash. Anchor Run grows a lot of varieties of summer squash - they come in many different shapes, colors and sizes. If you only choose those you are familiar with, you are missing out. They are all interchangeable in recipes, but with simple preparation, such as grilling (my favorite), you can pick up subtle differences in flavor. With Father's Day coming up next Sunday, many of us will be grilling. Depending on the shape and size of the squash, cut it in a way that will give you slices that are about a half to 3/4 of an inch thick. Brush with olive oil and season with salt and pepper. Grill, and watch carefully so they don't burn. Turn a few times so each side cooks equally. This delicious veggie goes well with anything, from a part of an appetizer platter to a veggie side dish with a grilled protein. We also have many recipes on this site. Enjoy the harvest!!
Member Ideas and Suggestions
Member ideas and suggestions
By Linda Dansbury
I request and welcome ideas and suggestions from members - our membership is made up of so many good cooks and knowledgeable people (even a few professional chefs!). It is great to share with all members how the harvests are being enjoyed - please send your ideas to me at lindadansbury@comcast.net.
Emily Mahoney sent me two of her recipes for using several veggies within one dish. Both are great in that her recipes promote ways to get children to eat the veggies - I appreciate this, because without young children at home, I don't often think that way. Thanks Emily! Below are her recipes and thoughts around them:
"I'm very excited for the CSA this year! I've been testing out all kinds of new recipes over the winter, and will share the best ones whenever we get crops that match the ingredients. One that I made recently is something I like to call 'salad nachos'."
Ingredients:
Turnips, sliced
Swiss Chard, stems separated and chopped
Onions, chopped
Any addition veggies you have on hand
Tortilla chips
Cheese
Salsa
Sour Cream
Saute the onions and swiss chard stems. Once soft, add swiss chard leaves (ripped into bite size pieces). Cook until the leaves have wilted down. (Add in any other veggies you want to use during this step - just add to the pan and cook with other items)
Slice the turnips. These will act as chips in the nachos, so thicker slicing is better. I supplement with regular tortilla chips as well for more stability. I have also used radishes, baked sweet potatoes, and baked beets as the "chip" before.
Layer the cooked veggies with the "chips" (turnips + tortilla) and shredded cheese. Nuke in microwave.
Top with salsa and sour cream.
Here is Emily's other recipe - I plan to make it this coming week.
A very refreshing salad. I combined one of the heads of lettuce with my endive, a 16 oz can of chickpeas, 3oz of crumbled feta cheese, and 1/4 of a watermelon roughly chopped. I made my own dressing, with the goal of using up as much of the dill I got last week as possible. Here's the recipe:
Creamy Avocado Dill Dressing

1 avocado
Dill (amount based on personal preference)
Mint (amount based on personal preference)
1 cup plain greek yogurt
1 cup milk
Combine all in food processor. I just estimated the milk and kept adding more to get it to a consistency I liked. This would probably be good with garlic scapes or pea shoots in it as well.

Recipes
Blended from several recipes. Takes about 10 minutes to prepare. Use this on grilled or roasted meat, fish and veggies; on top of hardboiled eggs; mixed into chicken or tuna salad or mixed into pasta.
1 bunch of carrot tops, thick stems removed and saved for vegetable stock or composted
1 lemon, juiced - or orange
Kosher salt, freshly ground pepper
1 garlic clove, or 3-4 garlic scapes
3 tablespoons pine nuts or almonds, toasted
1/2 cup (packed) fresh basil leaves, or parsley, tarragon or cilantro
1/4 cup finely grated Parmesan
1/2 cup extra-virgin olive oil
Pulse garlic and nuts in a food processor until a coarse paste forms. Add basil, Parmesan, and reserved carrot tops; process until a coarse purée forms. Add olive oil and pulse until combined; season with salt and pepper.
Note: will keep in fridge for up to 3 days, lay plastic wrap right on top of pesto to inhibit discoloration from oxygen. Or, freeze for longer storage.
Check out both recipes:
1 cup chopped garlic scapes (about 8 scapes)
1 cup olive oil
1 cup grated parmesan cheese

Combine the scapes and olive oil in a food processor and pulse until smooth. Add the parmesan by hand. Season with salt and pepper to taste.
Serve over pasta or use as a dip or spread. Mix with mayonnaise for sandwiches.
To serve over pasta, try garnishing with toasted pine nuts, olives, and/or chopped fresh or sun-dried tomatoes.
GARLIC PESTO -- Recipe 2

1 cup garlic scapes (about 8 or 9 scapes), top flowery part removed, cut into ¼-inch slices
1/3 cup walnuts
¾ cup olive oil
¼-1/2 cup grated parmigiano
½ teaspoon salt
black pepper to taste
Place scapes and walnuts in the bowl of a food processor and whiz until well combined and somewhat smooth. Slowly drizzle in oil and process until integrated. With a rubber spatula, scoop pesto out of bowl and into a mixing bowl. Add parmigiano to taste; add salt and pepper. Makes about 6 ounces of pesto. Keeps for up to one week in an air-tight container in the refrigerator.
For ½ pound short pasta such as penne, add about 2 tablespoons of pesto to cooked pasta and stir until pasta is well coated.
V Garlic Scapes and White Bean Dip
15 minutes; yields 1 1/2 cups; courtesy New York Times
1/3 cup sliced garlic scapes (3 to 4)
1 tablespoon freshly squeezed lemon juice, more to taste
1/2 teaspoon coarse sea salt, more to taste
Ground black pepper to taste
1 can (15 ounces) cannellini beans, rinsed and drained
1/4 cup extra virgin olive oil, more for drizzling
fresh herbs to your liking - one or more of the following: chopped rosemary, parsley, thyme, basil
1. In a food processor, process garlic scapes with lemon juice, salt and pepper until finely chopped. Add cannellini beans and process to a rough purée.
2. With motor running, slowly drizzle olive oil through feed tube and process until fairly smooth. Pulse in 2 or 3 tablespoons water, or more, until mixture is the consistency of a dip. Add more salt, pepper and/or lemon juice, if desired.
3. Spread out dip on a plate, drizzle with olive oil, and sprinkle with more salt.