Community Supported Agriculture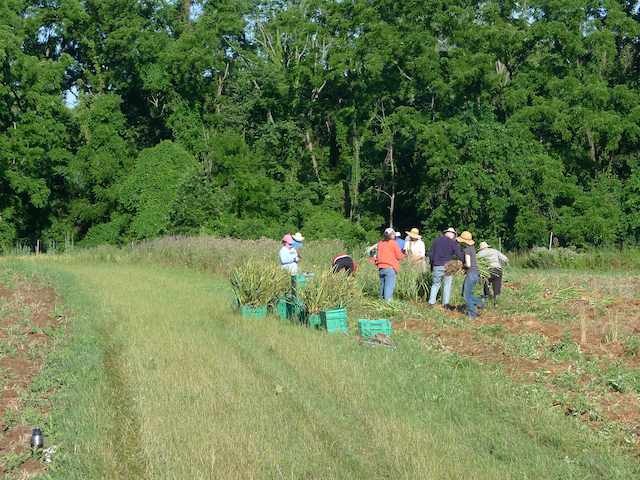 The 7-9am garlic harvesting workshift pulls, piles, and bins garlic which is then trucked to the barn...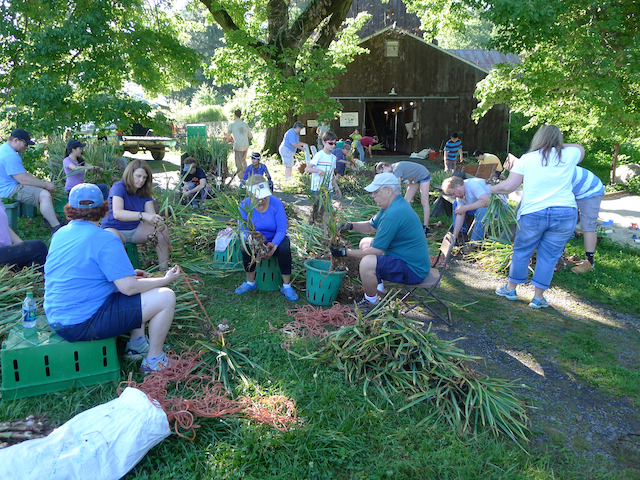 ...where the 8-10am and 9-11am workshifts sort, tie, and hang bundles of garlic. Mmmm, that smell.
News
Expected Harvest
Continuity
By Derek McGeehan
Harvest #9 (Week A) should include cabbage, fennel, celery, lettuces, radicchio, chard, summer squash, cucumbers, scallions, basil, eggplant, and fresh garlic. Some items may be a choice. U-pick should include snap/string beans, dill, cilantro, raspberries, perennial herbs, cherry tomatoes, and flowers.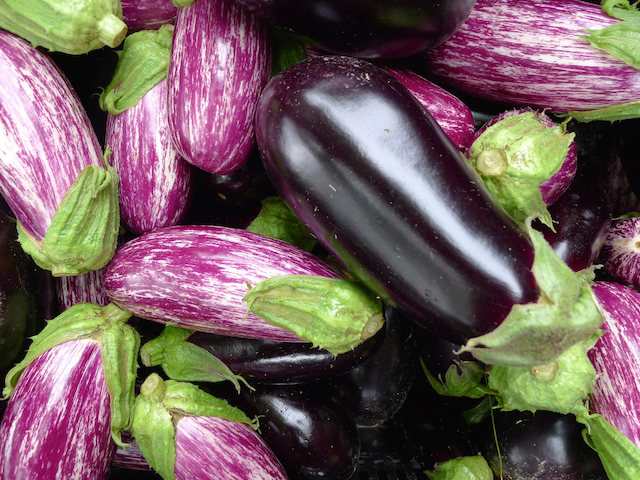 Notes From The Field
Wellspring of Successful CSA
By Derek McGeehan
With approximately 60 CSA members scattered over 3 2-hour overlapping shifts - with an added hour to finish up at the end - all of the 2016 garlic was harvested and either hung to cure or pruned and put in the cooler. This was truly a community endeavor with so many helping hands taking part in the process. We had a few hiccups such as a flat truck tire and wood beams collapsing in the barn under the weight of the garlic. But, we all came together to see the job through. We're sincerely thankful for the help of the community to see this accomplished and especially to have some help at the end with the barn problem - that was a bit unnerving to say the least. Farm work and life is frantic this time of year but the support of the community of members helps the farm get through these very busy times.
Earlier this week on Independence Day a workshift helped transplant beans, dill, cilantro, and parsley.
Over the weekend we received 3 inches of rain, more than we received in the whole month of June, and the same amount we received in March and April combined. We needed the rain for sure, but not so fast in such a short burst. When it falls that quickly the ground cannot accept it, so a lot of runs off and carries soil with it, most unfortunately. A couple of the fields acquired a minor gully where there was a natural swale present that ran through the field. It hurts to see soil wash downhill but we'll do what we can to pull it back up with the help of our tractors. We'll also adjust our bed lengths to end where the swale begins and leave a permanent cover of grass there to mitigate future erosion. It was quite an eventful weekend. Thanks again to our wonderful CSA members!
Half of your committed work hours should be completed by the end of July! Over the course of the season full shares work 8 hours; half shares work 4 hours. If you're unable to contribute the physical portion of your share, you may contribute to the farm financially at the rate of $15/hour. This fills out the balance of your share cost.
This week we'll harvest carrots, pull weeds, and probably cultivate. Beat the heat by coming in the morning!
Tuesday 7/19 8-10am; 10am-12noon
Wednesday 7/20 8-10am; 10am-12noon; 6-8pm
Friday 7/22 8-10am; 10am-12noon
Saturday 7/23 8-10am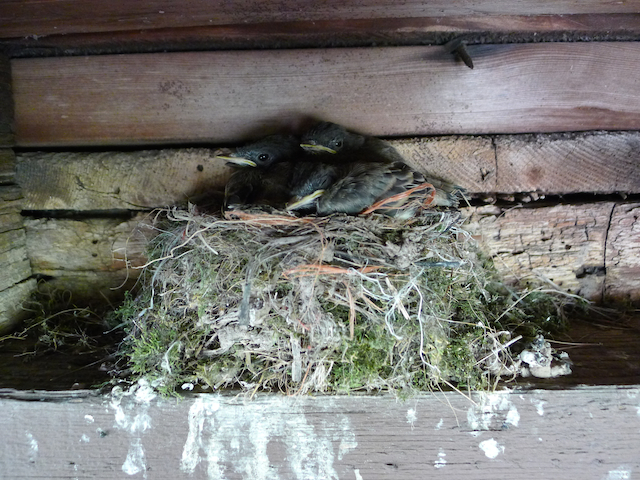 Baby flycatchers nestle on a beam in the Walnut Barn. A parent or two made a beautiful nest, including some orange straw bale twine.
Member Share Workshop July 23rd 1-3pm
Hosted by longtime CSA and Core Group member Gia
At the request of members, we are hosting the first follow-up to the Now What?! Workshop. All members are invited to share their successes and/or discuss what issues they are experiencing in handling their CSA Share. We might not have all the answers, but we will sure try!
How I Enjoyed My Harvest
Holiday Weekend Dishes Galore!
By Linda Dansbury
Last week I talked about the several dishes we prepared for our guests on Saturday. Below includes some of what we made for our Sunday guests as well as during the week. Please send your ideas/suggestions to me at lindadansbury@comcast.net, and please include Anchor Run in the subject line.
Eggplant, zucchini, scallions and radicchio - cut into different shapes for visual appeal, drizzled with olive oil and grilled until nicely browned and softened but not falling apart. Arranged on a platter, drizzled with olive oil, a bit of balsamic vinegar and sea salt. I had leftovers, so I chopped everything up and made a pasta salad, adding more balsamic vinegar and olive oil, fresh basil, and a sprinkle of grated parmesan cheese.
Carrots, garlic scapes, basil - made a roasted carrot and carrot top pesto salad, which was very well received. Made the pesto, then roasted carrots. Made a separate small "salad" with shaved carrots, a few carrot tops and basil leaves. Plated everything, placed a bit of burrata cheese in the middle of each plate and finished with generous drizzles of the pesto.
Zucchini, garlic scapes - made zucchini fritters
Green Beans, scallions, garlic scapes - green bean salad
Cucumbers, scallion, parsley - I made a couple of cucumber salads the way my grandmother always did - slice the cucs with a mandoline (I have a very basic one that is so much faster and easy clean-up), then add chopped scallions and parsley. A simple vinaigrette with a mild vinegar and oil, celery salt, a bit of salt and pepper - that's it!
Fresh Garlic is here!!
By Linda Dansbury
Fresh garlic is wonderful! The reason it is called fresh garlic is because it has just been harvested so the outer protective layers have not "hardened off" by weeks of hanging in a dry area. Use the fresh garlic exactly the way you use hardened off garlic (unlike the scapes, which do not tolerate long cooking). But...it must be refrigerated or it will spoil.
A note on cabbage - it will keep for a long time stored in plastic in the fridge but if you want to make a delicious summery slaw now, add some thinly sliced chard, scallions, garlic scapes, carrots (if you have any left) and your favorite vinaigrette.
U-Pick request
By Linda Dansbury
U-pick is a large portion of your CSA share, so please be sure to make time each of your pick up weeks to pick your allotment of crops. The farm is open 8am-8pm Monday through Sunday of your pick up week. A couple of comments/requests on things I have observed that need to be remembered in consideration of all of the farm members:
I noticed that several of the parsley plants in the herb garden have had all of the leaves taken off, making the plants so stripped they died. If there isn't much parsley (or other herb), please just take a couple of leaves. It will only take a short time for more to grow. Also, very shortly there will be an adequate amount in the main u-pick field.
Use the containers in the barn to accurately measure what to pick, then dump them into a plastic bag or other container. I noticed someone doing U-pick right into plastic bags, which will in all likelihood result in picking too much, because a half pint of raspberries looks like such a tiny amount in a large plastic bag.
From Asparagus to Zucchini Cookbooks Are Here!
For several years prior to her departure from our earthly plane, Jeannine Vannais worked hard to transform the Anchor Run herb garden into the lovely paradise that it is today. In her honor and memory we are planning to build a pergola and arbor within the herb garden for vining plants to provide shade atop a comfortable space with benches. To raise money for the materials and installation of the pergola we're having a cookbook sale. "From Asparagus to Zucchini: A Guide to Cooking Farm-Fresh Seasonal Produce" will be available to purchase for $20 from the pick up room. From each purchase, $7 will go to the cost of the pergola. For more information on the book, please follow this
link
. Books should be available within the next week or so; look for them in the pick up room.