Moving toward fall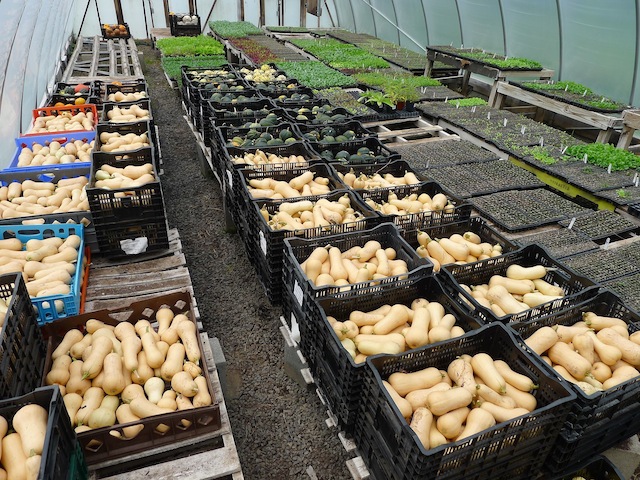 A variety of winter squash curing in the greenhouse.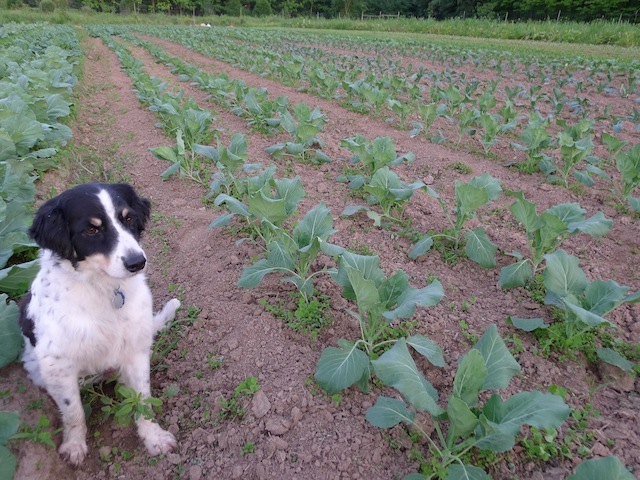 Farm dog Borchie stands guard next to the fall collards and cauliflower.
News
Notes From The Field
A mini staycation on the farm
By Derek McGeehan
To begin, I want to thank everyone who has helped us at the farm over the past week, has said kind congratulatory words, provided us nourishment, or bestowed wonderful gifts upon us. We are very, very thankful for the Anchor Run community and your involvement. Gabe came into this world at a perfect time for us. We had completed our large fall brassica and 2014 strawberry plantings as well as finished much of our weekly farm work ahead of forecasted rain. We've stayed on schedule and/or gotten as far ahead as possible with field preparations and plantings. And, of course, the bell curve of the farm workload is on the decline. Therefore, for the past week or so we've been able to enjoy a relatively slow pace at the farm, which is very rare this time of year. Our great employees have managed to pick up our slack as well as continue their typical weekly work.
Thank you all!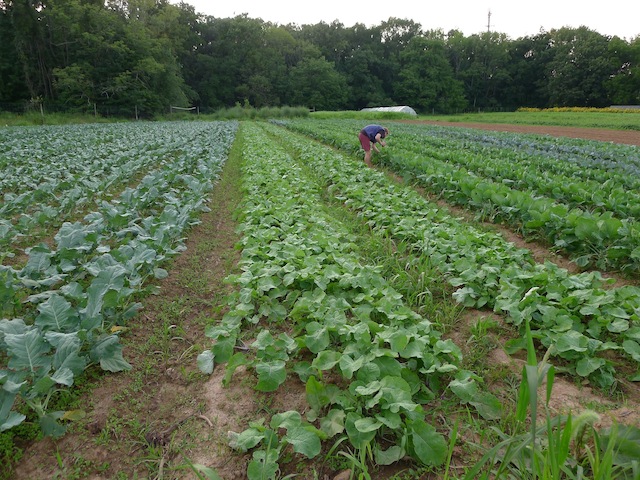 Derek inspects brussels sprouts for harlequin bugs and eggs.
Dana and I just concluded our weekly farm walk, detailing and scheduling necessary tasks to complete this week. Doing our field walk is always one of my favorite jobs to complete, especially this time of year when much of the farm is already covered with soil building and protecting cover crops like buckwheat, sorghum-sudan grass, and sunflowers. Most of those areas are already 'put to sleep' for the winter and won't need any attention until next season sometime. The buckwheat flowers are literally covered with pollinating insects, especially honeybees, who need all the healthy, organic nectar and pollen sources they can get their little proboscises and legs on. This past week we retrieved from the field all of the remaining winter squash (pumpkin, delicata, dumpling, spaghetti, butternut) and put them in the greenhouse to ensure proper curing before storage. That huge patch will also soon be cover cropped for the winter.
As of now the forecast for the week shows sun and heat and when the ground dries out a bit more we'll continue to harvest potatoes. Up until now we've been giving out 'new' potatoes which basically means the skins haven't thickened enough to be stored for a long period of time. By now, the skins on the remaining potatoes should be sufficiently dry and thick for harvest and ambient air temperature storing.
With the cool, moist weather of the last month we've seen a real slowing or altogether hault of ripening warm weather loving crops like tomatoes, eggplant, summer squash, and melons. U-pick tomatoes appear that they'll be around for a few more weeks but the tomatoes that we harvest are quickly coming to an end. Soon, we'll harvest them as green tomatoes. We're hoping for at least a couple more weeks of cantaloupes or watermelons but they're currently battling powdery/downy mildew. Fortunately, the fruits are oh so close to maturity that we should be able to find enough for everyone.
Expected Harvest
Expect a balance
By Derek McGeehan
Harvest #14 should include winter squash, a melon, lettuce, garlic, scallions, hot peppers, potatoes, sweet peppers, tomatoes, eggplant, okra, summer squash, cabbage, and dandelion. Some items will be a choice. U-pick produce should include edamame, husk cherries, tomatillos, basils, dill, cilantro, parsley, perennial herbs, and a flower bouquet. Half Shares, this is Week B.
Okra, a strange but tasty vegetable
By Linda Dansbury
For those of you coming to the pick up room late this week, you may have had okra as your choice of veggie. Did you choose it, or pass it up? I really look forward to receiving okra because it is good in several dishes and it's texture and taste cannot be substituted. Gumbo is a classic southern dish that uses okra, and in fact, the word gumbo comes from an old word for okra. I have a friend from Louisiana that says "It isn't gumbo if it doesn't have okra". There is a lighter version of gumbo on this website that I think I am going to make today - it is called Louisiana Shrimp Gumbo. Okra is also prominent in Indian cuisine.
When you receive okra, make sure you use it within a week, because it doesn't keep for very long. Keep it stored in the refrigerator in a plastic bag that is loosely closed and it will keep for up to a week, but not longer. Some other recipes on this site that are really good are Indian Style Stewed Okra and Okra and Green Beans.
How did I enjoy my harvest this week?
By Linda Dansbury
Other than Tuesday morning, it has been an amazing week of weather. I hope you were able to get out and do your U-pick - unlike me, who is going today into the damp fields. Here is what I did with some of my harvest this week.
Since I also grow quite a bit of veggies I did give some things away this past week to friends and family.
Cherry tomatoes - have to admit that this week I didn't cook with them - they all were eaten as snacks. I leave the bowl with them on the kitchen counter and every time I walk by I grab 1-2 of them and just eat them plus a bring a few to have with my lunch each day.
Lettuce, tomatoes, herbs - made a very large salad with a vinaigrette and grilled chicken, spinach and feta sausage and served them on top of the salad for dinner
Tomatoes - we had bruschetta a couple of times and we also topped a home made pizza with chopped up tomato - yum
Green beans, scallions, hot peppers - made a large batch of stir fried green beans and served alongside a nice piece of fish that was topped with parsley, thyme and lemon zest
Peppers, squash, scallions - grilled them and served along with grilled meat - did this twice
Dandelion -- made a salad that is on this site called Dandelion Salad with Warm Hazelnut Vinaigrette. I have actually never made it with hazelnut oil, but it is really good just using extra virgin olive oil or walnut oil.
Edamame -- I have boiled and frozen some of them, and have eaten a lot as snacks. I did use some of them last week in a salad that called for lima beans.