Late Fall CSA Week 5: Let's Root for Roots
News
Notes From The Field
A Beautiful Week in December
By Derek McGeehan
Dry ground in December, or during any month in the winter, is a rare treat on the farm. So, what do we do with that special time? We tackle tasks that we don't have time for during the busy growing season that require tractor use, such as spreading compost and mowing buffers and pollinator habitats. We basically stockpile compost ingredients for a year or two, turning it every once in a while to help introduce oxygen and speed up decomposition, then spread it during the fall or on fallow areas during the active growing season. We don't attempt to spread it on the entire farm every year. Rather we try to spread it on portions that we observe to need it and also rotate its application so that every field will receive it once every four years or so.
There are many benefits to compost application including the addition of organic matter, nutrients, and minerals plus it slightly acidifies the soil, which we need to do now after spreading aragonite for years. Introducing compost also feels like a successful completion of the food production circle/cycle.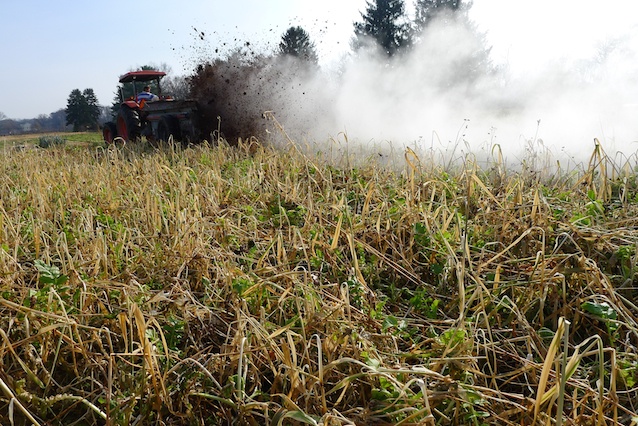 Expected Harvest
Central Bucks Local Food in December
By Derek McGeehan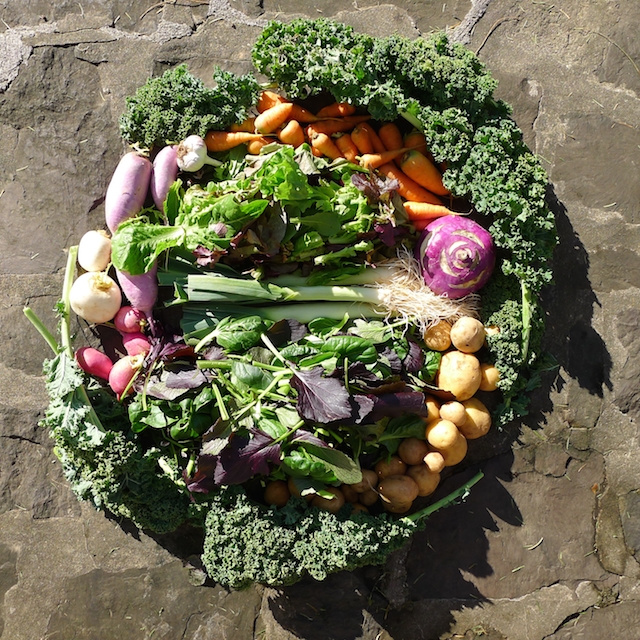 Late Fall Harvest #5 (Week A) should include potatoes, lettuce mix, greens mix (tatsoi, red mizuna), carrots, kale, garlic, an allium choice (leeks, onions), and root/stem choices (hakurei turnips, salad radishes, daikon radishes, kohlrabi).

Sign Up Soon for Anchor Run's Winter CSA!
By Derek McGeehan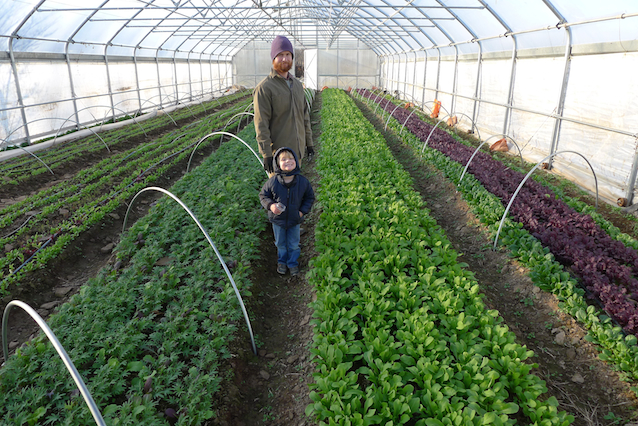 Very soon in the pick up room we'll see baby kale and arugula!
Produce shares will include: a mix of fresh salad and cooking greens like lettuce mix, arugula, spinach, green and red mizuna, tatsoi, curly kale, baby red russion kale, and claytonia plus green and red cabbage, napa cabbage, potatoes, sweet potatoes, carrots, beets, hakurei turnips, scarlet queen turnips, daikon radishes, watermelon radishes, celeriac, kohlrabi, onions, garlic, and leeks (and some miscellaneous others). Quantities distributed will be similar to Late Fall shares, approximately 10-13 pounds each week (7-10 for Mediums).
Currently the Winter CSA is about 75% full. Our Late Fall CSA has about 100 members picking up each week but we'll cap the Winter CSA at or below 75 members due to our reduced growing footprint.
Log in to the website here. Sign up soon if you're interested, shares are limited!
How I Enjoyed My Harvest
Ode to Wintry Roasted Vegetables
By Linda Dansbury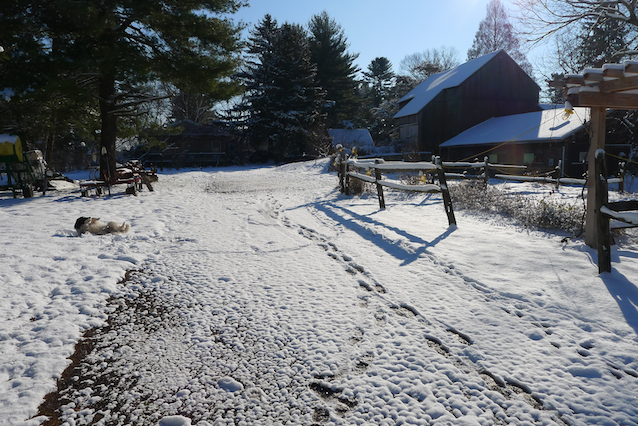 Farm dog Borchie relaxes on his back in the winter sun and snow (i.e. found something to roll in).
I love grilling veggies in the summer months, but have to admit that when the cooler days come and the pick up room is filled with potatoes, beets, leeks, garlic, turnips, celeriac, etc, I can't wait to "fire up" the oven for roasted veggies! The combinations are virtually endless, the colors are beautiful, and the flavors are scrumptious. We recently had European house guests (this guest has a food blog of her own that is pretty impressive). When they arrived, I had 2 cookie sheets filled with cut up veggies and they were very impressed with the beauty and the variety of veggies. I had intended that some of these veggies would be leftover for use in a frittata during the week, but when they came out of the oven and we were waiting for the meat to rest, we all picked at the tasty veggies so much that 4 of us finished off 2 full cookie sheets! Yes, they were that delicious!
Here are some quick and easy guidelines: cut up all veggies into the same size, so they cook at the same rate. In addition to what is listed above, include fennel, sweet potatoes, turnips, kohlrabi, daikon radish and onions. I also add cauliflower, broccoli, romanesco and/or Brussels sprouts if I have them. The temperature you cook at is somewhat flexible, but I find 375 to yield the best results - the vegetables become tender and nicely browned. I used to sliver the garlic, but found I always ended up with garlic "chips" so I now mince or grate it and mix it into the olive oil - if I am thinking ahead I let it sit for a bit. Toss the veggies with olive oil, salt and pepper and then bake until nicely browned and tender, about 45 minutes, less if you cut the veggies up small, more if the pieces are larger. Check on them every 10-15 minutes and shake or mix them up so they cook evenly.
As I said, the mixtures are almost endless. Try these additional add-ins to vary the flavor:
- sprinkle fresh parsley and parmesan, gruyere, or other cheese when just out of the oven
- cook with fresh thyme, rosemary or sage
- after cooking, add dried cranberries or fresh pomegranate seeds
- a bit of sesame oil and soy sauce/tamari mixed in when cooking or when out of the oven
- add fresh, chopped cilantro after cooking
I made romesco sauce in the late summer when we had a lot of red peppers and that served alongside the veggies is delicious too. As I said, the combos are almost endless - enjoy!

How I Enjoyed My Harvest
Farmer Food - Easy and Tasty Ideas for You
by Dana Hunting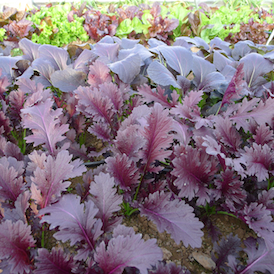 Red mizunas and lettuce mix - all fall and winter long!
Here are some ways we enjoyed our produce this past week:
Cabbage, leeks, potatoes, sausage: into a 4-quart cast iron dutch oven pot went bacon fat*, leeks, cabbage, potatoes, and sausage*; cooked until soft/done. Prep time was about a 1/2-hour, cook time was about 45-minutes.
Soup using cabbage and miscellaneous roots: used a 12-quart stock pot so we would have leftovers for several days; while 3 quarts of chicken stock thawed and melted in the pot Derek chopped and threw right in: sweet potatoes, daikon radishes, celeriac, garlic, kohlrabi, leeks, turnips, cabbage, and a frozen habenero; also added a 2.5 pound beef roast* that we thawed in warm water and cubed; filled pot almost to the brim, brought to a boil, then simmered on low heat until soft and cooked. Prep time was about 1/2-hour, cook time was about 45-minutes.
Lettuce/greens mix: salads and smoothies.
Kale, onions, frozen sweet peppers, and frozen tomatoes: Chopped and cooked and had over pasta.