Last Week for Late Fall CSA: Thank You Members!
News
Expected Harvest
Spinach Arrives
By Derek McGeehan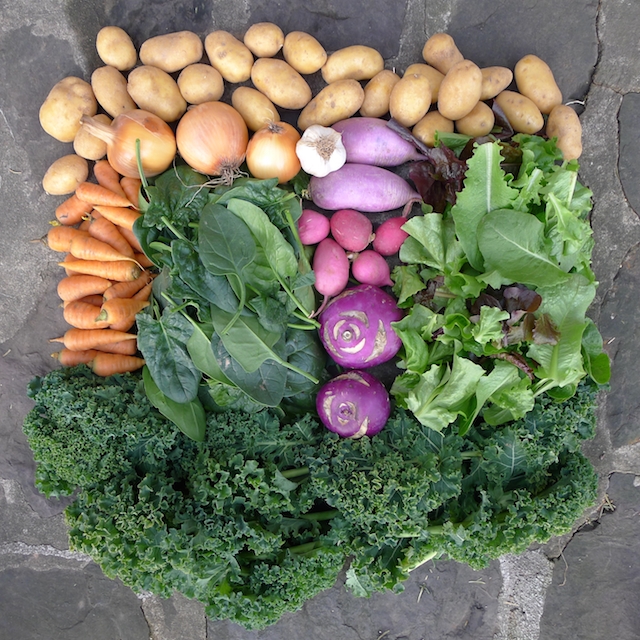 Late Fall Harvest #6 (Week B) should include carrots, kale, spinach, lettuce mix, garlic, onions, potatoes, and a root choice (hakurei turnips, purple daikon radishes, kohlrabi, salad radishes).

Notes From The Field
Winter Solstice Greens
By Derek McGeehan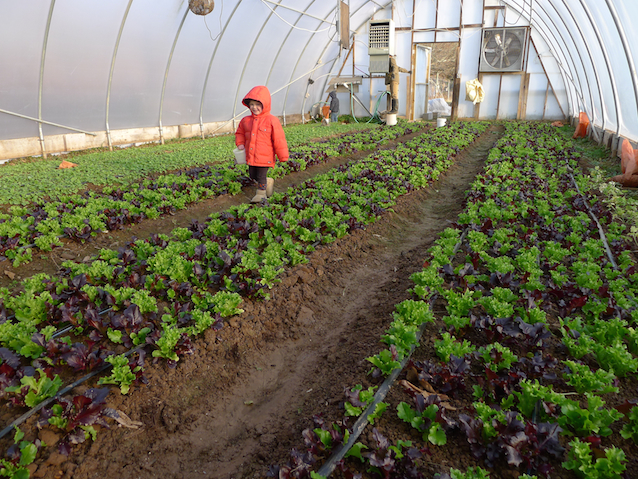 Above, this is our "heated" greenhouse, temperature set in the low 30s. You can see me in the background attempting to light the pilot flame after half a year off (process takes about 30 minutes). It's probably unnecessary to add heat, but we're using this structure as a way to compare minimally heated indoor winter growth to other tunnels that aren't supplementally heated at night. This is the structure where we start our seedlings in late winter for spring transplanting and we already have the heating unit in place, so it makes some sense to observe growth where lows only bottom out around 32-34 versus 24-26 in the unheated buildings.
In the unheated tunnels we add big hoops and floating row cover on the inside to trap warmth closer to plants (sometimes we also trap kids like below, or they sneak under). Another cold test came and went last week. After a few more nights in the teens and a couple of days where temperatures stayed below freezing, including one that was cloudy, uncovering the plants Sunday revealed healthy and robust greens. It's always a little unnerving to deal with below average winter cold, but after additional experience I'm really feeling confident in appropriate plants' ability to tolerate winter weather and provide us with healthy greens all winter. Thank you plants, seriously!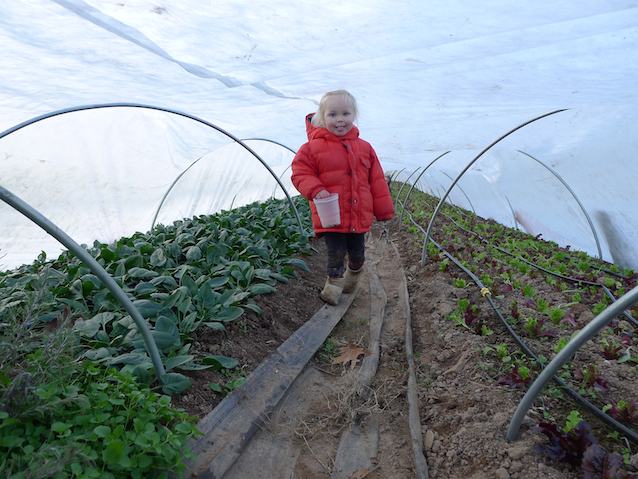 Join the Winter CSA for Great Local Winter Food!
by Dana Hunting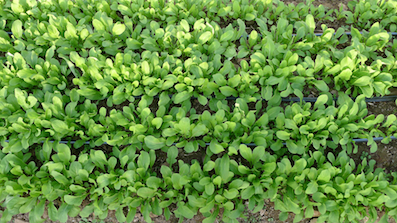 Arugula in the high tunnel happy and eager to be consumed! Coming soon to a share near you.
Produce shares will include: a mix of fresh salad and cooking greens like lettuce mix, arugula, spinach, green and red mizuna, tatsoi, curly kale, baby red russion kale, and claytonia plus green and red cabbage, napa cabbage, potatoes, sweet potatoes, carrots, beets, hakurei turnips, scarlet queen turnips, daikon radishes, watermelon radishes, celeriac, kohlrabi, onions, garlic, and leeks (and some miscellaneous others).
Quantities distributed will be similar to Late Fall shares, approximately 10-13 pounds each week (7-10 for Mediums).
Currently the Winter CSA is about 85% full. Our Late Fall CSA has about 100 members picking up each week but we'll cap the Winter CSA at or below 75 members due to our reduced growing footprint.
Log in to the website here. Sign up soon if you're interested, shares are limited!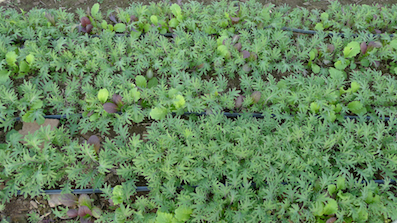 B-b-b-baby kale, baby kale, baby kale...
How I Enjoyed My Harvest
Farmer Food - Easy and Tasty Ideas for You
by Dana Hunting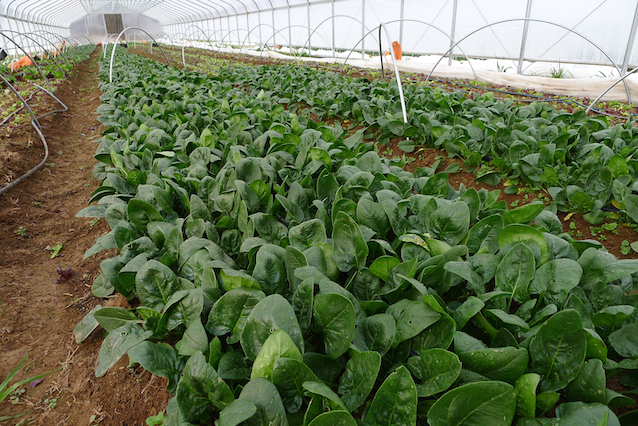 Spinach ready for harvest!
Here are some ways we enjoyed our produce this past week:
Salad radishes, hakurei turnips, daikon radishes: Cut into chunks and roasted in the oven with a small chicken* for about 75 minutes at 375. Sprinkled with salt of course.
Potatoes and sweet potatoes: Cut into fry shape and roasted at 375 for about 75 minutes, until crispy. Used organic coconut oil this time (purchased in bulk 5 gallon jug from Jedwards). If you use organic coconut or olive oils you should consider buying in bulk from them. Very, very cost efficient.
Kale: Sauteed with leeks in olive oil, seasoned with salt and pepper, and put between two tortillas with cheddar cheese* for an easy quesadilla.
Lettuce/greens mix: salads and smoothies.
Kohlrabi: Sliced and ate with cheddar cheese*.