Little farmer reporting to work!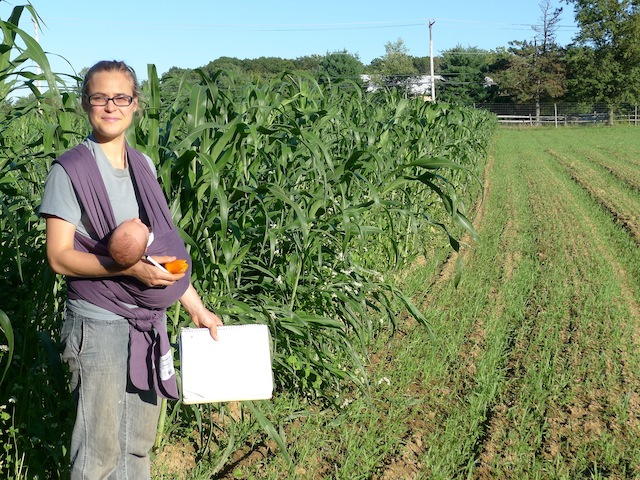 Dana and Gabe enjoying sunshine with field notebook in hand. Mature sorghum-sudan grass and new oat and clover cover crop behind.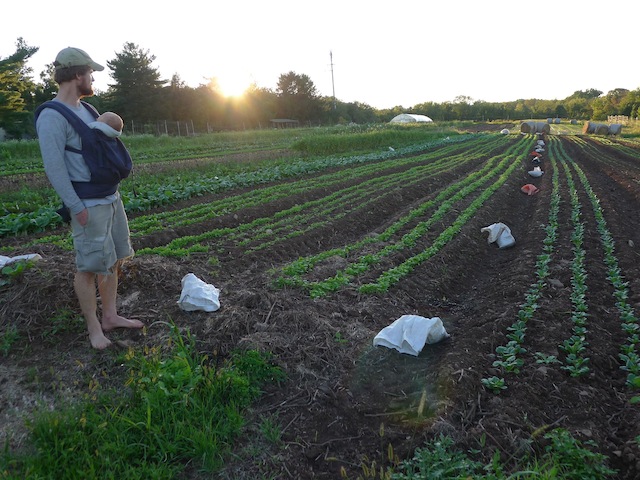 Derek and Gabe checking out direct seeded arugula, broccoli raab, and scarlet queen turnip as wells as transplanted tatsoi.
News
Notes From The Field
Weather Change
This past week we saw temperatures reach the mid 90s, followed by the low 40s. I'm hoping that was the last of the heat for the season. Surprisingly, we also harvested a few hundred pounds of broccoli. Harvests are really starting to reflect the end of summer with a big return of tasty greens. This coming week we'll plant the last of our greenhouse started transplants and I will try to do one more direct seeding of winter hardy greens. After that, tractor work should mostly consist of prepping for cover crops. I don't know about you, but the fall is my favorite time of year as a farmer: a slower pace, crisp weather, and the rewards of a season of hard labor realized.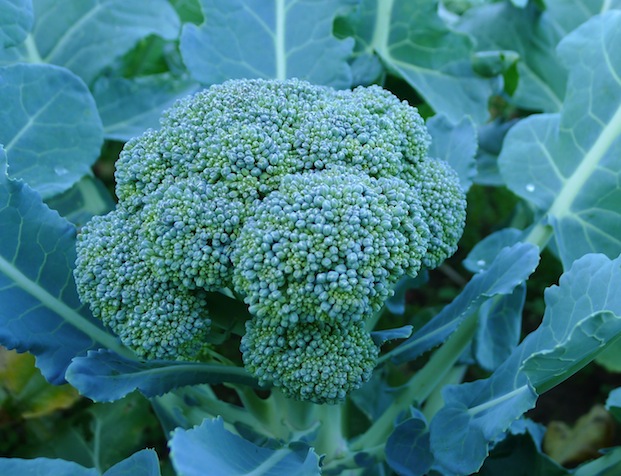 Earlier than usual but beautiful and tasty broccoli, hopefully around for weeks.
We're getting ready to wrap up the tomatoes for the season. Starting this coming week the u-pick patch and the patch we pick will be open for gleaning. When we say gleaning we mean that you can pick the amount you want and can reasonably use. Please consider the other CSA members, however, and refrain from picking just to give produce away to non-CSA members. Gleaning is a special, unique opportunity available at Anchor Run.
Have we mentioned we distribute produce solely through the CSA? We divide our harvests and yield amongst our CSA members, which should be equally beneficial to you, our members, and us, the farmers. We love this style of agriculture. We also understand there aren't many farms out there that distribute solely to their CSA, so thank you for supporting us.
Expected Harvest
Greens as medicine
By Derek McGeehan
Harvest #18 should include winter squash, kale, swiss chard, bok choy, arugula, onions, garlic, peppers, eggplant, broccoli, okra/tomatillos, and dandelion/collards. The u-pick portion should include hot peppers, cherry tomatoes, parsley, dill, cilantro, perennial herbs, and a flower bouquet. Half shares, this is Week B.
A couple of tips
By Linda Dansbury
As I am sure you have noticed, the onions we are receiving are all fresh, needing refrigeration. In a normal year, the weather is hot and dry at the time that the onions are "curing", which is when the onion's outer papery layers that protect the onion are formed. This year, however, we had many days of very wet and humid weather, which prevented the onions from properly drying out. Our farmers could have made the decision to say the crop failed and let the onions stay in the field and rot. Instead, they harvested the onions they could(many did rot) and have been storing them in the cooler. Each week, they are sorting through enough onions for each member to receive a share - when using, just cut around any soft spots and thank the farmers and their employees for taking all of the extra time in going through every onion, peeling off many of the rotting outer layers and keeping those that are Okay to use. It is very tedious, but I am glad they are taking the time.
The broccoli is excellent - at this writing I have only eaten a little of it raw. But, did you know that you can and should eat the thick stem? Wayne reminded me that this might be something members might not know. Cut the thick stem below the florets. The skin on the stem is often tough, so peel it with a sharp paring knife or potato peeler. Then eat as a snack, or add to stir fries, soups, etc. The thick stems of my broccoli are most often just eaten because I am usually looking for a snack when I am prepping dinner, and this is as healthy a snack as any.
As we get back into the greens, it is a good time to remind everyone to save parts of the plants that you don't always use and freeze them to use in making vegetable stock. Save your chard stems if you don't use them, parsley stems; a small piece of onion left that you don't want to save in fridge; tomatoes, etc. Just place in a plastic freezer bag in the freezer, and when you have a full bag, it is time to make veggie stock.
How did I enjoy my harvest?
By Linda Dansbury
We saw just about every type of weather this past week - hot humid summery days and now quite chilly days, more like October than September. How did you enjoy your harvest these past couple of weeks - it has been awhile since I have heard from members - so many of which have great ideas so please email me at
lindadansbury@comcast.net
.
kale and cabbage - I found a small head of cabbage in my crisper drawer and so I slivered it up and then julienned some kale leaves and made cole slaw.
lettuce, tomatoes, onions, cucumbers(the last of my crop) - made a Greek inspired salad, adding a lot of fresh oregano, some olives and a simple vinaigrette
okra - made the Indian style stewed okra from this site
Swiss chard - froze the stems, and sautéed the chopped leaves along with some garlic for a spinach replacement
tomatoes, garlic, parsley - made a fresh tomato sauce and served over whole grain pasta
Eggplant - tried a new recipe - which I have added to the website for this week. It is microwaved, which I was skeptical about, but it is from a website I have often used.
Enjoy the cooler temperatures and share with me how you enjoy these wonderful veggies!
Late Fall CSA sign ups in September
By Nicole Peirce
Like last year, we are offering a 6-week 'Late Fall' CSA share to existing members. Running from mid-November to the second to last week in December, the shares will include cold hardy greens, tender greens (thanks to the new high tunnel!), storage crops, root vegetables and other crops happy to grow in colder 'off-season' temperatures. Membership is limited and will be available only to existing members. Look for sign up information in September sometime.
Recipes
V Marinated and Microwaved Eggplant
By Barbara Kafka, who adapted it from a New York Times recipe; serves 4; takes about an hour, but 45 minutes is inactive marinating time.
1/4 cup tamari or soy sauce
2 Tablespoons loosely packed cilantro leaves
1 Tablespoon rice wine vinegar
1 Tablespoon toasted sesame oil
1 1/2 medium-size cloves garlic
1-by- 1/4-inch piece ginger, peeled, cut crosswise into 1/4-inch slices
4 small Chinese eggplants (2 to 3 ounces each)

Combine all ingredients, except eggplants, in a blender. Process until smooth.

Prick the eggplants several times with a fork and pull off the leaves. Cut in half lengthwise. On the open side of each half, make three deep diagonal slashes in each direction. Place eggplants skin side down in a 13-by-9-by-2-inch microwave-safe oval dish. Spoon 1 1/2 teaspoons of the marinade over each eggplant half. Rub the marinade into the flesh so that it runs into the cuts. Turn eggplants skin side up. Pour remaining marinade into dish. Let stand for 45 minutes.

Turn eggplants skin side down. Cover tightly with lid or microwave plastic wrap. Cook at 100 percent power in a high-power oven for 10 minutes. Prick plastic to release steam.

Remove from microwave and uncover. Serve warm or at room temperature.