Autumnal Equinox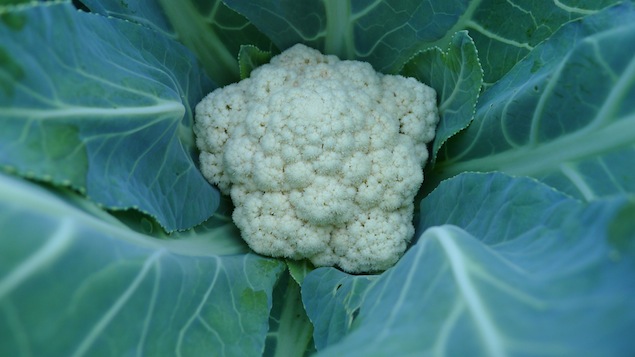 Broccoli's cousin cauliflower looking scrumptious.
Goldenrod lighting up an autumnal landscape.
News
Notes From The Field
Autumn
By Dana Hunting
Over the past few weeks we've written a lot about noticing evidence of the change of seasons around the farm. Well the celestial event that creates this change will have officially taken place as of around 5 pm EST Sunday, September 22nd. The earth's northern hemisphere has begun to tilt away from the sun beginning our 3-month path towards darker and more quiet conditions. Produce this time of year lends itself to slower methods of preparation. Simmering soups, roasting vegetables are perfect ways to spend time preparing the roots and hearty greens you can expect to receive over the next few weeks.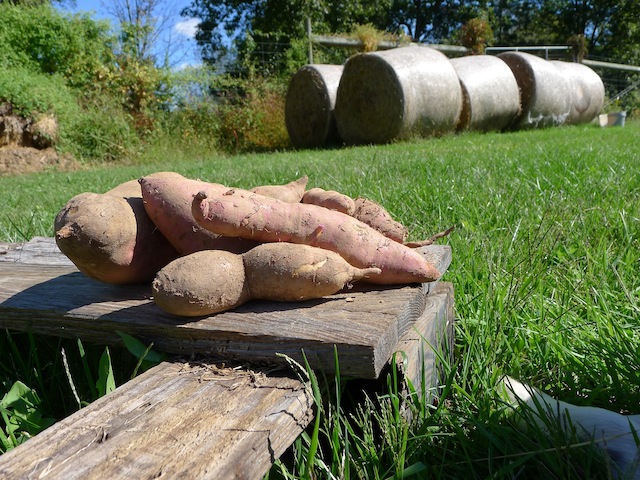 Dirty and delicious! We give them out unwashed to prevent bruising and lengthen storage time.
Sweet potatoes that workshifts and our farm crew harvested last week will be a part of harvests over the next few distributions. They are a perfect example of a good food for this new season. Sweet, rich and satisfying, the orange fleshed tubers which have spent the last three and a half months growing and gathering nutrients in the farm's soils are finally ready to be enjoyed. Preparing them is a good excuse to turn on the oven and spend time in the kitchen getting toasty on these cool evenings. I like to roast them on 400 for about an hour after chopping them into "fries" or cubes then coating them with olive oil and sprinkling them with sea salt. All of the farm's produce offers unique health benefits, but sweet potatoes are an especially easy one to enjoy while recognizing their medicinal qualities. Leave the skins on and cook with a fat to reap the full benefit of this treat.
Expected Harvest
Sweet Potatoes and Lovely Greens
By Dana Hunting
Harvest #19 should include: winter squash, arugula, bok choy, cured garlic, uncured onions, broccoli, cauliflower, collards, dandelion greens, eggplant, sweet peppers, swiss chard, kale, sweet potatoes and greens mix. Some items will be a choice. U-pick should include: hot peppers, parsley, perennial herbs, a flower bouquet, and gleaning the tomatoes. Half shares, this is Week A.
Sign Up for the Late Fall CSA
By Dana Hunting
We are looking forward to a second year of farming for an extended season "Late Fall" CSA.
Like last year, the Late Fall CSA will run 6 weeks, beginning the week of 11/17 and ending the week of 12/22.
The only size share available is a "full share" meaning that participating members pick up every week for the 6 weeks.
Pick ups will be 3 pm – 7 pm on Wednesdays.
The shares will consist primarily of storage crops, fresh tender greens grown in the protection of our high tunnel, and cold hardy greens grown with light coverings in our fields.
Storage crops should include potatoes, winter squash, garlic, turnips, beets, kohlrabi, rutabaga, sweet potatoes, etc.
Tender greens should include lettuce, greens mix, radishes, specialty greens, etc.
Cold hardy greens include kale, collards, swiss chard, broccoli raab, etc.
This opportunity is available only to existing CSA members.
Shares are limited, however, as the total membership number is less than half that of the regular season CSA.
If you are interested, sign up soon to secure your share.
New this year is the option to apply online; see the website "Members' Page" to apply that way. Accepted payment is cash or check only and can be mailed to 2578 2
nd
StreetPike, Wrightstown, PA 18940 or dropped off at the farm in person.
Please refer to the application for share pricing.
New this week - sweet potatoes
By Linda Dansbury
One of the fall staples is sweet potatoes. I know all of you have had them at some point, but maybe you haven't explored different ways of using them. They can be baked and eaten plain, like you would a white baked potato; they are delicious roasted either alone or in combination with other veggies - including aromatics if you want, such as garlic, onions or leeks; they can be cooked and made into a sweet potato salad; they can be made into oven "fries"; they can also be cooked and then used for baking sweet treats such as cookies. Check out this site for many delicious recipe options - using all the techniques described above.
Sweet potatoes look sturdy, but they are actually quite delicate, so handle them carefully. Because of this, when we receive them, they will still have soil on them - leave them that way until you are ready to use them. Washing them does 2 negative things to the sweet potatoes: their skin is delicate, so it tears easily and anywhere there is a tear can lead to decay; and, it adds dampness to the potatoes, again hastening decay. When you get them home, store them in a mesh bag or in a paper bag left open. If left at room temperature, they will keep about a week or so, but if you have a cool, dry place such as basement or garage(if the temps stay cool), they will keep for a month or more. Do not refrigerate, as that causes chemical changes in the potato, which will lead to undesirable tasting potato. Also, do not store potatoes with onions - onions release a chemical that encourage potatoes to sprout.
Member tip
By Linda Dansbury
Last week, I mentioned that I use the broccoli stalk - I peel it and eat it as a snack. Shelley Fisher emailed me a better idea. Her note to me was, "I don't even peel the stalks. I put every bit of the stem in the food processor and use for soups stews, chili, quinoa, rice salads and omelets. It also freezes well. Thanks Shelley! They are great ideas.

How did I enjoy my harvest this week?
By Linda Dansbury
A beautiful week of weather, and some fun cooking and good eating this past week. I am really enjoying the combination of summery veggies and the fall greens and veggies. We hope you are too!
Broccoli - some of it I just steamed and ate, but some I added to a veggie frittata
Eggplant - grilled and drizzled with olive oil and herbs - yum - also mixed leftover into my frittata
Swiss chard - made some of into a sauté with garlic and onions, the rest went into the frittata
Peppers - I roasted several on the grill, then removed the skins, cut them into strips and placed in a bowl, added a bit of chopped garlic, a small drizzle of balsamic vinegar, and some good olive oil. They keep this way in the fridge for a couple of weeks. I use them on sandwiches, or just alongside meat and veggies with dinner.
Lettuce - made a large Greek inspired salad(again)
Kale - made into a kale Caesar salad - recipe on this site - today I might do kale chips
Okra, dandelion greens -- blanched and froze for later use
Can't wait to start cooking - it is a beautiful day! So, how do you enjoy your harvest? email me at
lindadansbury@comcast.net